The restaurant's larger footprint adds more indoor seating, an outdoor patio, and a new bar area with a Lebanese-inspired beverage program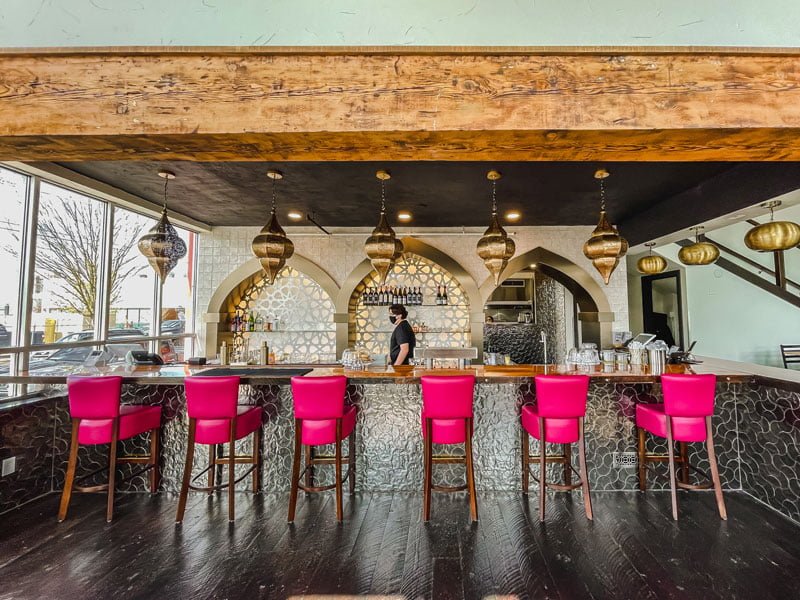 This is going to make a lot of Portlander's happy!
PORTLAND, Ore. – April 1, 2021 – Portland's first Lebanese restaurant, Nicholas, has been serving traditional and modern Lebanese cuisine on Southeast Grand Avenue for more than three decades. Today, the Dibe family bids farewell to its original location and opens the doors on a new chapter, as they expand with a new, 4,000-square-foot location at 1109 SE Madison St.
Original owner and namesake, Nicholas Dibe, fled Beirut during the Lebanon War with his wife, Linda, and their four young daughters. New to Portland and in need of income, the couple opened a "mom and pop" restaurant serving Greek food, pizza and calzones at the original location on Southeast Grand. Over time, they added some of their favorite home-cooked Lebanese dishes – from creamy hummus and warm pita to falafel, tabouli and grass-fed lamb kabobs. As the restaurant's following grew, the family expanded the popular eatery to Gresham and Northeast Broadway.
"A global pandemic is not the ideal time to open a new restaurant, but we're excited to bring our customers a larger and safer space to dine," said second-generation owner Hilda Dibe, who now oversees all three locations. "The new location builds on my parents' legacy, one that allows me to expand my vision and retain our cultural heritage. My parents were the first to introduce Middle Eastern cuisine to Portland and thankfully, our early customers had curious palates and embraced all the delicious spices and fresh ingredients."
New Location Adds Patio, Parking, and Air Filtration System
The new location increases the inside dining space from 1,000 to 4,000 square feet, allowing for individual booths decorated with hand-crafted mosaic tiles. Tables are currently spaced apart for safety precautions. The outdoor patio is heated to offer outside dining options year-round. An adjacent parking lot offers customers easy access for take-out or dine-in options. "We've also added a medical-grade air filtration system throughout the restaurant that will kill 98% of the virus particles in the air," adds Dibe. Christina Williams Interior Design assisted with the architectural and interior design of the new location.
New Lebanese-Inspired Beverage Program
The new restaurant will feature a dedicated bar with seating offering a new list of Lebanese-inspired cocktails, with and without alcohol. Some of the new beverages include:
Arak Mojito– Prized by connoisseurs throughout the Middle East for its delicate scent and anise flavor, this traditional spirit has a distinguished history in Lebanese culture. The Arak pairs well with the mint lemonade for a mojito to remember. $11 (Available to go)
Beirut South– Wild Roots Vodka, fresh lime juice, ginger simple syrup, fresh ginger juice. $11
Beirut Betty– Aria Gin, Elderflower, fresh lemon juice, rose water. $11
Nicholas Margarita – 100% agave tequila, Ancho Reyes Verde, fresh lime and grapefruit juice. Slightly spicy with a salted rim. $11
Nicholas Daiquiri – Plantation pineapple rum, fresh lime juice, demerara. $11
Alcohol-Free Beverages
Lebanese Sweet Tea– Passion fruit nectar, ginger-infused simple syrup, tea, served over ice.
Pomegranate Spritzer– Pomegranate molasses, honey, fresh lime juice, ginger ale, soda water, served over ice.
Classic Turkish Coffee
Nicholas Restaurant serves lunch and dinner daily from 11 a.m. to 8 p.m. Monday to Saturday, and from noon to 8 p.m. on Sunday. For more information, visit www.nicholasrestaurant.com and follow us on Instagram, Twitter and Facebook.