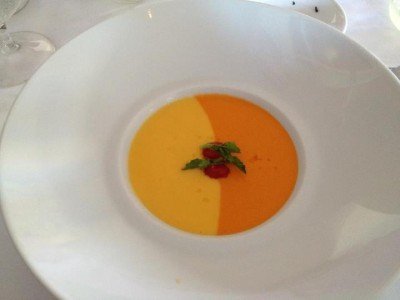 Noisette Restaurant is closing – eventually. As of now they have not announced the exact closing date.
Chef/owner Tony Demes has worked under famed chefs Thomas Keller, Michael Romao, Roland Cheneau and David Bouley. In 1995 he opened the lauded Couvron in Portland, which was known for its hours long tasting menus. In the late 90′s Demes closed the restaurant and opened a NYC version, but then returned to Portland in 2010 to open Noisette, a restaurant with cooking based on French technique, featuring local ingredients.
Unfortunately, like so many Portland restaurants, Noisette quickly fell from the spotlight, and has never seemed to find a strong footing. In 2012 it placed in our reader survey in both the Best New Restaurant and Best Restaurant in Portland categories. At the time I said  If you want a truly romantic experience, the entire table can order the eight-course tasting menu for $75 a person … Recently the fixed menu consisted of Oregon line-caught albacore, Maine dayboat lobster, organic butternut squash soup, a BC diver scallop, Idaho white sturgeon, Moulard duck magret and liver, Oregon Natural New York strip steak alongside Painted Hills braised short ribs, finished with a Noisette Souffle for dessert."
More information here from the Oregonian.