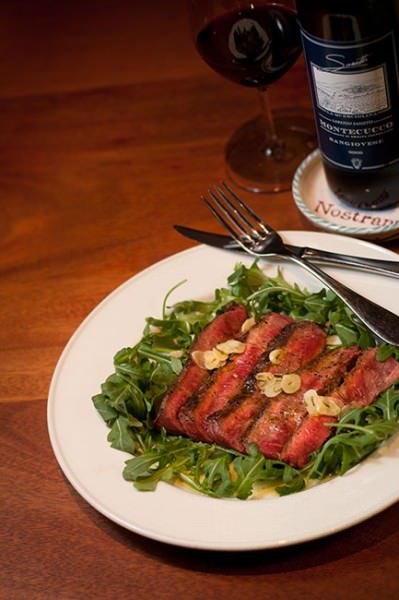 Nostrana is surely one of the most anticipated restaurants to come along in some time. Owner Cathy Whims was the chef/owner at the famed Genoa restaurant during its heyday. After leaving Genoa, she took a break, and has now come back with a vengeance.
Located at SE 14th & SE Morrison, Nostrana is on the corner of what was once an old grocery store. Showing its roots, the interior is terrific, the arched wood ceiling soaring overhead, lighted by well-placed spots. A large pile of apple and cherry wood sits just inside the front door waiting to fuel the oven. Between widely spaced tables and touches like cork floors, conversation is easy. If you can take the heat from the kitchen, you can sit at the kitchen counter and watch the chefs in action. A nice bar area makes a good place to wait for your table, and on many nights you will wait if you don't have reservations. This is one of my favorite interiors in any Oregon restaurant, though during daylight hours it feels rather cavernous. On nice days, the patio area out front provides outdoor seating.
The wine list is varied through most Italian regions, with a few other areas thrown in, such as some Oregon pinot. A good selection of medium-priced bottles is available, though they have some interesting cellar selections too. Some of the house drinks are worth special attention; on warm days, the simple spuma della casa – fresh fruit puree and Lambrusco bianco is an elegant start. For the more adventurous,  try the Manhattan della casa – bourbon, Mirto myrtle berry liquore, Dolin dry vermouth, and Peychaud's bitters, served up, or their version of the gin Ricky with lime, cucumber, basil, Boker's bitters, Pacifique absinthe and rocks, water carbonated to order.
After all of these years, service still tends to lack focus. On one visit, they forgot to put in our order, on another a single entree was forgotten. Out of many visits, I've had outstanding service only a few times.
The house-made charcuterie is a terrific first course that should not be missed. Duck liver & cheffy pate, coppa di testa, porchetta di testa, smoked lamb rillettes, fried pork trotter, ciccioli, red currants, preserved cherries and pickled kholrabi make up a large plate. It's a tasting adventure sized just right for three to four people.
Bruschetta is also excellent. Two pieces of bread come hot out of the wood oven with some lovely cheese and beautifully roasted cherry tomatoes; little bombs of flavor. The bread has a nice smoky taste, the crust just the right amount of crispness so that it holds its shape, yet easily tears when you bite into it; another winner. A salad of wood oven baked Corona beans impresses. The big fat beans speak for themselves, pairing perfectly with the tuna and pickled vegetables. The pickling is just strong enough to give balance to the other flavors without overwhelming them; a perfect fugue. Another dish, the antipasti misti "marinated fried squash, greens, marmalade, roasted red peppers with marjoram and irresistible crostini" sounded so unusual, I had to give it a try. I made the mistake of talking to our server as I bit into it, and completely lost what I was saying. A great choice.
Grilled razor clams were on the menu during a Fall visit. Here they are laid out like butterflies. I could close my eyes and imagine I was chewing this while sitting at the beach. There were herbs and oil, perhaps some almonds, but mostly they tasted of wood smoke and an essential ocean element. They were smoky, tender, packed with flavor; a long savory finish.
My brain always fights an internal battle with my taste buds over the insolata Nostrana. It is a large salad of radicchio, a rather bitter lettuce. You have to be prepared, but if you like radicchio, you'll love this salad. The croutons are wonderful, loaded with flavor from rosemary and sage. The excellent Caesar style dressing does battle to offset the other flavors, and though I have had a similar version in many other restaurants, I always end up comparing them to the "perfect version at Nostrana".
In my opinion, a perfect Italian-style pizza should be very thin, and crisp, almost like a cracker. It should have a good scorch, with little bubbles of black on not only the top, but a slight scorch on the edges and all the way underneath. Here the mozzarella is hand-made, and the slow-risen dough is naturally leavened. I've tried three pizzas at Nostrana.  Most of the nights I've tried them, they were close to perfect, meeting all of my qualifications. The pizzas were crispy all the way through, with just the right balance of toppings, terrific flavors. Try the Diavola with spicy sausage, house mozzarella, provolone, San Marzano tomato and Mama Lil's peppers, or the Salumi with calabrese salami, tomato, provolone, house mozzarella wild oregano, honey and Mama Lil's peppers.
Pizzas are served uncut, as is the traditional Italian style, and I can't tell you how many times I have heard people complain about having to cut it themselves. I know it is the traditional Italian way, but it is also a big hassle that usually ends with torn pizza, and sauce being splattered on clothes. They need to give in here and make a few cuts to help us out. Just because they do it that way in Italy doesn't mean it is better
On one of my visits, they were serving gnocchi in Marcella's Hazzan's#3 tomato and butter sauce. While the gnocchi was very light, the sauce was a huge disappointment, tasting so much like the Campbell's Cream of Tomato Soup I had as a kid, that I had a sudden craving for a toasted cheese sandwich and a glass of milk. This is another dish that needs a bit of work. I know that this sauce is pretty famous, but it just didn't work for me. Another disappointment was the fettuccine with rabbit ragu. It was all rather bland and lacked the oomph to bring it up to the next level.
I like the desserts a bit too much. The budino of dark chocolate is small, but very moist, oozing dark chocolate flavor. A carrot cake has been excellent on all my visits; not some thickly iced Denny's special, but no icing at all, the flavors subtle. Others at my table thought it would be better for breakfast, but I refused to budge. A real standout is the wood oven baked crisp; this week it is apple and rhubarb. The ingredients are placed into a thin ceramic dish, topped it with sugar and cooked in the 700 degree oven. 20 minutes later it is delivered sizzling to your table, the sugar crackly and caramelized. When it is brought to the table, your server will pour a small pitcher of thick almond cream over the top to cool it off. This is a wondrous dessert, well worth the wait!
Finally they have an excellent selection of cheeses. Recently the choices were a Rogue Creamery 'Flora Nelle', a Cypress Grove Humboldt Fog, and Burrata.
I think Nostrana is one of the most exciting restaurants to come along in a long time, but even after all these years, they haven't worked out the bugs in service. The pricing is good, the space wonderful, staff sincere if confused and the food sophisticated. I highly recommend it.
Phone: 503-234-2427. Reservations available for parties of six or more.
Address: 1401 SE Morrison, Portland OR. 97214. Google Map
Hours: Open 7 days, Lunch Mon-Fri 11:30-2:00, Dinner Sunday-Thurs 5:00pm-10:00pm, Fri-Sat 5:00-11:00pm.