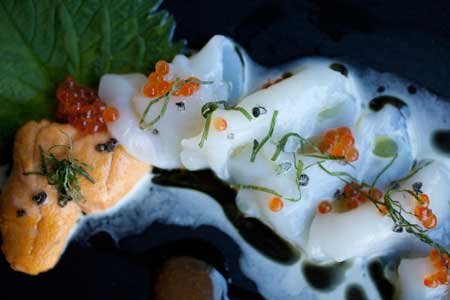 I don't normally mention reviews here, but occasionally one comes along that is so jaw dropping, I make an exception. Case in point, a dual review on OregonLive.com of Daruma Sushi and Ahi Sushi + Tapas.
I should mention that I was a victim of the latter restaurant over the weekend, so it seems my experience which echos Mr. Russell's was not a fluke. You should read the two reviews over there, but here are a few choice lines:
Ahi offers the kind of Japanese menu you might only be happy to find at the Des Moines airport.

It would be much easier to ignore the apathetic beer list if, after biting into the "Ahi Special No. 2," an outlandish menagerie of tuna, salmon, roe, red onion, cucumber and avocado, you didn't come away pulling bits of bone from your mouth.

Handmade gyoza were an argument for store-bought.
The Ahi Sushi gets a rare D grade from the Oregonian. Ouch. Daruma Sushi, which is in the old Ristretto Roasters location on NE 42nd, rates a much better score.