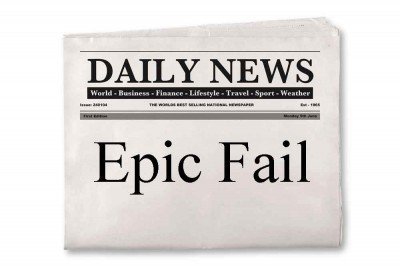 The Oregonian Embarrasses Portland by Cutting Their Last Remaining Restaurant Reviewer
Under the category of "no big surprise" comes yesterday's news from PDXEater, that The Oregonian newspaper has summarily dismissed its last remaining restaurant reviewer, Roger Porter. After the announcement last year that publisher Fred Stickel was being replaced by Christian Anderson of The Orange Country Register, it didn't take a genius to see the writing on the wall. In the most recent Register restaurant review, a restaurant is being reviewed by a vegetarian with copious comments from her "boyfriend" as she couldn't try most of the dishes. The quality of writing makes some of the comments on CitySearch seem like pearls of wisdom.
The bulk of A&E editor DeAnn Welker responses to Eater's questions are just lip service – "We'll still cover openings, we'll still review the new high-end places…". I can't help but wonder how they will do this without any food writers, and I feel sorry for the restaurants they don't deign to grace as meeting their qualifications. Even worse, Welker's statement that the "home-grown chains" article of the last sad little Diner, is an example of their new focus; the piece lists Burgerville, Pho Van, Hot Lips, McMenamins and Typhoon. No offense to the restaurants listed, but these aren't exactly bastions of culinary sophistication. On the other hand, they are potential advertisers.
It is no secret The Oregonian is hemorrhaging subscribers, reportedly losing 55 thousand readers over the past two years. The response from the guiding lights that Portlanders aren't smart enough, or wealthy enough to support a worthwhile restaurant section, is just another signpost on their way to becoming a new spin on the Penny-Saver, replete with full-page ads reminding us how good they are, and gushing offers to recycle our gold.
It is sad when a newspaper becomes an embarrassment to the community it "serves", as it is a reflection on us as a city. Unfortunately, it looks like we will be stuck with Christian Anderson's fairy tales until the newspaper is forgotten.