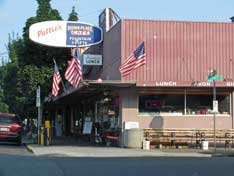 I used to go by this place on the #75 bus all the time, on my way to play disc golf in Pier Park. I would see tables outside and read something about a soda fountain, and I'd think "Man, I need to go there." Problem was, I couldn't catch the name of the place. In fact, now that I've eaten there, I still don't really know what the name of it is. But I know what people call it. And if you think that's the same thing, you don't know small-town America.
Folks call it Pattie's, because Pattie owns it, runs it, and generally occupies it. She was there when I was, sitting at a table with some regulars. It's Pattie's place. It might officially be called Pattie's Lunchbox, or the Home Plate Deli and Fountain, or Pattie's Home Plate Cafe … but if you ask the old-timers in St. Johns, they'll tell you it's just Pattie's place. And most of them know Pattie, too.
But I didn't know this when I decided to check it out. I looked around on the web for breakfast places on North Lombard Street, and I wound up at the John Street Cafe, on the other side of the street-and in another decade. The John Street is white tablecloths, the New York Times, flowers, original art and sour buttermilk pancakes. All well and good-and not what I was looking for this particular morning.
So I walked across the street, and when I entered Pattie's, four guys at the counter stopped talking, looked up at me, gave me the head-to-toe, then went back to their coffee. I felt like I was on the road!
You might not know this, but St. Johns used to be a town, founded in 1865, and it merged with Portland in 1915. Pattie's is in the middle of "Downtown St. Johns," and when you walk in, you couldn't be further away from what many people think of as Portland: the Pearl District, jogging paths, urban planning, peace marches, lattes and so on. Some of the folks in Pattie's looked like they only "make it down to Portland" once a year or so, and couldn't imagine why they'd go any more than that.
I think I was the only person in there who didn't know somebody else. Or everybody else. The guys at the counter, for example, appear in every small-town cafe in America. Three of them were around 70, and the fourth was about 50, soaking it all up, laughing at everything the older guys said and looking for all the world like an Old Guy in Training.
Whole families were coming in, three generations at a time. Men with canes. Women in slippers. People speaking Spanish. A referee in uniform; people asked which game he was working today. Camouflage hats, flannel shirts, baseball caps, one guy with a shirt that said "It's hard to be HUMBLE when you live in OREGON."
The food is precisely what you would expect, and then some. Contemplate the words "home plate cafe" and "lunchbox." I can only imagine what the folks at John Street Cafe were having. I sat at a table with a laminated Coke tablecloth and had scrambled eggs with ham, hashbrowns (the grilled strip variety), crisp bacon, and pancakes. I ordered
orange juice and got a bottle of Langers. I asked for maple syrup, and they brought out a bottle of Aunt Jemima. The Special was a "sausage dog," two eggs, hashbrowns, and coffee for $6. I wondered if you can get anything at the John Street Cafe for $6.
The food was good, filling, and not pricey, and while I ate, I watched the waitress greet people with lines like "Well, it's a regular family reunion in here today!" I watched the guy behind the counter cook while trading barbs with the old guys. I looked at the store in back and saw wigs, yarn, picture frames, bird feeders, costumes (in March), costume
jewelry, fish lures, plastic flowers, you name it.
My favorite moment was when a Young Portland Couple came in. You know who I mean. He had sideburns, a thin figure and thick-rimmed glasses. She had matching workout clothes, a bike helmet, and a newspaper. They looked at each other briefly, and so did everybody else in the place. They surveyed the scene, made a loop through the store, talked in hushed tones over near the kids toys section, then casually strolled on out-and across the street, I'm sure. Probably rather wait in line at the John Street than cross the cultural divide.
They don't know what they missed. There was a guy telling several people about a great big 9-11 memorial model truck he'd seen at Jubitz, with the names of all the victims painted on the side. Went into quite the detail about it, too. A woman asked where it was, and he gave specific directions to where in Jubitz it was. She knew exactly where he meant, too. So did I, for that matter. On the right, just as you're walking out the main door of the shop, over by the registers. Never been to Jubitz? I bet you didn't know they've got live country music every night there, did you? And a movie theatre?
That's right, folks-don't you forget it, and be thankful for it: Portland is a little bit John Street, and it's a little bit Home Plate.
Address: 8501 N Lombard, Portland OR. 97203. Google Map
Hours: Not sure
Phone: 503-289-7285
Open Since: A long time ago
Payment: Cash/Checks/Visa
Reservations? I didn't have any at all!
Large groups? Sure!
Wait: Can't imagine.
Price Range (typical meal with coffee and tip): $6-8
Coffee: Standard
Other drinks: Juice by the bottle
Wi-Fi/Internet? No.
Feel: 1947
Seating: 30ish – sit at the counter for the real fun
Changes/Substitutions: Probably.
Portion Size: Decent
Feel-goods: The folks
Health Options: Juice in bottles!