Portland photographer David Lanthan Reamer passed away on February 21st, 2021, of pancreatic cancer.
His photos were gorgeous, not just shots of food, but of moments that make the viewer pause to take it all in; moments that tell a story in a perfectly lighted, single image – a stolen moment. David had a way of capturing people at just the right moment, a hint of a smile, a quiet thought, lost in their art… he was one of the go-to people for Portland restaurateurs of all types. His book credits include Hello! My Name is Tasty, The Tastemakers: Portland Chefs Calendar 2012, A Field Guide to 75 Perfect Pairs – Cheese Beer Wine Cider, Cocktails on Tap – The Art of Mixing Spirits and Beer, Le Pigeon – Cooking at the Dirty Bird, Toro Bravo Cookbook,  Pure Beef, and Eggs on Top; Recipes Elevated by an Egg. He shot for Olympia Provisions, Ava Genes, Union Wine Company, and more. His collection of pet portraits, a project for a veterinary clinic in Bend, never fails to make me smile.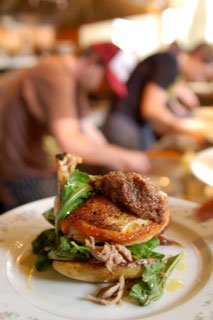 From his bio, "There are no models in my imagery, no strobe lights, and definitely no smoke and mirrors. All of my projects document real people who love to cook, love to eat, and most importantly love to share their talent and time with everyone around them. Having myself been a professional cook for over 12 years, I have a very unique perspective into the spirits and souls of people who love to entertain, as well as the products they use and the dishes they create. When I am not shooting, I can almost always be found in the kitchen."
His service is today, Friday, March 5th. You can see the details here. To honor his love for animals, the family is encouraging donations to the Pixie Project in David's name. https://pixieproject.salsalabs.org.
My heart goes out to his wife, family, and the friends he left behind.
Gabriel Rucker is honoring David by running with a group starting today.
In his Insta post @ruckergabriel of Le Pigeon and Canard says, "Starting tomorrow at 8pm PST, I'll be joining @davidgoggins & many others to run 4 miles every 4 hours for 48 hours, for a total of 48 miles. Over the past few weeks, I've lost my best friend to cancer and watched my wife fight it. It's been a highly stressful time, but the mental and physical fortitude required of this challenge pushes me forward and into healing. 4 x 4 x 48. Who's with me?"