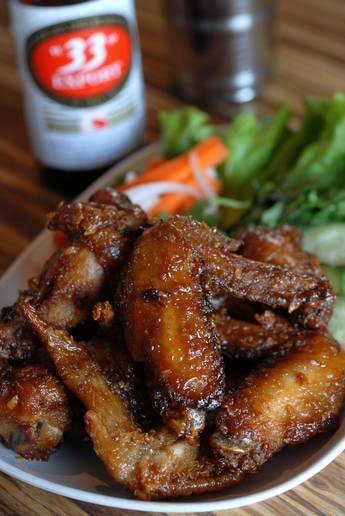 Pok Pok closing all locations except the original restaurant.
The original restauratn opened as a walk-up window in about 2005.
At the time I said, "It was a chilly night, and I felt like the fox that had gotten into the chicken coop. Crispy, crackly chicken skin gave gently under my teeth releasing a flavor somewhat reminiscent of the time I rode my tricycle into a lemon geranium bush. I was eating roasted game hen from Pok Pok Thai on SE 32nd and Division, some of the best Thai food I have ever had in the Northwest."
Over the years it expanded to NYC and Los Angeles before contracting back to Portland and a new focus on the original restaurant and Pok Pok Wing stores.
In an email sent to followers Owner Andy Ricker said:
Dear Portland,

It is with sadness I write to report that we have decided to close Pok Pok NW, Whiskey Soda Lounge, Pok Pok Wing NE & SW permanently. SE Wing remains closed temporarily and may reopen at some point in the future. These closures are necessary so that the original Pok Pok on Division Street may have a chance of reopening when it is safe and financially tenable to do so. It is not clear when that might happen. We hope to provide some sort of service there in the near future, though it may just be expanding our meal kit menu for pick up and (eventually) delivery.

Pok Pok Portland

I am sorry to bring you this news, but the economic reality is that we simply cannot afford to reopen these locations, given the fact that 1) it is unsafe for workers in a city, state and country with no cohesive plan for testing and tracing Covid 19 cases, no mandatory mask policy for the public, no vaccine and no treatment; 2) phase 1 & 2 restrictions on operating restaurants will render us unable to seat enough customers to make payroll let alone break even; 3) the carrying costs incurred as we wait until we can reopen are draining what little resources we have at a rate that will leave us with no money to reopen all locations when the time comes and, 4) the cost of reopening a restaurant is huge and given all the other factors plus the possibility of being shut down again if cases surge, even if we did have the resources to reopen it would be risky at best and ruinous at worst.

The most heartbreaking effect of these closures is that we will be unable to bring our valued and talented employees back to work, at least not in the near future. It was brutal writing the letter to inform all of them the other day but nowhere near difficult as receiving it, I am certain. Nobody is winning here but this part sucks the most.

Unfortunately, I fear announcements like this will be common in the coming weeks and months. The effect of the pandemic and our government's epic failure to address it in a coherent manner is wreaking havoc on our economy and especially on restaurants and all the adjacent industries that are part of the food and hospitality network. I am hopeful that more nimble enterprises will survive and even thrive during this time….some already are, and my hat is off to them! Please support our local restaurants as best you can.

To all our loyal and esteemed customers, thank you for your business over the years at these locations! We hope to serve you again at some point at our OG Division Street location.  In the meantime, we are still offering meal kit pick-ups and merchandise through our website pokpokpdx.com.

Last but far from least, this announcement seems trivial when held against the importance of where we are as a nation and community in the struggle against systemic racism and the endemic police brutality against black people and BIPOC. If it wasn't clear enough by my public stance on social media, Pok Pok as a brand and I personally stand with the BLM movement and will continue to support it in whatever way possible.

Keep fighting, stay safe, be well.

Sincerely,
Andy
My last visit in 2019 was very good, and I'm incredibly sad to see them close so many locations. I will be visiting their Division street location as frequently as I can. This is just another restaurant in the long list that have closed in Portland.