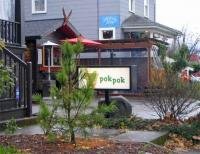 Pok Pok to open little Pok Pok on NE Killingsworth Street in Portland
Last week, Podnah's Pit BBQ announced they were moving to NE Killingsworth and building out a much larger restaurant. Now comes news from Andy Ricker that he will be opening Pok Pok Noi (Little Pok Pok) in the old Podnah's location on NE 15th and Prescot.
Pok Pok Noi (Little Pok Pok) will be a mostly take-out joint with some outdoor and counter seating. On offer will be the original shack menu plus a few of the other favorites from the full Pok Pok menu, such as Neua Naam Tok, Muu Paa Kham Waan and Sii Khrong Muu Yaang. (Doing the full menu in this space would be logistically close to impossible, so sorry– only the greatest hits!) There will be a full liquor license which will allow us to sell bottled beer to go, and our house made drinking vinegars will be featured both for on-premise consumption and to go. We plan on being open for lunch and dinner, 7 days a week.
Rodney thinks he will be moving sometime in November, and we hope to open before the new year. Having said that, construction schedules are notoriously unpredictable and neither we nor the landlord are going to try and push Podnah's out before they are ready to go (there must be brisket continuity!), so there is no official open date for Pok Pok Noi.
Good news all around!