[Sponsored Post] Just one year after a devastating fire destroyed Portland's acclaimed home for all things pork, Tails & Trotters has risen from the literal ashes. They're back in their same 24th Ave. location with a snappy remodel that offers expanded seating for the enjoyment of their newly expanded lunch menu. Featured is a full line of their incredible sandwiches and daily soup specials, and now a curated selection of beers, wine and Cider Riot cider.
Longtime favorite sandwiches like the Cubano have returned to the new lunch menu, and the beloved Porchetta is no longer just a special but is now a permanent fixture. Some old fans may be sad to learn that the Grinder is off the menu, but its replacement the Mortimer should assuage any concerns: it's a thick stack of griddled ham and mortadella topped with aged provolone, dressed shredded iceberg and red onion, a zesty relish of pickled fennel and Mama Lil's pepper relish and a smear of garlic aioli—like a fried bologna sandwich with a My Fair Lady makeover.
"We feel like the crisis is finally in the rearview mirror," say owners Aaron and Kelly Silverman. "We hope that no one ever will have to rebuild their business from scratch the way we have this past year. It was emotionally and physically draining but we never wavered in our dedication to rise again!"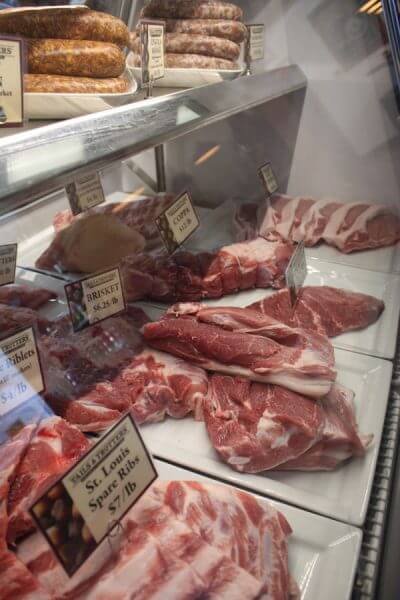 Thanks to the support of the community who appreciates the shop's uniqueness and dedication to the highest quality, Tails & Trotters was able to retain their incredible staff and resume their mission of delivering the finest fresh and cured pork to their customers.
Nearly all their pre-fire stable of products are in the cases, with fresh and smoked sausages rotated weekly.  They are working with the salumieri Visconti's in Leavenworth, WA to relaunch their aging program, starting with capicolla and a myriad of salami varieties all made from Tails & Trotters' pork.
Tails & Trotters is now heading into the holiday season with display cases full of the finest hazelnut-finished pork products Portlanders have grown to love: signature hams and fresh pork cuts, charcuterie, sausages, and pantry items. Tails & Trotters is taking reservations for their boneless holiday hams, which come in three sizes (including a sugar-free formulation), as well as succulent pork roasts and party platters.
No holiday table would be complete without a glistening ham or pork roast centerpiece, and Tails & Trotters is back in full production, ready to fill those orders to help make your holidays as delicious as possible
Tails & Trotters is located at 525 NE 24th Ave, Portland. You'll also see their booth at the PSU Portland Farmers Market.