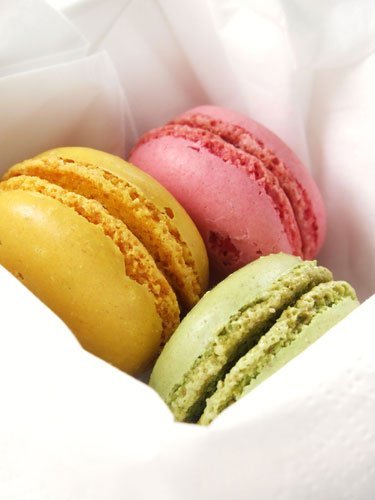 Great event to benefit a great organization – Meals on Wheels.
Portland will join cities around the world in celebrating Macaron Day or Jour du Macaron on Friday, March 20th, bringing lovers of the coveted confection together for a good cause. Over a dozen Portland bakeries have jumped in to offer a free macaron to each customer who donates to Meals on Wheels People in their shops on Macaron Day ($2 suggested minimum donation). Some will create a special macaron just for the occasion, in addition to the delightful colors and flavors each is known for. March 20th is also the first day of spring, and Macaron Day will be a joyful event to welcome the season. People are encouraged to make Nuvrei their first stop of the day, to pick up a Macaron Day PDX starter kit: a complimentary signature canvas tote bag filled with a map of participating locations and a box to hold their macarons. Two random bags will contain $100 gift certificates to Nuvrei. Pick up a tote and roam the city to celebrate the first annual Macaron Day PDX!

"I was inspired by celebrations in Paris and NYC, and can't think of a better city than Portland to pay homage to the macaron while supporting a good cause" says Nuvrei's Founder/Pâtissier Marius Pop. "Macaron Day will give people an excellent opportunity to taste all of the varieties of macarons that Portland has to offer, and we're excited for people to experience this French tradition with us." Macaron Day PDX highlights bakeries around the city which lovingly make the colorful Parisian treat, and gives back to the community in a way that will be a lot of fun for customers.

Macaron Day PDX Participating Bakeries (check macarondaypdx.com for updates):

Customers will donate to Meals on Wheels People via branded jars at each shop, and the suggested minimum donation is $2. More information on Macaron Day PDX can be found at www.macarondaypdx.com. Follow along on social media with #MacaronDayPDX 
For those who don't know, "macaroon" and "macaron" are two different things. Take a look at the photo above.  Macaroon is the chewy coconut cookie many of us grew up with. Macaron is far more dainty, think an elegant sandwich cookie, available in bright colors and flavors.