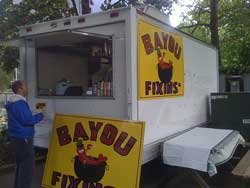 I've been waiting for push-back against Portland food carts, and it sounds like a groundswell is building
From the EnzymePDX website (rip),
There are currently 534 licensed food carts in Multnomah County, with applications for 82 more under planned review. Even John Hamilton, vice president of communications for the restaurant lobbying group the Oregon Restaurant and Lodging Association, admits that Portland has surpassed other major cities as the No.1 spot for food carts in the country.

…

In terms of sanitation and how the food is handled, the carts are held to the same standards as restaurants and receive twice-yearly inspections, according to the Multnomah County Health Department. But other costly requirements that apply to restaurants, such as maintaining plumbing for an on-site restroom and a three-sink hand washing facility, do not pertain to carts. Kirchmeier wouldn't necessarily have a problem with that, if most Portland mobile food units would actually live up to their name. The county health department necessitates that all carts must have the ability to move at all hours of operation, but they are not obligated to relocate from one place to another at any specific intervals.


Hamilton agrees that there is an inconsistency with how these rules are applied. He says Oregon Restaurant and Lodging Association is working with the county health department and the Oregon Department of Human Services to review food standards and may look specifically at Portland food cart regulations beginning in September.
What do you think? Do food cart regulations allow food carts to compete unfairly with restaurants?