Accanto Chef Shuffles
Big changes at the Italian restaurant Accanto on Belmont Street. Erik Van Kley and Gabriela Ramos are moving on from the recently closed Taylor Railworks and taking over the kitchen. From the press release:
They'll be taking their time making Accanto their own – their goal is to keep everything you love about Accanto while adding new aspects to the menu that will highlight Erik's refined but playful approach to food.  Look for Gabriela to work alongside True and Dooley to make sure the cocktails and wines are fresh and sharp — and pair perfectly with Erik's food.

…Erik Van Kley's outsized skill and creativity has been honed by years of working and leading some of the best kitchens in the city, while Gabriela worked the front of the house at Nostrana, Toro Bravo, Laurelhurst Market, and Le Pigeon.  After a series of diverse stints ranging from Gotham tavern to Nostrana, Erik spent four and a half years working as Gabe Rucker's right hand at Le Pigeon. In 2011, he was tapped by Rucker to launch the beloved Little Bird Bistro, which garnered the Oregonian's Restaurant of the Year nod in 2012. In 2015, Erik and his partner Gabriela opened the wildly creative and critically acclaimed Taylor Railworks, where Gabriela's deep knowledge of wine and sharp cocktails provided the perfect counterpoint to Erik's refined but playful food.
I'm looking forward to seeing where they take the food.
QuickFish Poke Bar opening a branch in the Pearl District
According to Urban Works, QuickFish Poke Bar has signed a lease to open a second location in the Heartline building at NW 13th and Johnson. The current Portland branch is at 11th and Stark Street, and the company also has branches in Seattle, Denver, and San Francisco. The Sustainable Restaurant Group which owns Bamboo Sushi is behind the growing chain. Their websites are beautiful. Just sayin'. Look for the second restaurant to open in the Spring.
First spotted by Eater, Miho Izakaya is closing November 30th
Dearest Portland,

After 8 wonderful years, Megan and I have decided to close MiHo Izakaya.

Our last service will be on November 30, 2017.

We are so grateful to everyone who has supported us over the years and we are excited about the opportunity to focus on our family and begin a new project!

Stay tuned!

We look forward to seeing you all one last time and please know that serving you has been our greatest pleasure.

Sincerely,

Michael and Megan Miho+
Afuri has opened a second Portland location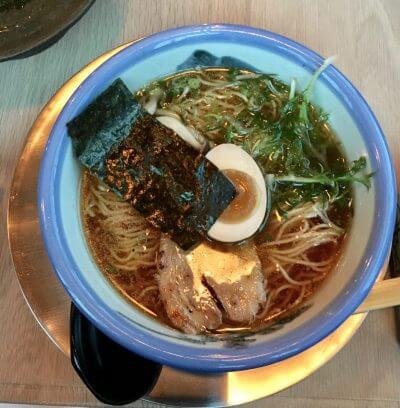 Afuri, the Japanese Ramen and Izakaya chain has opened a second location at 50 SW 3rd in downtown, right around the corner from Voodoo Doughnut. The second branch, called Afuri Ramen + Dumpling is nothing like the cavernous original and has a smaller menu, but you can get the incredibly popular ramen, dumplings, and other small menu items. For those of you looking for a martini lunch, they have a full alcohol license. Their goal seems to be to give you the same quality food, but fast, which should attract a good lunch crowd. As part of this effort, customers will eventually make their selections with iPads.
The first Portland location was the first to open outside of Japan. According to the website, "Portland offered us something no other US city could;  soft water from a pure source within close proximity. Much like Mt. Hood, the Afuri mountain in Japan has long been revered as a sacred place of harvest; the unique geography creates ideal spring water, perfect for ramen making." Kind of sounds like they are blowing smoke, but ok.
Coava Coffee adds yet another location
Matt Higgins began Coava out of a garage in 2008. Just a few years later he opened his first retail space on SE Grand Ave. Now, three branches have followed. I stumbled across the newest on SW Jefferson St. last week while leaving a meeting. At first blush, the new space doesn't feel all that big. But this is Coava, known for cavernous spaces. Head inside and you'll find it covers two floors with a large upstairs area flanked by a brilliant green wall of vines. Good coffee and a surprisingly comfortable space. 1171 SW Jefferson St. in Portland.
This is the best restaurant news I've heard in a while: Roe restaurant by Trent Pierce was in a hidden space behind B&T Oyster bar on Divison Street. The little restaurant was enormously popular for its focused, gorgeous seafood dishes, but the restaurant in front was problematic, so Trent made the decision to close back in February of 2011 with the promise of reopening in another location at a future date. In the meantime, they were involved in occasional pop-ups around town.
We've been waiting… and waiting, but after many setbacks, the time is finally here: Trent has announced the seafood restaurant will reappear at 515 SW Broadway, suite 100 in December. Unlike the previous incarnation, the new space is large enough for a full kitchen which allows them to expand both the menu and the seating. Expect Pierce and sous Patrick Shultz to offer rotating prix fixe dinners featuring sustainable ingredients. According to their website, both a three-course ($110) and a larger seven to nine-course version at $155 including gratuity will be available. Tickets are now available, but this is going to be another restaurant where it is difficult to get a table, so plan a month ahead. They are already booking New Years event with an early 5-course tasting menu for $150 a person and $215 for a 7-course meal with a champagne toast later in the evening.
Right at the Fork podcast ran a great interview with Roe owner Trent Pierce, which you can listen to here.
Omertà, we hardly knew you
I have to admit, when I was told Omertà was closing, I paused and then went to look it up. Turns out it opened at 614 SW Park Avenue on August 1st while I was traveling, and flew so under the radar I never heard about it. Perhaps this lack of buzz is the reason it has already closed. The opulent Italian restaurant opened August 1st by Kurt Huffman's ChefStable restaurant group had garnered positive Yelp reviews, and the closing seemed to be a surprise to everyone.