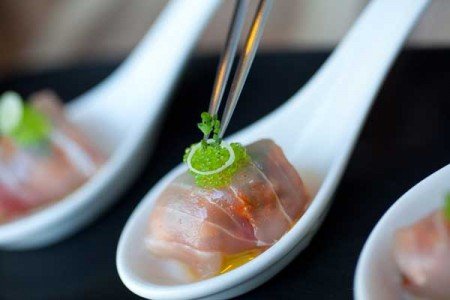 Pack it up! We might as well all go home. Esquire Magazine has come out with their list of "Best New Restaurants 2013", but for the umpteenth year in a row, Portland didn't make it.
Feel free to blame me – someone did a couple of days ago. You see, back in 2005 the Portland restaurant Olea made the list, and I took Esquire food writer John Mariani to task for it. The restaurant had more stumbles than hits – "The grilled dates were just awful on my first visit. Being of the masochistic type, I still ordered them every visit. One time they were dried out on a burnt skewer of rosemary, other times they were cold and gluey", and it closed in 2009. My biggest reason for panning Mariani were stories like this – "Two Houston eateries have been chosen to be part of Esquire magazine's "Best New Restaurants" list due out soon, and you can partly thank your tax dollars for that.The Greater Houston Convention and Visitors Bureau paid the airfare of noted Esquire food writer John Mariani. The Hotel Icon comped his room, and the four restaurants he visited paid for his meals, says Lindsey Brown of the GHCVB."
---
Portland Monthly reports that Kevin Sandri is out at the long troubled Alberta Street Pub. You may know Kevin from such hits as "Garden State food cart". It's a shame to hear this, because ASB had turned around and was putting out some good food, the only problem I noticed was they never built any buzz – probably because they never seemed to send out any press releases, or participate in local events. No one seems to know what the plans are for Sandri or the pub. However, their website isn't working, so…?
---
It seems like every business owner has issues with Yelp, the review site, where any idiot, no matter what their level of familiarity with a particular cuisine, feels free to bash a restaurant. It's also a great place for ex-employees to write scathing/fake reviews, and you can be sure, if you open a new restaurant, your competitors will immediately say bad things about you on the site. Yelp claims that the bad reviews are filtered out, and that people can easily read those hidden reviews if they a) notice the tiny (xx filtered) link at the bottom of the review page, and b) managed to put in the annoying scrambled CAPTCHA words in the box. I did that just now, and it took me three tries. Let's face it, they make it as difficult as possible. Anyway, I was following a link from a current article called "Struggling Restaurant Charges Extortion by Yelp" in the NW Examiner and came to "Yelp and the Business of Extortion" written by the East Bay Express back in 2009. Clearly, not much has changed. In summary, local business owners say Yelp offers to hide negative customer reviews of their business on its web site if they become advertisers.
During interviews with dozens of business owners over a span of several months, six people told this newspaper that Yelp sales representatives promised to move or remove negative reviews if their business would advertise. In another six instances, positive reviews disappeared — or negative ones appeared — after owners declined to advertise.

Because they were often asked to advertise soon after receiving negative reviews, many of these business owners believe Yelp employees use such reviews as sales leads. Several, including John, even suspect Yelp employees of writing them. Indeed, Yelp does pay some employees to write reviews of businesses that are solicited for advertising. And in at least one documented instance, a business owner who refused to advertise subsequently received a negative review from a Yelp employee.
The article includes comments from a former contract employee that supports these allegations.
I have heard lots of similar reports from Portland restaurant owners, but the article points out that, even if Yelp is doing these things, it isn't illegal per se, but they are absolutely unethical.
The one thing that I don't understand, is if all of these businesses have supposedly been coerced by Yelp, how come no one seems to have ever recorded on of these calls? If I owned a restaurant, I'd make damn sure I got them on "tape".
---
While I'm on the subject of Yelp, here is something that might get the attention of those posting fake reviews. From the NY Times,
New York regulators will announce on Monday the most comprehensive crackdown to date on deceptive reviews on the Internet. Agreements have been reached with 19 companies to cease their misleading practices and pay a total of $350,000 in penalties.

The yearlong investigation encompassed companies that create fake reviews as well as the clients that buy them. Among those signing the agreements are a charter bus operator, a teeth-whitening service, a laser hair-removal chain and an adult entertainment club. Also signing are several reputation-enhancement firms that place fraudulent reviews on sites like Google, Yelp, Citysearch and Yahoo.
Despite lines like "Fake reviews undermine the credibility of the Internet", this is a pretty interesting article. In one case, the owner of bus line US Coachways agreed to pay $75,000 in fines because the owner not only hired freelance writers, but mandated that employees write favorable reviews on Yelp.
---
Kevin Gibson, the founder of Castagna restaurant, and chef at Evoe – voted 3rd best lunch in Portland in the 2013 survey, is opening another restaurant. Portland Monthly says that Gibson will be moving into the old June space on East Burnside:
Dishes will run between appetizer and entrée size, but Gibson insists, "not small plates." The restaurant will open for late lunch, serving small, wine-friendly bites, and transition to a larger, more structured menu as the evening progresses. Cocktails will be classic and uncomplicated at the fully stocked, 12-seat bar, while the wine list will lean towards crisp European whites. Gibson will be aided in the dining room by Kurt Heilemann, the former general manager and wine man for Paley's Place and Clarklewis.
Um, Ok. Will medium plates be the next big thing?