Online web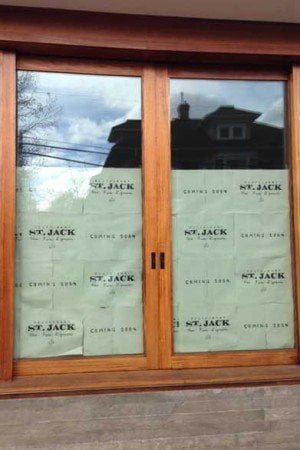 site Thrillist has declared Pok Pok's "Ike's Vietnamese fish sauce wings" one of America's "most iconic foods".
In a city known for its innovations on seemingly ordinary foods — where people will wait in line for 45mins for a phallic donut, call a grilled cheese gourmet, and consider eating something made of weeds from some dude's yard a privilege — it's weird to call a chicken wing a must-have food. But it is. That's because the Vietnamese-inspired wing at the Thai street-food mecca tastes unlike anything you've ever had, a sweet, garlicky, fishy piece of perfection that spawned a bi-coastal mini-empire for Pok Pok. You might think they're even glowing when you get them… but that's just the coat of caramelized sauce on top of the fried skin.
Portland Monthly writes that Bunk Sandwiches is planning on opening their Northeast Alberta location the first week of February. The new location is at 2017 NE Alberta, the same block that houses Salt & Straw and Bollywood restaurant, making it one of the best blocks in Portland to while away an afternoon. The new location will include a full bar, and picnic tables on the back patio.
Hood River Distillers has purchased Clear Creek Distillery. According to Clear Creek founder Steve McCarthy, the distillery will continue to operate from its current location in 2839 NW Wilson Street in Northwest Portland. One of the oldest and best known of the Portland artisan distilleries, Clear Creek has a reputation for outstanding, high quality Eau de vies, grappas, brandy, and fruit liquors. From our Guide to Portland Distilleries,
 Back in 1991, the New York Times caught on, stating this was the best fruit brandy being produced in the U.S., with the writer Eric Asimov echoing the same sentiments again in 2007. Clear Creek is probably best known for their award-winning Poir Williams pear brandy, including the flashy pear-in-a-bottle. Yet, their other liquors, such as Framboise, "we aren't allowed to call it Calvados" apple, and Kirschwasser are equally wonderful. Clear Creek's Blue Plum brandy is really that Eastern-Euro firewater known as Slivovitz, minus the hangover inducing impurities usually found in the cheaper imported stuff (Editor's note: Food Dude's first experience with alcohol was Slivovitz – never again). The unusual and unusually complex Douglas Fir Eau de Vie, may sound like a Pacific NW drunken camping trip gone haywire, but it is actually based on an ancient Alsatian liquor named Eau de Vie Bourgeons de Sapin. As of this writing, Clear Creek also offers not one, but six different Grappas, from those found in Italy, to an Alsatian style Marc, and a Oregon Pinot Noir Grappa. Other items include local fruit liquors ranging from Blackberry, to Pear and even Cassis made from black currents grown in nearby Scio. Clear Creek's newest project is McCarthy's Oregon Single Malt Whiskey, described on their website as "very peaty" and "Made from peat-malted barley brought in from Scotland; our whiskey would be a single malt Scotch if Oregon were Scotland".

Clear Creek Distillery tasting and sales room is open for visitors to drop in Monday through Saturday, 9:00 a.m. – 5:00 p.m. They have a wide distribution network locally and nationally, as well as online sales to states that allow it.
I've always had a thing for a pear sidecar made with Clear Creek pear brandy. Let's hope they keep the quality up!
Hitting the big time – the Wine Spectator has devoted four pages to ROCO Winery and winemaker Rollin Soles in Newberg Oregon. In the January 31st addition, the WS says –
"The Pinot Noirs and Chardonnays from ROCO are already challenging the best of Oregon. ROCO Pinot Noir Chehalem Mountains Private Stash No. 8 Wits' End Vineyard 2010 scored a classic 95 point on Wine Spectator's 100 point scale; the Chardonnay Eola-Amity Hills earned 91 points"
You can see a PDF of the article here, along with some nice photos by Portland's own John Valls Photography.
Rumors Rumors. Could popular Portland ice cream chain Salt & Straw be branching out to selling to businesses? A little bird tells me that DaimlerChrysler in Portland will be selling the product in their private cafeteria.
OregonLive.com says St. Jack Northwest is opening on Valentine's Day. I have to say, I peered in the windows today and they still have a long way to go. The new location is on Northwest 23rd street and Quimby, in the same building as Pacific Pie Co. From OregonLive –
"Obviously it's a newer building, that's a significant change," Barnett tells The Oregonian. "But certain things will be the same. There will be zinc-top bars. I'm (prepping) new candles. Of course it won't be the same restaurant. St. Jack is pretty neat in its own cranky way. But the new place is going to be like St. Jack on steroids."

"We're going to do some of the things we just couldn't in the tiny space," Barnett says. "We just got our table-side flambé cart. We're going to be wheeling it around, setting things on fire."
The new restaurant will include a 40-seat standalone bar.