Olympia Provisions is open on 107 SE Washington St. in Portland.
As you may know, these are the same folks that own Clyde Common. From their press release,
Chef Jason Barwikowski's menu features small plates influenced by European and North African flavors that showcase local ingredients from some of the area's finest farmers, ranchers, and purveyors. Everything on our menu and every bottle on our wine list is also available to-go.

Salumist Elias Cairo crafts "American Charcuterie" in our USDA certified meat-curing facility, using local, high-quality ingredients. Production for retail and wholesale has just begun, and we'll be showcasing our dry-aged sausages on our menu and in our deli case in the coming weeks.
Is Jory Restaurant Circling the Drain?
Chef Nathan Lockwood at Jory, the much-heralded restaurant at the Allison Inn & Spa in Newburg Oregon has been let go. We found the food to be quite good, but have only made one visit so far. Unfortunately, when a restaurant of this type starts to flounder, the chef is usually one of the first people to go. I'm not likely to go anywhere near the place now. I guess I'm just not the spa type – once you get this many wrinkles the only thing that helps is window putty.
The Agency Sports Bar Closes
When The Agency, a "high end" sports bar opened next to The Civic across from PGE Park, many Civic residents were up in arms because they felt like the developer had pulled a fast one, putting in a business that could generate lots of late night noise which would bother the residents. Several meetings were held, but the developer and the owners of The Agency assured everyone noise would not be a problem. Of course it was. I visited friends at The Civic a few times, and though it was a warm night, they had to keep the doors closed to help drown out the noise (only partially successful), and there was the usual chaos you'd expect from a nightclub: people peeing in corners, vomiting in stairwells, crime in the parking lots, and lots of drunk people screaming late at night. Last month, it finally was closed by the property developer, who had clearly "taken it in the shorts". Rumor has it,  the owners had not paid rent for months, but the developer had let them stay because they were afraid such a large vacant space would look bad. Note to owners: not nearly as bad as the Dollar Store you allowed next door.
Is the "new" Domino's Pizza any good?
You've all probably seen the Domino's Pizza commercials where the CEO openly admits that their pizza was lousy, but they had fixed everything. Blogger Nancynall decided she wanted to find out if the new Domino's Pizza's really were better than the old version.
But I was inter­ested in how Domino's had rein­vented their basic prod­uct, after tak­ing the step of essen­tially con­fess­ing, "We suck." So I ordered. The pizza came quickly. It was nice and hot. And it was awful. Really.

It still wasn't as bad as Lit­tle Caesar's, but it opened a whole new vista of bad — the brushed-with-flavorful-garlic-seasoning crust tasted and felt like gar­lic salt swim­ming in a bath of oil. I had to wash my hands twice before I dared touch any­thing after­ward. Sauce meh, cheese meh and every­thing else, SALT SALT SALT SALT SALT. I like salt, so this was a rev­e­la­tion. This was pizza for a gen­er­a­tion raised on Taco Bell and pork rinds. This was pizza for those with no taste buds left to cor­rupt. If pizza was liquor, this was moon­shine. And so on.

David Bran­don, Domino's CEO, recently made news by giv­ing up pizza to become the new ath­letic direc­tor at the Uni­ver­sity of Michi­gan. To which I'd say: Good career move.
"If pizza was liquor, this was moon­shine." I have to remember that line. Anyway, this is an extended version of the real Domino's commercial. Entertaining:
Prasad Restaurant to replace Blossoming Lotus
I can't remember if this made it to the site, but Blossoming Lotus moved out of the Pearl Yoga location last month. The space is going to be taken over by Prasad Cuisine. Brace yourself for the press release:
Behold, Prasad Cuisine, Karen Pride's culinary creations brought to life in Yoga Pearl. We couldn't be more excited about having Karen's presence on a number of levels. Karen is a long-time yogini (the name Prasad is a Sanskrit term meaning "sacred offering") and former chef of Blossoming Lotus, well attuned to the needs of yogis who make conscious, healthy eating a part of their path. Prasad offers something for everyone-raw, vegan, vegetarian and gluten-free choices color the menu. All of Prasad's tasty offerings are grown and produced sustainably, organically and as much as possible, locally…
Fenouil Restaurant is in Trouble
You may have read when I broke the news on Twitter, Fenouil, the French restaurant at the edge of Jamison Square in the Pearl District, has been undergoing quite a bit of a shakeup. Recently, Pascal Chureau sent out an email:
Hello,
This is Pascal Chureau, founder and former owner and executive chef of Fenouil. I have moved on from Fenouil to pursue my own venture, which I am really excited about.I would love to keep you all updated as the project progresses.

Thank you, everyone, for the tremendous support at Fenouil for the last four years. I'll be getting back to my roots and opening a neighborhood gastropub focused on good, local food, and good local people.

My best wishes to Fenouil, Lucier and the incredible staff there that I had the chance to work with.

Merci!

Pascal Chureau
According to my source, things are a mess. Jake Martin of Carlyle will be taking over the Fenouil kitchen. Pastry chef Kristen Murray expat of Lucier has started in the kitchen. The menu is being dumbed down to make it more approachable to the common man. I hope it works – great place to while away time next to the park.
Now I can't help but wonder about the future of Carlyle. I haven't been hearing rave reviews about that restaurant, and it seems to have dropped off of the radar. In the 2009 food survey, the restaurant hardly got mentioned in any of the responses. Hmm.
Wong's King Restaurant #3 Chinese in Nation
The Chinese Restaurant News named Wong's King (actually they spelled it Wang's King, so you can see how much thought they put into this), as one of the top 100 Chinese Restaurants in the Nation. Wow. Hmm. Ok. What ranking is it? 60? 70? No, it's NUMBER 3!
Everyone repeat after me: "Just because Chinese/Japanese/Cops/Firefighters/Mail Carriers/Rock Stars/Italians eat there, doesn't mean it's good".
If Wong's King is the third best Chinese restaurant in the USA, the cuisine is in real trouble. I wouldn't even call it the third best in Portland. When it first opened the food was pretty good, but it has been coasting on its reputation ever since.
Bamboo Sushi is all that!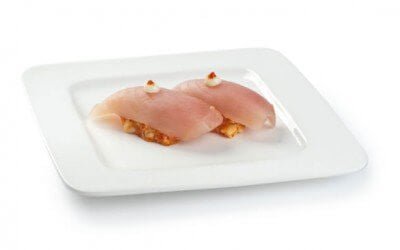 Via TravelPortland.com, Alan Richman of GQ Magazine has named the "Alaska Black Cod with Smoked Soy and Roasted Garlic Glaze" from Bamboo Sushi in Portland as one of his top 5 dishes of the year.
Finally, a challenger to Nobu Matsuhisa's iconic black cod with miso. The cod is crunchy and fatty. The sauce suggests caramelized sake, if such a seasoning exists. Did I taste butter? Chef says no. Cracking the Japanese naval code in World War II was easy. Getting this recipe is impossible.