Is the Portland restaurant scene fading?
Esquire Magazine released its much vaunted "Best New Restaurants in America" list, and two Portland restaurants are included: Coquine at number 4 and Han Oak at number 8. Since they opened in July 2015 and February 2016 respectively, one has to wonder how either made the list, but according to Esquire, the delay is because of writer Josh Ozersky's death back in 2015, after which the magazine paused for a while.
Both of these restaurants deserve a mention; I think they are both terrific, and if you haven't been, you should go. But has nothing else of merit opened in Portland over the last 20 months?
Three Degrees Restaurant R.I.P.
Kimpton Hotels has announced their South Waterfront restaurant will close on November 12th, though the bar will remain open through the end of the year.
Three Degrees has a good location, nice views of the Willamette and plenty of outdoor dining space, but the food has always been forgettable. Furthermore, getting information on upcoming events from either the Kimpton press office or even the hotel staff is usually met with "I don't know what we are doing". No offer to find out, just a blank stare; PR fail. The new version of the restaurant will focus on seafood and will be helmed by current executive chef Lauro Romero. All of this makes me wonder what the heck is going on, as the old restaurant also focused on seafood. So… I guess this story should just say "Three Degrees Restaurant to Change Name".
PDX Sliders Opening in Sunshine Tavern Space
Eater reports the very popular PDX Sliders is going into the space that once housed the now-defunct Sunshine Tavern and then Black Dog Lounge. This joins the Sellwood brick & mortar space. I tried their sliders last winter and thought they were pretty good. Finally, there will be a restaurant along SE Division! ba dum tss.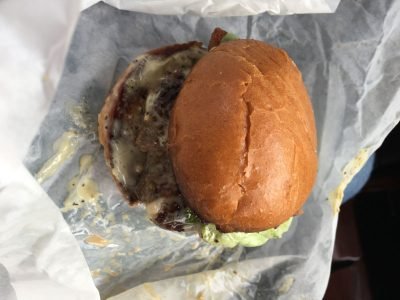 The new spot is at 3111 SE Division. They hope to open by December 1st.
Cricket Cafe to Return
Cricket Cafe closed without explanation in June 2017, leaving a lot of bewildered customers.  According to Willamette Week, the cafe will be coming back with the same name, but under the owners of the popular Jam on Hawthorne. They hope to be open by the end of this month with the same breakfast all day and huge portions.
Ken Forkish Rebrands Trifecta Annex
Trifecta Annex, the bakery and pizza restaurant at Pine Street Market is rebranding to Checkerboard Pizza. Things won't change dramatically under the new name – they will still have fresh bread and baked goods, but they will renew their focus on their classic New York City pies. Ken told Eater he has replaced a troublesome pizza oven and is focusing on the classics – "How well can we make a pepperoni pizza? A cheese pizza? A Hawaiian?"
Ken is the owner of Ken's Artisan Bakery, Ken's Artisan Pizza and Trifecta Tavern.
Goodbye SuperBite, Hello Bistro Agnes
Although SuperBite was opened by Gabi and Greg Denton, the restaurant power couple behind OX which is consistently at the top of "best restaurant" polls, it never seemed to have found its footing and didn't generate the buzz one might expect. PoMo reports the restaurant will close January 1st and reopen as a Bistro Agnes. The new spot named after owner Greg Denton's grandmother will feature classic French bistro cooking. Plans call for lunch, dinner and eventually brunch service.
Holiday Event Listings
Ready or not, the Holidays are almost here. As usual, we'll be posting our popular list of events. You can add your restaurant event here.