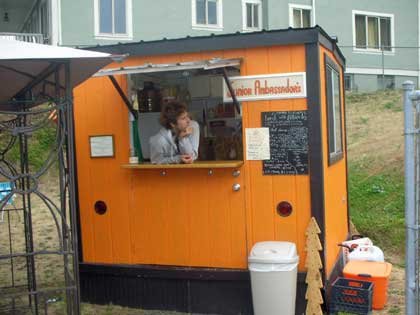 Portland commissioners put the city's nationally known food carts on notice during a council meeting Wednesday.

The council was debating dumpsters that block city sidewalks, when commissioner Nick Fish noted that food carts put lots of things on sidewalks.

Nick Fish: "They're all over the place. There's seating and tables, and other things – including garbage receptacles – in the right of way, on the sidewalk. There are structures being built adjacent to them, there's storage in the back and the front."

Fish said he wasn't sure what the rules were for food carts.

Commissioner Randy Leonard told Fish that administrators at the Development Services Bureau are going to crack down.
The city has regulated the food carts as vehicles, allowing owners to station them in parking lots. That works as long as the owners just serve up their soup and call it good.

The trouble started, according to the city officials, when cart owners began building decks for customers to eat on
and roofs to shield them from wind and rain without getting permits. "There has been a proliferation of these structures. I was blown away," said Mike Liefeld, enforcement manager at the Bureau of Development Services. The code allows awnings but only if they are anchored to the cart. Once those awnings turned into decks built on top of the parking lot, the owners pushed beyond legal limits, Leonard said. "By taking that approach, they threaten the very existence of food carts," Leonard said. He later added: "Some people say food carts are so popular in Portland that you can't get rid of them. That's not true."

Those illegal structures could open the door to more complaints, which can lead to more visits from inspectors. Once inspectors show up, they typically note other code violations, such as chairs or garbage cans illegally parked in the sidewalk. If those problems aren't fixed, the city could shut down the carts entirely.
Food Carts have been the subject of more and more complaints over the past few years, and this can't be a surprise to many. With so many factors involved – safety, tourism, jobs and brick-and-mortar restaurants, it is sure to bring loud debate. Food cart owners, you'd better get organized.
This sounds like this is going to be a big story for 2011.
What do you think? Should food carts be held to a higher standard than they are currently?