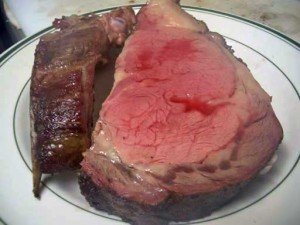 This category is a landslide every year; I don't know why I bother. I'm not going to waste your time with hyperbole – you'll get plenty of that with my review. As far as the winner goes, the only negative comments I have heard out of all the survey questions this year is that service can be an issue. I've never experienced that myself, but I tend to go early. I will say that Smokehouse 21 is already leapfrogged many restaurants on the list, which isn't bad for a new restaurant.
994 votes cast by readers:

1. Podnah's Pit BBQ – 76% of the vote! 1625 NE Killingsworth  Portland, OR 97211  Map  (503) 281-3700. My review (if you can deal with a story of my youth)

2. Russell St. BBQ – 11%. 325 Northeast Russell Street  Portland, OR 97212  Map  (503) 528-8224

3. Clay's Smokehouse Grill – 4%. 2932 Southeast Division Street  Portland, OR 97202  Map  (503) 235-4755

4. Smokehouse 21 – 2.4%. 413 Northwest 21st Avenue  Portland, OR 97209  Map  (971) 373-8990
Though I have friends who swear by Russell St., I'm always amazed to see them near the top of this list. This could be wrong, but I've been told they don't even own a smoker.