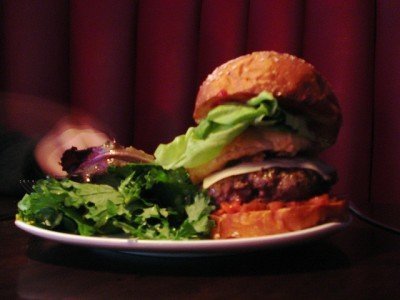 This category is always a top vote-getter in our yearly poll, with such a wide variety of responses, even the winners have a fairly low percentage of the total. It tends to be a polarizing subject, with strong opinions. Despite the explosive growth in this category over the years, there are some perennial favorites:
2012: Little Big Burger, Foster Burger, Cafe Castagna, Killer Burger, Gruner, Toro Bravo, Le Pigeon, Little Bird, Slow Bar, Yakuza, etc.
2011: Cafe Castagna, Gruner, Foster Burger, Tasty N Sons.
2010: Cafe Castagna, Slow Bar, Carafe.
For 2013, out of 1044 votes cast:
1. SlowBurger – 8.5% of the vote. A new entry this year, but many people were familiar with Slow Bar, which spawned the burger restaurant. $8 for a 1/2 lb. cheeseburger, $10 at Slow Bar. 

SlowBurger: 2319 NE Glisan St., Portland 97232. Map (503) 477-5779
Slow Bar: 533 Southeast Grand Avenue Portland, OR 97214. Map (503) 230-7767
2. Little Bird Bistro/Le Pigeon – 8.4%. James Beard award-winning chef Gabriel Rucker's restaurants. The burger with and excellent blue cheese dressing is available in limited numbers at Le Pigeon, but is always on the menu at Little Bird. (They are exactly the same at both places) $12.00
Little Bird: 219 SW 6th Ave. Portland, OR 97204 Map (503) 688-5952
Le Pigeon: 738 E Burnside St. Portland, OR 97214 Map (503) 546-8796
3. Little Big Burger – 7%. My go to spot when I want something good and fast – try it with the chèvre cheese and get some of the truffle fries. $3.75 for a 1/4 lb. cheeseburger.
4. Killer Burger – 6.8%. Dare I say I've never been? Think I will check it out this weekend.   $8 for 1/3 lb, including fries.
4644 NE Sandy, Portland OR. 97213 Map  (971) 544-7521
8728 SE 17th, Portland OR. 97202 Map  (503) 841-5906
5. Yakuza Lounge – 4.2%. Micha Camden, owner of Little Big Burger also owns this more You wouldn't expect to find a burger this good at this Japanese spot in NE.  – 2.91%.  $12, $8 early/late happy-hour.
5411 Northeast 30th Avenue Portland, OR 97211  Map (503) 450-0893