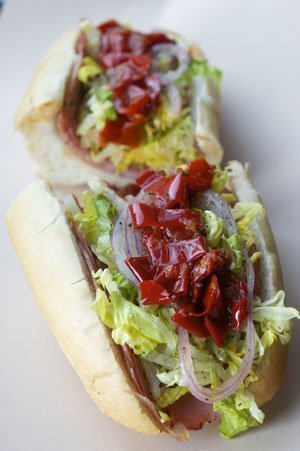 I asked, What is the best restaurant for lunch in Portland. Food carts were excluded. 95 different restaurants received votes. New to the list this year are EVOE and Lardo. If I was in the Hawthorne area, Evoe would get my vote.
These are the restaurants that rose above the pack of nominations:
Out of 799 votes:
1. Bunk Sandwiches – 9.5% of the total vote. Bunk has quickly become the most destination for Portland sandwich lovers. The sandwiches are large and far above average quality. A half sandwich is enough for a light appetite; the other half is great for a late afternoon snack. It is hard to imagine anyone who wouldn't be happy with something on the menu here. Try the porchetta, stuffed full of seasoned, moist pork belly and pork tenderloin, imbued with a nice smoky flavor and a hint of fennel. The addition of sautéed onions, brought this sandwich into perfect balance with the bread, neither one overwhelming the other, the ciabatta roll holding up well against the moisture of the filling. My review
621 Southeast Morrison Street  Portland, OR 97214  Map  (503) 477-9515
211 SW 6th Ave, Portland OR. 97219  Map  (503) 972-8100
(Bunk Bar) 1028 Southeast Water Avenue #130  Portland, OR 97214  Map
(503) 894-9708. Note that Bunk Bar is a bar/live music venue, but has similar food.
More locations are on the way – check their website.
2. Lardo – 6%. First a popular food cart, Lardo quickly expanded to a brick and mortar location on the East side of town. In the summer 2013, the restaurant expanded to SW Portland, giving a boost to the downtown lunch crowd. Try the pork belly gyro with tzatziki, cucumber, feta, tomato and griddled flatbread, or the spit-roasted porchetta with caper mayo and gremolata. If it's Friday, throw caution to the wind with the Toronto inspired, "Blame Canada" roasted turkey, French fries, cheese curds and foie gras gravy.
1205 SW Washington St., Portland 97205 Map (503) 241-2490
1212 SE Hawthorne Blvd, Portland 97214 Map (503) 234-7786
3. Evoe -5%. 3735 Southeast Hawthorne Blvd., Portland, OR 97214  Map (503) 232-1010. A menu of salads, charcuterie and small plates along with beer and wines by the glass. The food is a cut above average lunch fare, with sandwiches such as the Gallego with sardines, pepper and fennel, the Dansk with cured salmon, horseradish and dill. Salads are equally interesting, with Endive, grapefruit & avocado, and artichoke, fennel & guanciale.  Wed – Sun: 12 pm to 7(ish).
4. Little Bird -4.6%. 219 SW 6th Ave., Portland OR 97204  Map  (503) 688- 5952 Justifiably Little Bird has a large, passionate following. The cuisine has been called French fusion and modern French – I think the latter best describes it, though there are some dishes that are true to the classic cuisine, such as crispy sweetbreads, cassoulet, and roasted marrow. My review. Mon – Fri: 11:30 am – 12 am, Sat – Sun: 5 pm – 12 am.
5. Boke Bowl – 4.5%. 1028 Southeast Water Avenue  Portland, OR 97214  Map  (503) 719-5698. Known for hearty ramen with thick homemade noodles, including one with an excellent caramelized fennel dashi, Japanese eggplant and rice cakes, which will satisfy the vegans at your table. A rotating salad currently composed of warm Brussels sprouts, cauliflower, mango, house tofu and Thai vinaigrette is excellent. For something new, try the slightly gamy rabbit ramen – rabbit three ways, dashi, confit and meatballs. If you are especially hungry, a side of fried chicken is a good option.  Mon – Wed: 11 am – 3 pm, Thurs – Sun: 11 am – 9 pm.