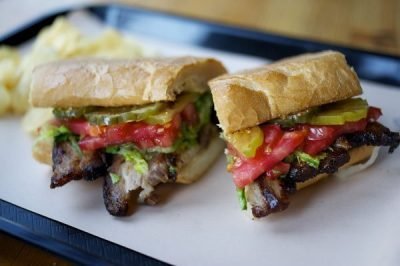 <Completely updated 11/17 – hours, photos, notes, locations, etc.>
What I like most about Bunk is, though it has only been open for a short time, it's already a dive – in a good way. Sit in the back next to the stacks of bread, and you'll know what I mean. It's like being transported to the East Coast, where sandwich shops are a dime a dozen. The only difference is, this one is clean and the sandwiches are damn good.
Bunk was opened in November 2008 when chef Tommy Habetz who had worked at Ripe and Meriwether's restaurants in Portland and Mario Batali's Lupa in NYC, joined forces with Nick Wood who was his sous chef at Meriwether's. When I asked Tommy how he came up with the name "Bunk", his answer was far-ranging: "Bunk is one of my favorite words. Personally, I think restaurant names are incredibly silly to begin with. Part of our thinking was, well, if we call the place bunk sandwiches, then we're setting the bar really low. People will come in without many expectations, and hopefully be pleasantly surprised. I mean, if you say 'Best Sandwiches Ever', you're pretty much setting yourself up for a fall. Also, I am a big fan of The Wire and the character of Bunk Moreland. I'm also a fan of Gang of Four, whose song 'History is Bunk' was a big influence on me – based on a quote from Henry Ford." How can you argue with logic like that?
After their 2008 opening, they expanded to a second location in the SW downtown core, and opened a bar/music venue on Water Ave. As their popularity has grown, they've kept expanding, and now have a total of seven branches. All are open for lunch. The menu changes regularly, so don't get too attached to any one sandwich, though a few greatest hits are always available. Be aware that items also get crossed off as they start running out of things at the end of the day.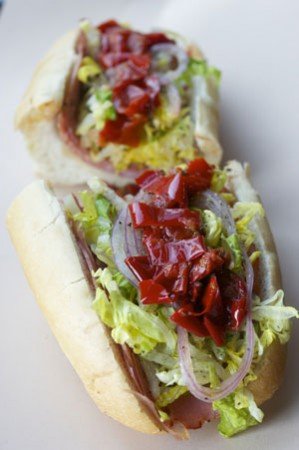 Here is a recent list:
Egg & Cheese $5
Bacon, Egg & Cheese $7
Meatball Parmigiano Hero $11
Roast Beef with caramelized onions, horseradish, Dijon and sharp cheddar $10.5
Grilled Tillamook Cheddar $6. Add tomato soup $2
Italian Cured Meats w/ Bunk marinated hot peppers, provolone picante $11
Oregon Albacore Tuna Melt w/ olive oil, balsamic, Dijon, pickles, cheddar $11
Pork Belly Cubano with ham, Swiss, pickles and mustard $10
Roasted Asparagus with ricotta and green garlic aioli $9
Roast Chicken Salad with bacon and avocado $10.5
Pulled Pork with apple cabbage slaw, pickles and mustard $10
Sides – Potato Salad with Bacon & Egg, Garlic Dill Pickles $3, Apple Cabbage Slaw $3.
A few small desserts like Whoopie pies, piehole, cupcakes and carrot cake
Bunk now has beer and a selection of sodas, iced tea, etc. Bunk Bar on Water Avenue has a full liquor license.
Breakfast sandwiches are simple: all variations on simple, buttery, flaky biscuits with egg or meat, always with cheese. There is a natural inclination to compare them to Pine State Biscuits, but you really can't; they are two completely different breakfasts. I still go to both.
Sandwiches come with chips, and a small choice of sides is available. If you are really hungry, get at a side of red beans and rice. Trust me on this. The bread is mostly from Greg Mistel's Fleur di Lis Bakery.
Throwing myself on the grenade (how I suffer for you), I have tried four different sandwiches.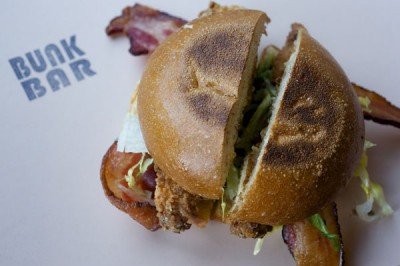 The meatball Parmesan hero is quite simply the best version of this sandwich I've ever had. When I took my first bite, any doubts about another run-of-the-mill version were quickly abated. The meatballs were moist and full of flavor, yet they held together until the moment I bit down. At that point, they simply melted away.  The bread is slightly toasted to stand up against the sauce, so it all holds together.  The sauce is flavorful and herbaceous, without overpowering the meat. I couldn't say anything to my dining partners; instead, I just sat there with a big grin, wondering where the napkins were.
Salt cod, chorizo, and olives, shows strong Spanish influences, the chorizo providing a spicy counterpoint to the fish. It may sound a bit strange, but this is one of the best, and unusual (for Portland,) sandwiches I've had this year.
An eggplant sandwich was perfect: roasted eggplant, red pepper, fresh mozzarella, and basil, drizzled with fragrant olive oil and a bit of salt; substantive enough without being too heavy. This sandwich is a classic and beautifully done – the soft roasted vegetables melting into the fresh clean taste of the cheese and the olive oil, with whole basil leaves creating a wonderful aroma. It featured an East Coast style hoagie bun of the kind rarely found in these parts, soft but with enough heft and chew on the outside to keep the sandwich from falling apart.
I loved the porchetta, stuffed full of seasoned, moist pork belly and pork tenderloin, imbued with a nice smoky flavor and a hint of fennel. The addition of sautéed onions brought this sandwich into perfect balance with the bread, neither one overwhelming the other, the ciabatta roll holding up well against the moisture of the filling.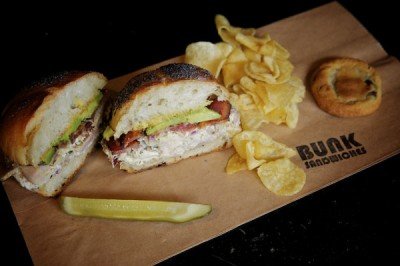 Finally, I've tried the roast beef, which comes on a Kaiser roll with sweet onions, cheddar, and tons of great, yet not overpowering horseradish. The beef was perfectly sliced an portioned. This is a sandwich that shows how much thought and care is being put into the ingredients, from the way the beef is sliced, to the heat of the horseradish.
Overall, I love Bunk. The sandwiches are large and far above average quality. A half sandwich is enough for a light appetite; the other half is great for a late afternoon snack. It is hard to imagine anyone who wouldn't be happy with something on the menu here.
My only caveat is to go during off hours since it gets very busy and the wait can be a bit long at the lunchtime peak. Tommy Habetz has a sure winner on his hands.