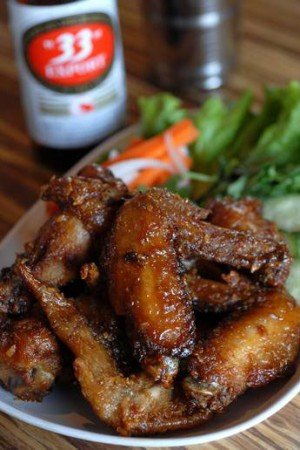 Reflecting the popularity of Thai food in Portland, this category in our reader survey received more votes than any other. Though it is still ahead by a large margin, it is interesting to note that Pok Pok fell from 43% last year, with Chiang Mai picking up nearly the same percentage. Still, Pok Pok consistently rates as one of Portland's best restaurants in our overall poll, placing #2 overall in 2012. Red Onion Thai has moved up by 3.5%.
2012: Pok Pok, Chiang Mai, Cha Ba Thai, Red Onion Thai, Mee Sen.
2011: Pok Pok, Red Onion, Chiang Mai
Out of  1,175 votes in this category:
Pok Pok – 38% of the vote. 3226 Southeast Division Street  Portland 97202  Map  (503) 232-1387  My review
Chiang Mai – 11% 3145 SE Hawthorne Blvd  Portland 97214  Map
Red Onion Thai – 6% 1123 Northwest 23rd Avenue  Portland 97210  Map  (503) 208-2634
Cha'Ba Thai and Paadee are tied for a distant 4th place.
No other restaurants reached statistically significant votes.