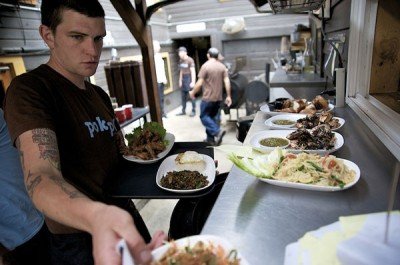 (Pok Pok closed in 2020)
With many people distracted by the deluge of new restaurants opening in Portland, I think it is important not to forget other notable destinations. For that reason, I find myself at Pok Pok on a regular basis.
To understand what Andy Ricker is trying to achieve at the restaurant, it helps to have a bit of background in the culture of Thailand. All over the country, there is street food, from the hahp baskets carried by a pole over the shoulder, to the pushcart, many specializing in just one particular dish. These movable markets of vendors gather anywhere people congregate, moving from one area to another as crowds ebb and flow. For a tourist, it is a wonderland of tastes and smells. Walking through these open-air restaurants, you have to throw caution to the wind, and bravely sample new dishes with unfamiliar ingredients. Most of these indigenous dishes do not have many similarities to the food in the hundreds of Thai restaurants scattered like so many darts across a map of Portland. It is instead an entirely different type of food, one with its roots not in restaurants, but in the streets of the Thai countryside.
Not unlike our food cart scene, in Thailand, as the carts become successful, some proprietors open stalls, which occasionally grow into roadside restaurants. These places tend to show their roots, with a casual high energy and low prices, rough on the edges and not particularly clean. A lot of them cater to tourists, and it's not unusual to find yourself sitting in one of these places throwing back whiskey sodas, and listening to something incongruous like The Eagles playing in the background. This is the type of place Andy is trying to create with the Pok Pok, and he's done an admirable job. (For more information on the cuisine, see our Thai Food Primer, which goes into more detail on the food, theories, and customs by clicking here)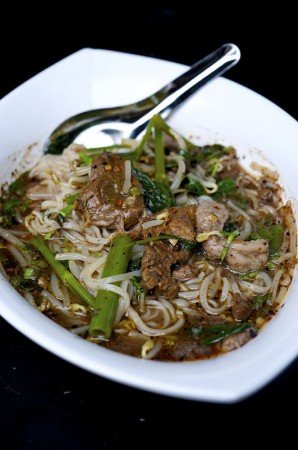 Now greatly expanded since their modest opening which consisted of a take-away window on the side of a shack, there are now three dining areas, with a patio available during warmer months. In the main lounge downstairs, some of the seating is backed with a brick wall, the windows are few, the ceiling's a bit low, and the place has a dive feel, but in a brighter, clean comfortable way than similar places in Thailand. The whole space is laid back, comfortable, and cozy, with the feel of a late night touristy drinking restaurant in Thailand, from the high energy ambiance to the strange selections of American music, to the servers in their mohom shirts.
In 2007 an upstairs dining room was added for parties of five or more. This area is a bit more formal and isn't nearly as noisy as downstairs. In addition, the driveway/patio area is now table service for the main restaurant. During the warmer months, the tents come down and it is a pleasant place to have a late dinner.
As I've discussed in other reviews, Thai food is not only very regional, but is also strongly influenced by the cuisines of nearby countries such as China, Malaysia, and Laos. Thus, as you travel from region to region, you'll find certain characteristics of the food vary greatly. For the most part, dishes at Pok Pok focus on the Northeast region of Issan, famous for grilled chicken and meats, and the Northern region of Chaing Mai. Just to shake things up, there are also some Vietnamese dishes thrown into the mix.
Pok Pok has a full liquor license and an interesting selection of cocktails from $7.50. I enjoyed the tamarind whiskey sour with lime, palm sugar and bourbon; I could drink these all day. Another favorite is the salty plum vodka Collins, an interesting melange of salted plum, vodka, lemon and soda which, as stated, was a bit salty, yet well-balanced (once stirred), and very refreshing. A simple twist on the standard gin and tonic, their version comes with muddled kaffir lime leaves resulting in an unexpected background flavor. Keeping close to their roots, Pok Pok features a large selection of bourbon, rye, Scotch and Whiskey – 67 at my last count. Beer runs the range from , Bitburger and a rotating tap on draft, and an interesting choice of about 15 bottles, mostly Asian with a few lowbrow addition. Wine does not get much of a focus.
If you have never tried a drinking vinegar, throw caution to the wind. You'll find them strangely interesting (I know, that makes no sense, but neither do the flavors that hit your palate). Think plum, vinegar, salt… they are so popular that Pok Pok bottles their own Som Drinking Vinegar which can be found in many upscale grocery stores.
Eating here will surprise those used to Americanized Thai food. I can't think of a single dish which is composed in the same way in other Portland Thai restaurants. Keep an open mind, and be prepared for a new learning experience; it's worth your time. Expect many of these dishes to be fairly spicy. If this is going to bother you, let them know, and they will tone down the seasoning. On the opposite end, ask and they will bring out the classic little tray of four condiments, which you can use to adjust the heat and balance of various flavors to your liking. A final note: it is traditional to use the fork to push the food to your spoon, and use the spoon to eat; easy to forget, but so much more effective.
The menu is seasonal, with more soups and comfort-foods during winter months. Not all items I describe here will be on the menu at any one time. Available selections will vary. I'll have a link to their current menus and prices at the end of this review.
On a rainy night, soup comes to mind, and the tom yam naam is the best I've had in Portland. Every chef in Thailand has his own balance of flavors, and it can be the source of many arguments among locals. Accept that no matter where you go, it is probably going to be different from other restaurants you've been to. The Pok Pok version isn't as creamy as many Americanized versions, and contains shellfish stock, giving it further depth and body. Many American versions use chicken stock, or, even worse, make it from Tom Yam bouillon cubes. Be prepared, this is a spicy dish that will clear your sinuses in no time. I can't help but feel I'm doing something good for my body by eating it, and if I were coming down with a cold, this would be on my short list of treatments. It is normal to have a few pieces of lemongrass or kaffir lime leaves sitting on the bottom. No, you don't eat them. Over the winter months they imported a machine to house-press coconut milk. You just can't compare it to canned; the flavors are much more rounded and subtle. Khao Soi, uses this milk, resulting in a stunning soup with layer after layer complex but balanced flavors. House-made curry paste, chicken on the bone, fresh coconut milk, mustard greens, shallots, dried shrimp, crispy yellow noodles, and chili paste to taste make up the ingredients. This is the best version I've ever had.
One of the most interesting salads I've had in a long time is the yam samun phrai. It is simple on the surface, yet complex in flavors – bright and fresh, with great textures and a subtle spicy coconut dressing, set off by crunchy peanuts. It has a huge list of ingredients: ginger, carrot, parsnip, betel leaf, basil, lime leaf, sawtooth, fried shallots, cashews, peanuts, sesame seeds, dry shrimp, ground pork and Thai chilies. Andy's version includes things I haven't seen anywhere else, but even with this many ingredients, everything balances perfectly; a textbook example of the components of a Thai dish. Though the makeup seems to vary a bit with the seasons, this is a new favorite for me that shouldn't be missed. Another terrific choice is yam khai dao, a salad of crispy fried egg, Thai chilies, Chinese celery, onions and carrot, with a dressing of lime, palm sugar and fish sauce. I love the egg, finding its texture a perfect foil for the other ingredients. Everything is well-balanced; those with an aversion to fish sauce shouldn't be scared away. It's a terrific, refreshing salad for a warm summer evening.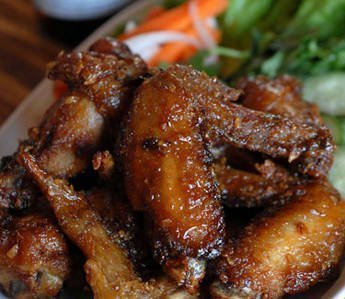 Yang rou chou'r Islamic Chinese lamb consists of as much lamb as you could fit on two skewers, cooked to medium rare, with a nice, salty/spicy rub made up of coriander, cumin and chili powder. What seems like a couple of rather pedestrian pieces of flat bread are included to use as a wrap, but give it a moment to soak up juice from the lamb and it becomes wonderful. On the side, a bright salad of dazzling red cherry tomatoes, great cucumbers, onions, a bit of cilantro, and a light dressing. I've had these several times at the shack and found the seasoning varies a bit from day-to-day – sometimes very salty, sometimes very spicy, but I always like them.
The hoi thawt made with mussels meets and exceeds expectations. A bed of small crispy crepes makes up the base of the dish, with a melange of fresh steamed mussels, eggs, garlic chives and bean sprouts. They come with a side of the bright red Sriracha sauce. You want to get a bit of everything in each bite.
Laap is a kind of Issan "salad" of minced meat. In this case, catfish have been grilled, with the meat picked off and added to the mix. The overall salad was impeccable. I could be happy just having this dish of lovely crispy catfish nuggets, the fish balanced by crunchy fried shallots, garlic, fish sauce and herbs. A recent addition to the menu, Cha Ca La Vong, consists of (from the menu description) "catfish marinated in turmeric and fermented sticky rice, fried in turmeric oil with scallions and dill, served on rice vermicelli with peanuts, mint and nouc cham. Our stab at the famous dish from La Vong Restaurant in Hanoi, Vietnam". This dish is legendary, with restaurants – and even streets – being named for it. If you order Cha Ca in Hanoi, the ingredients come in separate little bowls to be added to a pot over a burner, but the small tables at Pok Pok preclude this. Instead, you get a bowl with lovely thin noodles nestled on the bottom, moist crispy little fish nuggets in the middle, and an assortment of herbal goodies and nuts on top. A smooth, slightly spicy dressing is on the side, to add as you see fit. As with most of the entrees, there is a lot of complimenting textures and flavors here, all coming together in a synergy or creamy, smooth, oily… heck, just order it and you'll see. Hmm, does this mean a snakehead fish version in the offing? If you were a foodie visiting Hanoi, a restaurant serving Cha Ca would be a must-visit before you leave.
An item that made its first appearance at the "shack" is neua naamtok. I was disappointed when they took it off the menu, but it's back for summer; a spicy and sour grilled marinated flank steak salad with ground dry roasted chilies, lemongrass, fresh shallots, toasted rice powder, fish sauce, lime juice and mint. A classic salad from the NE Issan region of the country, I found it quite interesting and have ordered it many times; the nose a panoply of fragrant ingredients playing off one another in harmony. I loved the first few bites: strips of juicy steak, with the addictive rice powder giving crunchy texture, and the additional ingredients playing off one another in contrasting bursts. Another summer dish is Khao Kha Muu, which is a whole Carlton Farms pork leg stewed in soy and spices and served chopped on rice with pickled mustard greens, an egg that has been hard boiled in the braising liquid, and a sour chili dipping sauce. This is a marvelous dish and a must for those looking for an authentic Thai experience.
I've had so many excellent meals here it's impossible to describe them all without boring readers. Skimming over highlights; kai krapao khai dao, a typical lunch dish of minced chicken and long beans, krapao (a Thai basil), white onion, black soy, fish sauce, garlic and dry chilies. It is hard to find an authentic version of kai krapao in this country, but Pok Pok does it right. The dish comes with a nice amount of minced chicken, a mound of fragrant rice covered with an egg that is fried to the point of being crispy. Be warned, the little chilies make this dish fairly hot. I sweated my way through it – in a good way. The rice and egg create an interesting juxtaposition of textures. Ike's Vietnamese fish sauce wings are addictive and legendary. Do not go to Pok Pok without ordering them, as that is the first thing friends will ask about.  The fresh wings are marinated in fish sauce and palm sugar, deep-fried, tossed in caramelized phu quoc fish sauce and garlic – crunchy, salty, loaded with flavor. If you are troubled by the description, trust me; you'll like them. He should call them "Crack Chicken Wings".
Have room for dessert? Be prepared for heat if you get som tam phonlamai, a fresh fruit som tam with apples, grapes, Asian pears, green mango, green papaya, chilies, lime juice, naam plaa and palm sugar. It's hot! I could see this being a great dessert on a hot day, but on a rainy night, especially after having had a salad with similar textures with dinner, I didn't really care for it – more my fault than theirs. I prefer the Pok Pok affogato, a condensed milk ice cream with a shot of Vietnamese coffee. A Chinese fried donut is served on the side. My favorite is the ice cream sandwich, with rich coconut-jackfruit ice cream sandwiched between a sweet bun with sweet sticky rice, peanuts, condensed milk and chocolate syrup. The newest addition is the Whiskey Cola float with bourbon ice cream. I noticed it on the menu when we first arrived, and my fantasies built up as I waited before I could get away with ordering it. I had visions of me and Ms. Bourbon wandering off into the sunset together, but it was light on flavor for my taste. It was good, but I wanted something bolder to complement my meal.
Looking back over this review, it seems at the end of every description, I rave about each dish. Truly, this is a wonderful restaurant, and would be an exciting addition to any restaurant scene, not just Portland's. Though there are occasional inconsistencies in cooking and flavors, I've rarely had a dish here that was flawed in execution. Be prepared, as there is almost alway a line down the street, though if you duck in during slower hours it's possible to get seated pretty quickly; especially at lunch.
To those who are wondering about to-go food, the Pok Pok shack is still open with a very limited menu for to-go items. The driveway/patio area is now reserved for the regular restaurant.