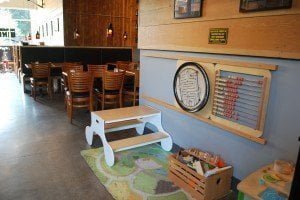 Before I get started, yes, I know some of you avoid "family friendly" restaurants like the plague. I understand that. Many people don't feel the same way, so just keep the nasty comments to yourself.
I like my summary from 2012, so I'm just going to quote it –
'"The place where friends and family meet", "Bring the kids!", "Tot Tuesday", "Free Soft Serve Ice Cream". These are all quotes from the websites at Hopworks and Laurelwood Public House, and they show how much things have changed. Add Sunshine Tavern and Pause and these sort of restaurants are reaching out to a bigger audience. It's Phillip Morris all over again!"
Has it gotten so bad that we need to drink in order to spend time with our kids? ;-)
Once again, the same restaurants top the list:
2012: Hopworks Urban Brewery/HUB, Laurelwood Public House, Sunshine Tavern, Slappy Cakes, Pause Kitchen and Bar, Lucca, Old Wive's Tales, The Country Cat.
Out of 500 votes, these restaurants rose to the top:
1. Hopworks Urban Brewery / HUB –

Urban Brewery – 2944 Southeast Powell Boulevard  Portland, OR 97202  Map  (503) 232-4677
Bike Bar – 3947 N. Williams Ave., Portland OR 97227  Map  (503) 287-6258

2. Laurelwood Public House & Brewery– 5115 Northeast Sandy Boulevard  Portland, OR 97213  Map  (503) 282-0622

3. Pause Kitchen and Bar–  (closed)

4. Besaws – 1545 NW 21st Ave, Portland, OR 97209 Map (503) 228-2619

5. Jam on Hawthorne – 2239 SE Hawthorne Blvd, Portland 97214 Map (503) 234-4790

6. Lucca – 3449 Northeast 24th Avenue  Portland, OR 97212  Map  (503) 287-7372 My review