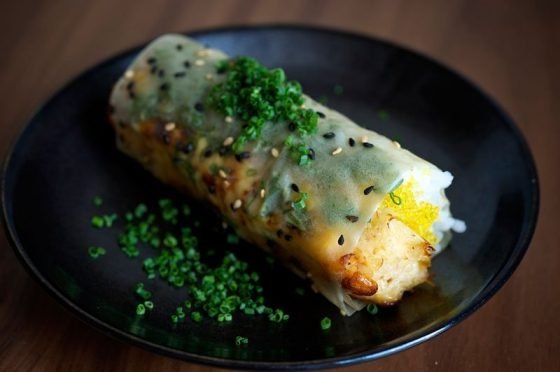 Every survey I ask you "what is the Best Seafood Restaurant in Portland?", and every time it seems like the selection is a little bit better. With all of the riches off of our coast you wouldn't think this would be an issue. Speaking of riches, I haven't been to any of these places in some time, but looking at the menu prices, the cost of bringing fresh, sustainable seafood to market is quite high, so brace yourself.
It used to be that most fish houses had quite a few options for those who don't like seafood. This is not as assured these days, so if someone in your party isn't partial to fish, check the menu before you go.
I've changed the results slightly from previous years, only selecting restaurants where fish is the primary focus. That moved Woodsman Tavern from 6th place, but they get an honorable mention.
1,348 of you voted:
1. Roe – 30%  $$$$
Roe offers a Guest's Choice menu of 4 courses at $75 per person, and a Chef's Tasting with seven courses for $115 per person. All are available with wine pairings. Want more? Get the caviar service. The food itself is beautiful and the service is terrific, making for a great experience. Everyone should go at least once – it says a lot that such a spendy restaurant gets so many votes. Note: there are no non-fish options here.
3113 SE Division St., Portland 97202  Map  (503) 232-1566 (walk through Block + Tackle to get to Roe)
2. Cabezon – 15%  $$ – $$$
Cabezon is a sleeper that keeps climbing the results ladder. It's a nice space with big wood rafters, and the people running it seem very focused on fresh, sustainable ingredients. There are a few non seafood dishes, all of which seem to be made with equal care.
5200 NE Sacramento St., Portland, OR 97213  Map  (503) 284-6617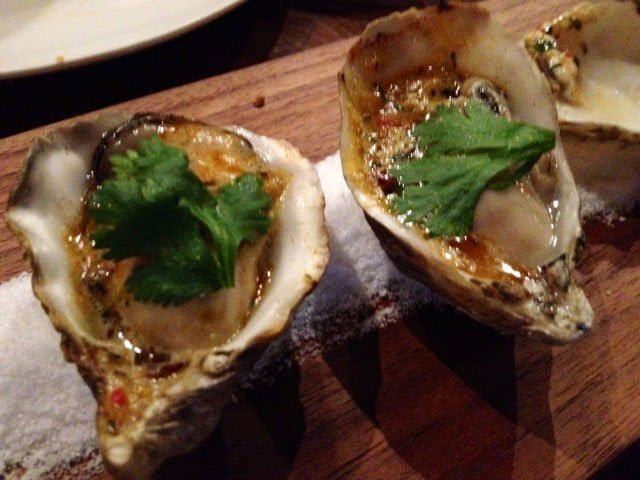 3. Block + Tackle Oyster Bar – 8%   $$-$$$
I like Block + Tackle; it's very laid back restaurant where you can wander in by yourself and feel comfortable. They call it a "modern oyster bar", but have a full selection of larger dishes. "The menu emphasizes local seafood paired with fresh, seasonal ingredients that rely heavily on Trent's background with French and Asian flavors. Fresh oysters on the half shell rotate daily. The menu is highlighted with Pierce's inventive, fun creations such as porcini crusted Hawaiian walu with roasted maitake mushroom, yuzu shallot marmalade, and Parmesan dashi or house made Dan Dan Noodles with Szechuan spiced seafood ragu, pistachio butter, and chili oil." Note that there are no non-fish options here.
3113 SE Division St., Portland OR, 97202  Map  (403) 236-0205
4. Jake's Famous Crawfish – 7%  $$$
Jake's started in Portland, and has now grown into a national chain. I'm surprised it placed in 4th – I think ya'll are crazy; all that airline magazine advertising pays off. The menu is a huge, and reminds me of the 60's. So does the quality of the cooking. There is a small selection of non fish items like liver & onions, a few steaks and chicken marsala.
401 Southwest 12th Ave., Portland, OR 97205  Map  (503) 226-1419
5. Bamboo Sushi – 6.12%  $$$
6. Salty's Waterfront Seafood Grill – 6%   $$$
Go for the view, stay for the view. Have dinner and look at that view! The menu lists the source of the seafood in each dish; a nice touch. It is focused on doing a smaller number of dishes than many other seafood restaurants, and keeping things simple. The restaurant has a larger number of non fish items than some of the others on this list. Weekend brunch is very popular.
3939 NE Marine Drive, Portland OR 97211  Map  (503) 288-4444
7. Southpark Seafood – 5%  $$$
Southpark partners with the Monterrey Bay Aquarium's Seafood Watch program, so everything they serve is fished or farmed in ways that minimize their environmental impact. In addition, they go out of their way to support local farmers and growers. Three non fish entrees are available. Good place to have dinner before a concert of play.
901 SW Salmon St., Portland OR 97205  Map  (503) 326-1300
8. Ringside Fish House –  4%  $$$
This is a sister restaurant to Ringside Steakhouse, so there are many good meat options here too. The whole ambiance is "steakhouse classy". Good place to go on an expense account. Here is a complete review
838 SW Park Ave., Portland OR 97205  Map  (503) 227-3900
Special mention:
Previous results:
2013: Roe, Woodsman Tavern, Jake's Famous Crawfish
2012: Bamboo Sushi, Southpark, Ringside Fish House, Riffle NW, Cabezon
2011: Jakes, Southpark, Bamboo Sushi