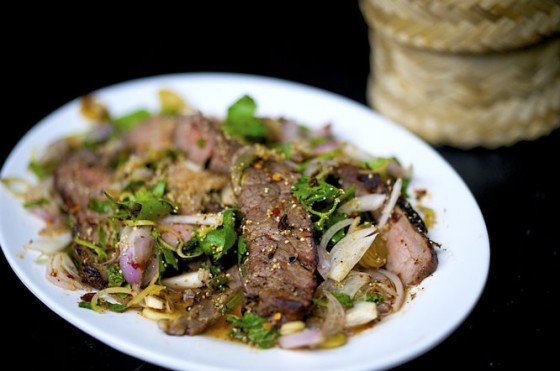 In my surveys over the years, this question has received more votes than any other category. No so for 2015's Best Thai Restaurant in Portland. Perhaps Portlanders are getting more sophisticated, and experiencing other cuisines as more diverse restaurants open. I am glad interests seem to be evening out.
In the 2011 poll, Pok Pok took an impressive 43% of the vote, but in those days the competition was not nearly as strong as it is today. This year they dropped to a very respectable 26%, but other restaurants have come in and eaten away at their margins – including Sen Yai, which is also owned by Andy Ricker. I was struck that previous winners Mee Sen and Red Onion didn't even crack the top ten, placing at #11 and #17 respectively.
This may be the first of the 2015 surveys where I completely agree with the top five choices, though I'm not sure I would put Pok Pok above LangBaan. On the other hand, the latter doesn't have reservations available until next fall, so it is just as well. Depending on whether you want the simple menu of Nong's or the wider variety of PaaDee, I might switch their placement. I received 48 comments about this category, most saying how difficult it was to choose between the top three.
1343 votes cast –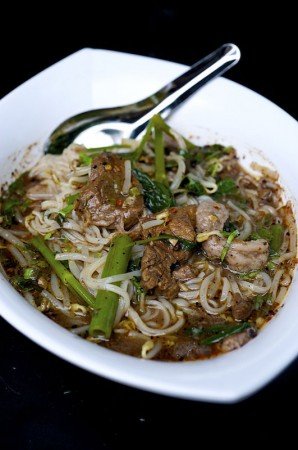 1. Pok Pok – 26% of the vote.
2. LangBaan – 9%
This tiny space is the "it" Portland restaurant right now, with reservations booked until at least October 2015. You can get on a Notify Me list via the reservations panel on their website.
6 Southeast 28th Ave., Portland, OR 97214  Map  (971) 344-2564
3. Chiang Mai – 6.15%
3145 SE Hawthorne Blvd  Portland 97214  Map
4. Nong's Khao Man Gai – 6.15%
609 Southeast Ankeny St. Portland, OR97214  Map  (503) 740-2907
4. Paadee – 5%
6 Southeast 28th Ave. Portland, OR 97214  Map  (503) 360-1453
5. Sen Yai Noodles – 4.1%
3384 Southeast Division St. Portland, OR 97202  Map  (503) 236-3573
6. Cha'Ba Thai – 3.5%
I've never understood why this restaurant is so popular. I've always experienced average food and mediocre food here.
3024 Northeast Alberta St. Portland, OR 97211  Map  (503) 719-6917
5810 NE Sandy Blvd Portland, OR 97213  Map  (503) 282-3970
Previous years:
2013: Pok Pok, Chaing Mai, Red Onion Thai
2012: Pok Pok, Chiang Mai, Cha Ba Thai, Red Onion Thai, Mee Sen
2011: Pok Pok, Red Onion Thai, Chiang Mai
My favorite comments:
I had a millipede in my pad kee mow recently at Tuk Tuk. Never never again.
I think K.P's [Kuhn Pics?] food is great but I'm not always ready for the side of marital strife it comes with.
I see Pa Dee, Nong's, Pok Pok, and Lang Bann as so different they should be in different catagories. I think they are equally good.