It is one of the most polarizing foods, but the majority of you have a strong opinion on the Best Barbecue in Portland
While Podnah's Pit has easily topped your list for many years, more competitors have opened and they are starting to make inroads on the king. The top three choices stand significantly above the others. Podnah's has dropped by 8% since 2015 – not that this has made a difference in the lines; it is clearly the most popular BBQ in Portland. But others are gaining, forcing the leader to keep focus.
828 votes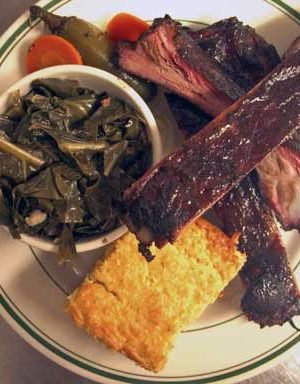 When Podnah's Pit first opened on Prescott street, I was so overwhelmed by how much it reminded me of my Texas childhood, I wrote an entire review in my head and dashed home to put it on paper. It has more reads than just about any post on Portland Food and Drink. It's like they knew I was coming and set the scene just for me; Doc Martin on the stereo, fogged windows, good beer, and no one else in the place. Podnah's has moved since then and grown significantly, but I will always remember sitting at that Formica table top, trying to hold myself together.
Sentimentality aside, this is excellent Texas BBQ; dry rubbed instead of being slathered with sauce as some people might expect. There is a good balance of bark, meat, and fat on the bones. It's all good – ribs, brisket, smoked trout and the sides. Nightly specials can be standouts, especially the smoked prime rib. My only caution is the lines – go on a weekend night and you could be waiting a while, but the tables turn over quickly.  Patio info
The People's Pig started as a cart, but opened a brick and mortar in 2014 and immediately vaulted onto this list. The style is loosely Kansas City. Over time owner Cliff Allen has expanded the menu to include Ribs, Fried Chicken, Pork Shoulder, and a Lamb Plate. Trust me – try the pork shoulder.
3217 N Williams Ave, Portland, OR 97227  Map  (503) 282-2800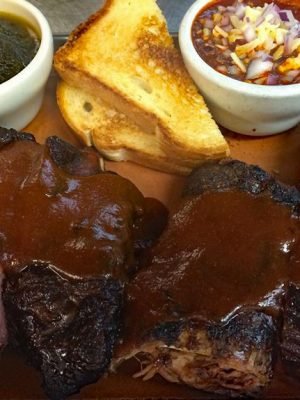 I used to get into passionate arguments with the guy who originally started this site over what makes good barbecue. He had a secret love affair with Russell Street, and I said he didn't know what he was talking about, to which he replied, "yes, I know nothing about barbecue, but I just like the place!" That said, over the years Russell Street has obviously felt the pressure, and have improved the building, expanded to another location, and changed to a real outdoor grill. These changes have reflected positively on the food and kept them high on this list. Like Podnah's, this too is Texas BBQ, but you'll also find Smoked Meatloaf, Chicken Fried Chicken, and Crisp Pan-fried Cod. Patio info
325 Northeast Russell Street  Portland, OR 97212  Map  (503) 528-8224
4246 SE Belmont St, Portland, OR 97215  Map  (503) 206-8518
Reverend's BBQ in Sellwood started out to mixed reviews but seems to have gotten their house in order. Brought to you by the group behind our perennial favorite steakhouse, Laurelhurst Market, they don't subscribe to any particular style of BBQ, but rather pay homage to the entire gamut.
7712 SE 13th Ave, Portland, OR 97202  Map  (503) 327-8755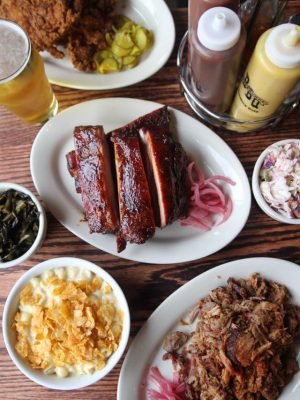 Smokehouse Tavern was opened by BJ Smith, who was the owner of the now closed Smokehouse 21. It sits in an odd location for the genera, in the corner of the Morrison Street shopping center which also houses Nostrana restaurant. My number one choice here is the brisket. The sauces run the gamut from Texas, Kansas and Carolina styles. Patio info
1401 SE Morrison St #117, Portland, OR 97214  Map  (971) 279-4850
I'm breaking the rules here because Matt's is a cart. But the buzz around them is so strong, I felt they needed to be added. That being said, I haven't been – something I plan to remedy very soon.
4709 NE Martin Luther King Jr Blvd, Portland, OR 97211  Map  (503) 504-0870
Previous years: