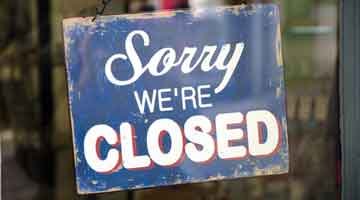 First noticed by OregonLive, the Red and Black Cafe has announced on Facebook that they are closing. The 15 year old Southeast Portland restaurant known for its vegan menu (though it never made any of our "Best of Portland Vegetarian" lists), gained notoriety in 2010 for refusing to sell a cup of coffee to a Portland police officer.
To Our Friends, Family and Community,

The time has come announce that the small but mighty Red & Black Collective will be shutting down. This year we would have turned fifteen years old. In those years, using our collective labor, we have served a lot of vegan dragon noodles and sandwiches. We've also made decisions together and taught each other so many skills. We've met so many travelers from all over this amazing world and made friendships and relationships that will last forever. We've created and maintained some of the only and last low-income housing in inner Southeast Portland. We've housed & supported Portland Books to Prisoners as a collection point and by hosting their library & workspace in our basement. We've hosted countless local and touring bands and other DIY, all-ages events. We've kept our space as safe we could as workers and as a community — even when that's been controversial. We've acted in solidarity with women, children & youth, queer people, trans folks, and nonbinary folks, people of color, immigrants & undocumented people, disabled and differently-abled folks, survivors of rape and abuse, people experiencing houselessness, mental health issues and drug addiction, sex workers, organizing workers, underpaid workers and laid off workers, and the environment and our animal friends. And we've done so with huge love for each other, unquenchable anger at a system which seeks to silence and destroy all that is beautiful in this world, and ultimately, with a tireless hope that a new way of doing things is possible.
We have the deepest gratitude for all the people who have supported this project in so many ways over these long years. We could create a list of countless thank yous and appreciations that would run on and on forever. And while we wish to impart our incredible gratefulness to our community around the world, we also want to end this portion of our journey with a continued call to action. Please, please continue to use your spaces and bodies and words for smashing patriarchy, racism, classism, and all the other oppressions that stand in the way of our happiness and safety. Stand up for each other and with each other. Call each other out and when you are called out, take responsibility for your actions and fix them! Organize with each other and while learning how to take care of yourselves and your communities.

We are still going to be fundraising in order to close our business as responsibly as we are able. Please stay in touch with us. You can get ahold of us if you have questions or business with us, would like to help us out with moving or fundraising at redandblackcafe@gmail.com.

With incredible gratitude and sadness and pride,
See you in the streets,

The Red & Black Cafe Collective