<Updated below>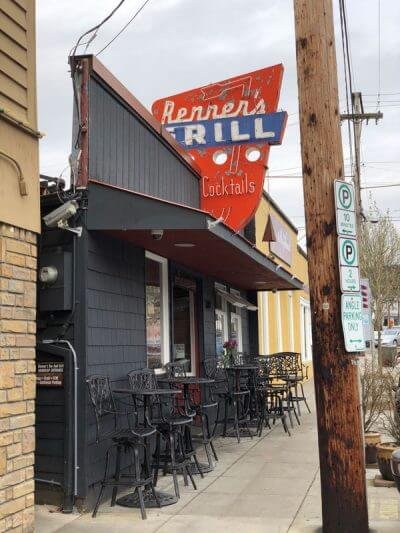 Renner's Grill on SW Capitol Highway, a Multnomah Village institution since 1939, was damaged tonight by a fire that started in a kitchen vent. I happened to be heading to Annie Bloom's Books across the street and watched as the flames came through the roof. Because of the age of the building, it was difficult to put out – the many remodels and different building materials used over the years gave it plenty of places to hide.
Though there is not a lot of apparent damage, I suspect it is worst than it looks, and there is probably a lot of water inside the building as portions of the roof and ceiling had to be removed.
I hang out at Renner's on a regular basis and always have a good time. It's loud, cramped, the regulars are characters, food portions are large and drinks are strong – all of my requirements for a dive bar. That the food is decent puts it over the top. I wish them a speedy recovery.
A quick shout out to Tastebud for sending pizza over to the first responders.
3/30 – an update from Renner's –
Firstly, thank you to the huge support we're getting from our friends, family, neighbors, patrons and community. It warms the heart to see so many people gathering around us. We feel blessed that no one was hurt and that the damage was not nearly as bad as it could have been.

Secondly, RUMOR CONTROL. Renner's is not a total loss. We need a new roof, some kitchen stuff and a whole lot of cleaning and that's really about it. If we didn't have to wait for the insurance we would reopen quickly, but unfortunately these wheels turn slowly.

We are doing everything in our power to get this thing patched up and reopened. Please spread the word to all the gossip groups that Renners is not a pile of rubble and that Potter and I are not on life support covered in third degree burns waiting to just pull the plug.

Renner's will come out of this bigger, better and stronger and it's all you peeps that will make that happen. Thanks and see you soon…

-Renner's