Note: This restaurant closed on January 3, 2011. This review was written in 2009.

Fugue – Music: a composition based on multiple themes, which are enunciated by several voices or parts in turn, and gradually built up into a complex form having somewhat distinct divisions or stages of development and a marked climax at the end.
For those who have been reading my reviews for some time, it's no secret that I have a background in music. Growing up, I was exposed to a wide variety and played multiple instruments. For this reason, I tend to make lots of musical references when I write reviews. To me, music, food, and art all seem to go together.
Sitting at a dinner at Ten 01 last week, watching the carefully controlled chaos, I couldn't help but think of a fugue. When I review any meal, I consider all of the parts swirling around and building on each other. The host, the server, the menus, bartender, sommelier, and finally the kitchen, each choreographed to come in at just the right moment. In some restaurants, there are more parts than others, but each one is no less important. When the moment arrives and the meal is finished and I sit back in my chair – all of those elements are now a composition. I either see a perfect fugue or dissonance.
Putting aside the emotional components, I mentally scored the composition: front of the house four stars, service four stars, quality of drinks four stars, sommelier four stars, quality of food 3.75 stars; it was an exceptional meal. That final dinner confirmed what I already suspected – Ten 01 is my restaurant of the year.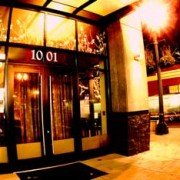 When they opened in 2006, the food was panned by the Portland media, and the restaurant teetered on closing. Then owners Adam Berger and Michael Rypkema made a brilliant move. They hired a chef named Jack Yoss. He'd bounced around working at high-end restaurants over the years, putting in time as Chef de Cuisine at Postrio, and as the Executive Chef of the W Hotel in Westwood California. His experience showed. Over the next year, he slowly transformed every aspect of the food.
I think the way a restaurant responds to the negative aspects of a review is very telling. Some managers scream the reviewer is an idiot; others refuse to acknowledge it entirely.  When I reviewed Ten 01 a year ago, I was very pleased but did have a few negative comments. When I returned a few months later, I was surprised – every single thing I'd complained about had been corrected.  This was consistent over my next six visits.
The restaurant is striking; in places, the ceiling soars three floors, with dramatic light fixtures drawing the eye upward. A medium-sized bar area flanks the south side with lots of windows overlooking the street. The dining room is open and airy, with more large windows. More intimate dining spaces are provided upstairs, as well as a really nice private space for groups. A refresh in late 2008 has kept the restaurant clean and up to date.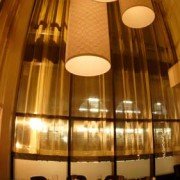 The interior shows a commitment to using recyclable materials whenever possible. A booth near the entrance has opaque dividing walls made with ryegrass in semi-transparent resin panels; it creates a much more inviting space and almost has a private feel. Carpets are made from recycled fibers, and the bar is a 20′ long walnut beam of recycled timber, flanked with stainless steel. There are lots of nice touches; it's obvious a lot of thought was put into the space. Though getting to the stairway is awkward, and the bar area is a bit tight, for the most part, everything succeeds. Cork has been used extensively throughout the design, which keeps the noise level reasonable – even with a full house. All in all, the space is very warm and inviting, cozy yet open and functional. The lighting is well designed, throwing warmth everywhere, making it easy to see, yet never glaring. The walls are all tans and yellows, very neutral, and easy on the eyes.
Cocktails are well made, with great attention to detail. There has been a trend with some Portland bartenders to make more and more complicated drinks – new recipes and ingredients that are bound to be forgotten in five years. Ten 01's are mostly a modernized take on classics. There aren't a lot of sweet concoctions where the alcohol is buried; here the flavor of the primary ingredient takes front and center. A simple twist on a classic, the Derby, is updated with bourbon, Benedictine, and bitters. If you are a bourbon lover, this is a great drink, the Benedictine, and bitters giving a bit of extra depth and a slight offset to the flavor profile of the center liquor ($8).  More subtle, the smooth and complex Gin Blossom of gin, Martin Bianco, Apricot Eau de Vie, and orange bitters is perfect. Try the Cryptic Memo – rye, Campari, and Ramazzotti Amaro. It manages to be both bitter and sweet with lots of depth; not for the faint of heart, but terrific ($8).In my opinion, Bartender Kelly Swenson is firmly tied as one of the best in Portland.
The wine list is huge; sommelier Erica Landon has assembled an excellent cellar of over 3,000 bottles. Erica is a walking wine book herself. I've asked the most inane questions, and every time she has fired the answer right back, usually in astonishing detail. Even the regular servers have a good knowledge of the list, and if they don't have an answer, make sure to find out.
A good selection of wines is offered by the glass, though they are a bit on the spendy side, with most at $10 and up. The cellar list is huge; if you are into wine you'll have a good time just browsing. Prices range from the mid $ '20s to the stratosphere. The markup on many bottles is surprisingly reasonable.
Ten 01 hosts my favorite happy hour in Portland, running Monday through Saturday from 3 pm to 6 pm. Featured are easy foods like oysters for a dollar apiece, a terrific house-made chorizo burger topped with a fried egg ($5), and a huge bowl of addictive truffle fries that you'll be telling friends about the next day – crisp and salty, with just the right amount of truffle to perfume the potato ($4). Other winners include marvelous Thai-style pork ribs with a garlic-shrimp glaze ($7), slightly smoky grilled house-made sausage with bright pickled beets and wildflower honey-mustard ($4), a Cattail Creek lamb burger with lovely barrel-aged feta, pickled cucumber, grilled onion, and garlic-oregano aioli ($5), and a perfect organic butter lettuce salad with lemon-garlic dressing: the lettuce piled high, draped with beautiful light Spanish anchovies, and sprinkled with pumpkin seeds and niçoise olives ($5). On a cold afternoon, a bowl of Willapa Bay clams and Mediterranean mussels makes a warming companion. It arrives in a sumptuous broth of Tessa bacon, white wine, garlic, and Italian chilies ($5).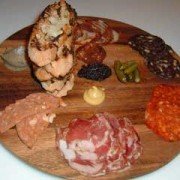 The regular bar menu only varies in the size and price of the plates. One evening I was in the mood for oysters.  They tasted as fresh as you will find, and the cucumber-yuzu mignonette adds a slight tangy grace note against a crisp clean background. I've ordered them several times, and have never been disappointed ($2.50 each, $14 half-dozen).  (Yuzu is a small sour Japanese fruit.) The makeup of the charcuterie plate varies slightly from month to month, but it is consistently the best in Portland. It is easily big enough for two, usually includes incredible pâté, excellent crackling, smoky bread, and the obligatory mustard and cornichons. The current menu includes sanguinacio, capocolla Pugliese, coppa, ventracina, cotechino, soppresatta, goat chorizo, Spanish chorizo, andouillie,ocadella   (goose mortadella), curry salami, and lamb and duck prosciutto. Most of them are made by John Baldasarre, a talented charcuterie chef ($14).
I have to dig deep to find any issues with the bar food, especially for the price! My biggest complaint is the tables are too damn small for all the food I end up ordering!
Meals in the dining room begin with an amuse-bouche – a bite-sized serving to wake up your palate. One night it consisted of cauliflower panna cotta, crab meat, and ahi caviar. It was perfect; all the flavors came through, with the caviar giving a nice crunchy texture. Another night it consisted of raw tuna set into little ceramic spoons on a matching plate. It was covered with a very authentic tasting Thai dressing and a little mound of ahi caviar.
From my experience, Chef Jack Yoss is a master of soups, one of the true tests of a chef's skill. They are consistently some of the best I've had in Portland. My favorite to date is winter turnip bisque with duck confit and a scattering of pickled red onions. It's absolutely amazing. I went back another time just for that soup.  It begins with a slightly sweet note, but then you get the meaty, salty chords from the confit – they go together beautifully. The winter parsnip bisque is another example of perfection. It consists of chestnuts, pickled shallots, and creamy hot bisque – perfect comfort food. I couldn't have gotten that bowl any cleaner without licking it. Last fall they offered vivid corn bisque, fairly bursting of summer – you could taste the sun. Slightly less successful is the current roasted butternut squash with duck confit, poached apples, and toasted pistachio oil. I found the confit made it a bit heavy, though I've stolen the idea of pistachio oil for my own version (all $12).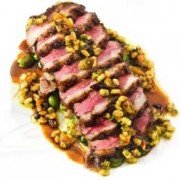 Great attention has been paid to salads. A lovely ride of tastes, the Gene Theil heirloom beets salad is especially recommended. The foundation is a trembling blue cheese-horseradish panna cotta, but it's slightly tucked away under the greens; sitting atop, a lovely mix of candied walnuts, iridescent beets, and light lemon vinaigrette. The beets are in a rainbow of colors, perfectly cooked and sweet, the horseradish and blue cheese an indulgent counterpoint ($12). Even a boring-sounding salad of "organic mixed baby greens" stuns. Tossed among the greens are surprising little chunks of sweet and sour butternut squash, brilliantly set off by preserved lemon vinaigrette and a dusting of pecorino cheese ($12).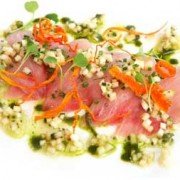 One evening I tried the sashimi of hamachi. A feast for the eyes as well as the palate, thin slices of fresh fish lie crosswise across the plate, topped by a deft hand, wielding preserved orange-yuzu kosho vinaigrette, caviar, and Thai basil oil. The entire production glistens: pink fish, iridescent orange zest, and brilliant green basil. It's an impeccable interpretation ($14).
Another great appetizer is the cider-glazed Sweetbriar Farms pork belly. It comes with shaved Brussels sprouts, Swiss chard, and a fried quail egg. This is an inspired combination, light, yet rich and incredibly flavorful. The belly shimmers seductively, with the quail eggs guarding the top, and the chard making up the base ($12).
At this point, you're probably looking for your car keys, but the fugue is still building. On to the main event: the entrees. We'll start with sautéed day boat scallops. Large scallops, properly cooked with a slight sear arrive with an adornment of white bean puree, crawfish, roasted peppers, and (brace yourself), chorizo vinaigrette. Nothing overpowers, it's a synergy of flavors ($28).
The "fromage blanc gnocchi" is a bit deceptive, the name downplaying the defining role of the duck. A wonderful cheesy light gnocchi is a perfect match for the defining component – incredibly moist duck. I've had this dish twice, and though it currently consists of duck breast arrayed across the gnocchi, I could swear it was a duck leg the first time. None of that matters; the meat has a really good, funky duck taste. The kitchen manages to cook it so there is a little layer of fat, yet the skin is still crispy. The rest of the plate is made up of caramelized butternut squash, pearl onions, and champagne gastrique. At $22.00, this dish is a steal.
Indian-spiced lamb chops are nicely cooked and juicy, slightly gamey, just as they should be. They come with a comforting cauliflower-chorizo gratin, Marcona almonds, and a bed of Swiss chard. Over the top, a light curry vinaigrette. It's a nice dish, though it didn't blow me away ($32).
If you are hankering for comfort food, head straight to the Cascade Natural ribeye. This is over-the-top decadence – a large flavorful rib-eye steak that pairs well with brown butter-creamed arugula, colorful honey-glazed Gene Theil carrots, and a rich bordelaise that will have you glancing around the dining room to see if they have a defibrillator. It's rich, satisfying, and so-not-cutting-edge cuisine. That being said, I've had it twice, followed by an emergency nap ($32).  Another comfort dish found more commonly these days is the pinot noir-braised short rib. It's slow-cooked, tender, and moist, surrounded by a smooth parsnip purée, Brussels sprouts hash, pinot noir jus, and a lovely horseradish gremolata, which puts it over most versions of this dish ($30).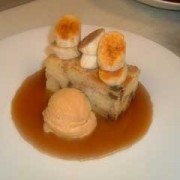 Pastry chef Jeff McCarthy has infused the desserts with a decadent passion. It's one of those menus where many items are as good as they sound – "chocolate whiskey cake with brown butter caramel, and toffee-caramel ice cream", or  "chocolate chip banana bread pudding with a rum/caramel." The latter is the best bread pudding I've ever had. The caramel has a nice rum flavor without being overpowering, and the balance of chocolate to bread is nearly perfect. The bread pudding changes from time to time, but all versions are great. Other desserts come and go.  Recent standouts were the peanut butter crème brûlée, with its crispy crust, nice custard, and a layer of good jam underneath – it was like a decadent peanut butter sandwich or pear fritters; warm airy golf ball-sized fritters with an indulgent Clear Creek pear brandy caramel (all desserts $8).
In my last review, I complained that "service could be more attentive." This time I'll go in the opposite direction and say that service couldn't be more attentive without being obtrusive. The host has been terrific every time, making me feel welcome and seating us quickly, and the server stops by almost immediately. If I have any complaint, it's that food tends to come out of the kitchen so fast I can't catch my breath. The first few visits, we got the appetizers and cocktails at the same time and the wine order before I finished those. It's annoying, and makes me feel rushed – and I'm not a slow diner. I've learned to order cocktails, stall a bit, and then order food and wine. That being said, every other aspect of service has been perfect. The servers seem to know almost every detail of the dishes and have been able to define any ingredient I threw at them. The few times I asked an obscure question they couldn't answer, the response was textbook – "I'm not sure, let me check for you" – and they were back in a flash with the answer. This staff is absolutely professional, perhaps the best in Portland.
One final note: For many of us, money is tight right now. If you want to experience Ten 01 without the dinnertime prices, check out the lunch deal: It's called the Power Lunch, and you choose from 3 appetizers, three entrees, and get a dessert for $15. Even better, a little selection of drinks from martini's to a bloody Mary, a glass of wine, or beer is available, most at $4.00.
Overall, the restaurant has made huge strides since its opening. Jack Yoss has completely revamped the kitchen, making it one of the most sophisticated dining experiences in Portland. Three-quarters of the way through this review, I was shocked to hear he was leaving town at the end of March, but I'm hopeful the management will find someone worthy to step in his shoes; I'll keep you informed. In the meantime, think of some reason to celebrate and go. Listen to the music of your experience – It's my restaurant of the year.
Address: 1001 N.W. Couch St., Portland, Or. 97209.

Google Map

Phone: 503-226-3463
Hours: Lunch Mon-Sat 11:30am-3pm. Dinner Mon – Sat from 5pm. Happy hour Mon – Sat 3pm – 6pm
Website:

Ten-01.com
Valet parking available. Ask for downstairs seating when making a reservation if you need wheelchair access
The total cost of this review was $647.00.