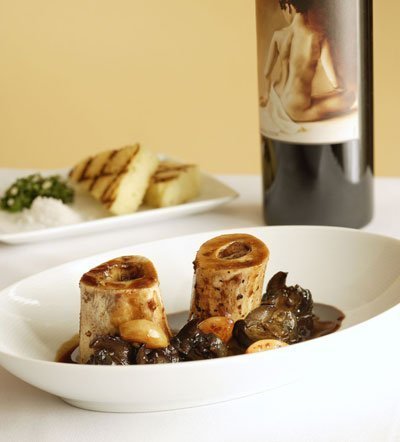 This review is now out of date. You'll find a new complete review here.
I will admit upfront that through a series of events over the years I have an emotional tie to Paley's Place. On my first meal in 1996, we had barely sat down when the gentleman at the next table caught my eye. "You simply must try our wine," he said proffering the bottle. "It is our 40th anniversary tonight and we have saved this for years." He reached over and poured us each a glass of the best Oregon Pinot I had ever tasted, setting the tone for our meal to come.
We started reading the menu only to be stopped by a couple on our left. "The sweetbreads are wonderful! You really should get them… wait… pass us your bread plate." One of them cut off a small portion and passed it back. Indeed they were very good, crispy and nutty on the outside, warm and buttery on the inside. We spent the entire evening sharing wine between the three tables, passing plates back and forth, and getting to know each other.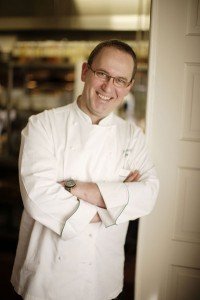 On a warm night a few years ago, I spent a lovely evening on the porch drinking a Grenache blanc and eating steak tartare. Another time I was there with my mother. When Kimberly Paley stopped by the table, heard raves about the food, and found out my mom was from out-of-town, she had Vitaly drop by the table and bought us a nightcap. Mom will never forget it, and as she settled into Alzhiemers a few years later, our meal was one of the few things she could remember. As we left, I marveled at the way Paley's brings people together. This is a typical experience for me when I go there, a camaraderie between strangers that eating great food brings.
The restaurant is in an old Victorian house on NW 21st Street. The dining section is split between two rooms which gives a feeling of intimacy. The backroom can be reserved for private events – it holds 22 people. A bar and bistro with a small seating area fills the space between them. On warm evenings, the front porch is a nice place to sit, especially after the bulk of the afternoon traffic has faded. I have to dig to find any complaints and have only one: the entry is quite small, and it's awkward to stand there while other parties are seated. I would guess this is why they tell you when you make reservations how long you can have the table – they want to seat the reservations following yours as quickly as possible. While this may put some people off, even with a two-hour mealtime some parties seem to linger, and I've had to wait while the staff did their best to get a table of guests to clear out.
The safest bet is to reserve in advance. Though you can wander in on off nights and get lucky, on busy nights even the bistro tables may be booked. If you do happen to end up in the bar area, the hamburger which is not served in the main restaurant is legendary.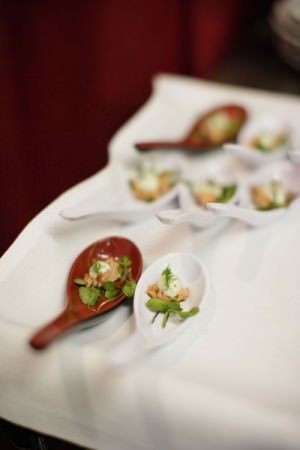 Over the years I've had people tell me they have had aloof or indifferent service here, but this has never been the case for me. However, I think one has to relax and take their time. One of my complaints with many restaurants is that the food comes out of the kitchen too quickly. Order a cocktail, and before half of it is done, your appetizers and wine arrive and you end up rushing and drinking a martini with soup.  This is not the case at Paley's. The pacing is relaxed, giving plenty of time to converse and enjoy the various courses. The dishes arrive in due time, hot and fresh, without drying out under a heat lamp. Don't plan to go here and be out the door and on your way to a show in 60 minutes – it's not that type of restaurant.
Paley's also has a reputation for being an expensive restaurant. Like anywhere else, a good part of this depends on what you order, but if you resist the urge to get carried away, it's not difficult to have a really nice meal for under $50. I'm thinking of a salad, a half-portion of an entree (many are available in two sizes), and a glass of wine. Even better, go with a friend, add another glass of wine and an appetizer and get out the door for around $65. You'll get the service, ambiance, and the great food – and you'll be pleasantly full.
The staff has an encyclopedic knowledge of the food, and for good reason. Years ago, not realizing they didn't open until 5:30, I arrived early to meet a friend for dinner. Kimberly saw me sitting on the porch, and insisted I come in and have a drink. I sat at the bar and watched the staff meeting out of the corner of my eye. She and Vitaly went over every new dish, tasted them, discussed the ingredients, and what wines would go best with each course. Then they tasted the new additions to the wine menu. Many restaurants don't take the time to do this and it shows.
Drinks are well made, with a focus on the classics. Paley's is known for its signature lemon drop, which is a perfect balance of lemon and sweetness. An old-fashioned was properly made, served in a small glass as it should be, rather than the large tumbler that many places use. The wine list is interesting and has a range of prices for most budgets. A separate higher-end list is also available, and the by-the-glass list is interesting and a good match for the menu. Staff is very knowledgeable and ready to give suggestions. Corkage is $25. Six beers are available, but judging by the only average selection, they are not the focus here.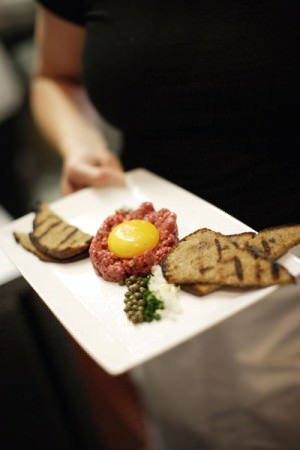 Meals begin with an amuse-bouche, most recently a fine gazpacho of cucumbers, sherry vinegar, garlic, and olive oil. The overall effect was the puckering of the jowls and salivating for more – a wake-up indeed.
The charcuterie plate should not be missed; Paley's is the best in Portland. One of my favorite things about the selection is you can order each item individually in a "build-your-own" style or chose between a taste of three, five, or all of the selections. The word "taste" made it seem expensive until we received the plate. The portions are large, easily enough to share between two people, the presentation is terrific, and flavors are a tribute to mother earth.
The braised lamb terrine is rich and flavorful, a mosaic of textures. The same goes for a terrine combining pork tenderloin, chicken liver, and porcini. Salmon pastrami is paper-thin, dressed with crème fraîche and wonderful fresh dill on grilled, slightly blackened rye. The crispy edges of the bread give it a nice texture, though on one evening it was a little blacker than I thought it should be. Prosciutto Cotto draped across the plate could remind some of bacon. It's mild in flavor, smooth and almost creamy, with a dusting of finely chopped hazelnuts giving a wonderful balance to the fat. The chorizo from Chop Butchery is smoky and lightly spiced, yet with a slightly floral finish. Pickled vegetables off to one side are interesting and unusual for Portland – besides the norm are green strawberries and rhubarb that taste slightly like anise, but that may have been from commingling with a terrific cardamom-pickled carrot placed next to them. A dark wintry pool of mustard is sweet and savory at the same time, adding color for contrast.
It's hard for me to skip the American Kobe steak tartare. It always reminds me of lazy Sunday afternoons with my father when I'd sit on the kitchen stool and watch while he prepared it, cutting the meat by hand. Paley's version is similar: a coarse chop with a slight smoky meaty flavor served with the traditional accompaniments of toast points, capers, onions, and a vivid raw egg. The texture of the toast is a perfect foil to the other ingredients. If you've never had this dish before, it's marvelous; I've gotten a lot of friends to try it and no one has regretted the experience. Just mix the ingredients together and dig in.
One cool winter evening, I ordered caramelized onion and bacon soup. It was perfection in a bowl. The broth is another example of one of the best cooking techniques in Portland. It has obviously been skimmed many times during cooking. Could it be they actually go to the effort of making a raft to make it come out so clear? Making stock is one of the first things a student learns in cooking school. It also seems to be one of the first they forget. This broth is classic – clear and loaded with flavor and a lovely aroma. When the server set the bowl down everyone at the table turned and sniffed the air. If the stock had been any richer it would have taken away from the flavor of the perfectly-sized square chunks of slightly salty bacon and the sweetness of the caramelized onion.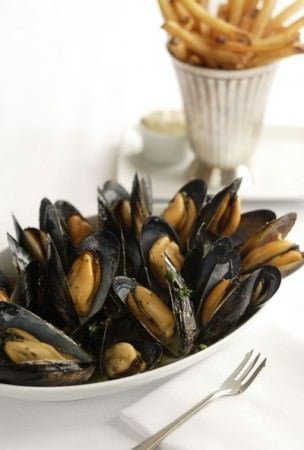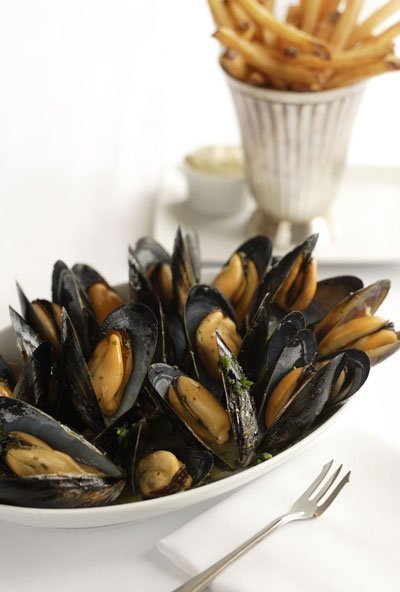 Mediterranean blue mussels are served in a large bowl with a simmering buttery broth flavored with white wine. A dash of garlic and parsley or persillade over the top adds color and an extra layer of depth. The bivalves are large and silky, and though not the best I've had in Portland, these are a close second. Use the crunchy bread to sop up the leftover broth. The bowl is accompanied by irresistible fries that are fresh and crisp, and an excellent aioli which gets a slight kick from a hint of mustard and garlic.
Paley's is known for a traditional "escargot a la Bordelaise", or snails with roasted marrow bones. Bordelaise is a classic French sauce named after the Bordeaux region. It's rich; made with red wine, marrow, shallots, and demi-glace. Vitaly's version is impeccable: a master class on a plate. When served with rich marrow bones surrounded by garlicky plump escargot and sweet roasted garlic, the combination is robust and earthy. A plate containing crackly grilled brioche, persillade, and sea salt is served on the side. Use the little fork to dig the marrow out of the center of the bones, and dip the accompanying brioche in the sauce. Close your eyes and you'll be transported to France.
The greens on the spinach salad are quite good. Thin little onion rings dot the top giving a nice counterplay to the texture of the leaves. My companion raised an eyebrow and said, "this isn't ranch dressing". I took a taste. "You mean it's not bottled ranch dressing. This is fantastic." She agreed and devoured the greens. On another night the same salad was available with romaine lettuce. The greens were crisp and bright with a slightly bitter taste. It was as if they had just been picked from the garden and carried to our table. However, on this night, the dressing was a bit runny and somewhat overpowered by the greens.
If I want something simple, I like the ever-present "George's gathered greens", an unfussy dressing of lemon and olive oil over a combination of bright, slightly spicy greens ($8). Another favorite is the young romaine salad of small whole leaves, large wide-grained crunchy croutons, Vella oro secco, and Caesar dressing. Lemony, garlicky, smooth, and creamy – a perfectly balanced mélange, neither under nor over dressed. Vella is a cheesemaker; the oro secco is somewhat like a firm, fresh Jack that is aged two years. Going to such an effort to find the right cheese pays off. Paired with the other ingredients, it just works.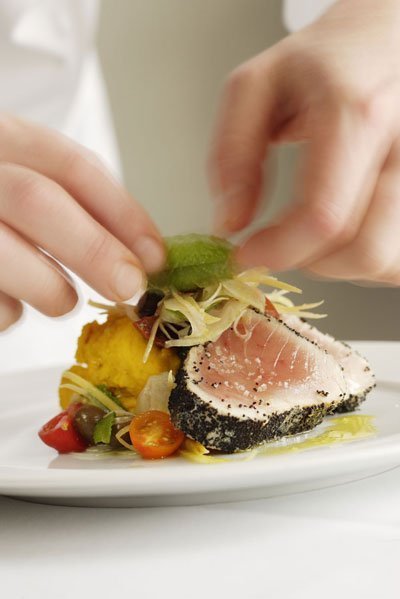 The frisée and spinach salad with shrimp a la plancha is disappointing, with the overall presentation lacking in execution.  The shrimp were sweet, grilled on one side, the radishes crisp, though there were only two tiny slices, and the fennel was tasteless. It felt like something was left out. I didn't care for the spinach and frisée combination and the dressing wasn't distributed as well as it should have been.
Paley's version of a Maryland soft-shell crab salad is the best I've ever had. It's lightly crisped with a delicate texture, the crab so soft and tender I could easily eat the shells and legs. It stayed crisp and didn't get soggy and greasy, as is true in many restaurants. The crab is meaty enough to satisfy a craving, offset by fresh and sweet arugula, thinly sliced radishes, new potatoes, and sweet onions. It's an impeccable salad and perfectly executed.
Most of the entrées are available in small or large portions, which is just great; I wish more restaurants did this, as it allows you to try more dishes. Rabbit ravioli is tender, rich, and flavorful, stuffed with bits of fresh herbs, local mushrooms, house bacon, and spring garlic. It comes floating in a deep pool of light but delicious broth. The bacon adds sumptuous rich explosions as you make your way through the dish, with local mushrooms giving a nice forest taste which is perfect for a cold rainy day. Under the chef's deft hand the ravioli are light and lovely. They have an almost won-ton mouthfeel, showcasing the filling. A quick dip in the broth makes the flavor explode. I can't complain about anything.
The halibut is simple, allowing the fish to speak for itself. It's delicious, buttery, and cooked to perfection, with a breezy hint of lemon. It lays over a bed of slightly bitter cooked greens. Halibut isn't something I frequently order, but then it is not normally this good. This is another case where I couldn't find anything wrong.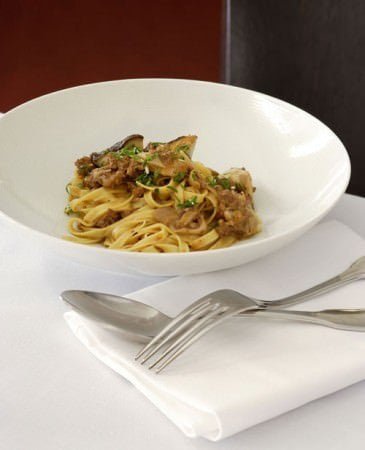 Risotto is a crap-shoot in most kitchens. This is because it is usually parboiled, and the cooking is finished when the kitchen gets an order. For that reason, the texture is never quite right: it's gluey, or the flavors are out of balance. Not so at Paley's. It's a glistening, rich dish that looks almost like caviar. The first thing that hits the taste buds is a lovely subtle kiss of crab. Next is the texture; it's textbook classic – giving slightly to the tooth. The flavors are balanced throughout. Explosive green peas give little bright shots of color and contrasting flavors. The butter carries the crab flavor dancing across the palate. Good Parmesan cheese finishes it off. It is an exceptional effort that lays waste to risotto offerings in most restaurants.
Lots of people are afraid of sweetbreads, but if I convince them to give a try they usually become converts. Not long ago I was at Ten 01 with a friend who thought they were "sweet breads". I didn't say a word, and when her order came, I still didn't tell her exactly what she was eating, which was probably the reason she liked them so much. Back to Paley's;  I ordered a small portion which consisted of two sweetbreads nestled with a little pile of forest mushrooms, a bit of nutty spätzle, and a wonderful kidney-mustard sauce. The sweetbreads were crisp and creamy. Combined with the rich sauce, they came at me in a rush of earthy flavors.  (For the uninitiated, sweetbreads are the thymus glands and pancreas).
Finally, the 30-day dry-aged Highland Oak Farm rib-eye. This steak is only served on Saturdays and only until they run out. The first time I tried one was during my steakhouse roundup, and it blew every other version I had out of the water. I sat there annoying my friends by telling them how good it was every few bites. However, on a second visit, the flavor wasn't quite as good. Lots of people don't realize, meat is not unlike any other crop and varies, especially in different seasons of the year. Both were good, one happened to be spectacular. The steak is served with salt-roasted fingerling potatoes, mushrooms, peas, young turnips, and spicy Hollandaise.
Before I finish moving on to desserts, mention must be made of the sides. The best greens I've ever had were at Chez Panisse. These are of similar quality and simple, just as I make them at home: greens, garlic, lemon, and olive oil. The beets are inspired, the horseradish cream playing a perfect chord against the sweetness of the vegetable.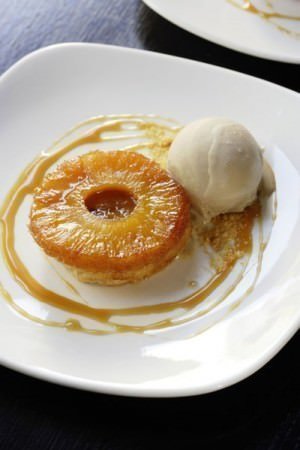 Pastry Chef Lauren Fortgang is well-known around Portland and is one of my favorites. The three-layer chocolate cake is served with a side of malted ice cream. It's heavy on the bittersweet chocolate – almost as dense in flavor as a chocolate bar, but the texture is still light. Dressed simply with caramel sauce and a bit of fruit (most recently cherries) it is quite good.
The strawberry shortcake and lemon-cream is also a winner. We all took bites at about the same time, and the table fell into silence. I dipped my fork into the strawberry purée and took a taste. Spring exploded on my senses. A dip into the lemon cream brought a similar reaction; wonderful perfect lemon flavor, slightly bitter in contrast to the strawberry. It was a perfect tango… or is it a rumba. The shortcake was light as a pillow, reminiscent of sponge cake. The two layers sandwiched with lemon cream were ethereal; it's one of the better desserts I've had in some time. However, on a second visit, the strawberries weren't quite as good, and it made a big difference, turning a wonderful dessert into an average one. A financier, which is a small French cake wasn't as successful. The cake itself was great, a slight crust, and an almost sponge cake interior, but the dessert wasn't at all memorable, because the cake was under-baked, and the accompanying cherries were watery and tasteless. This was disappointing for a restaurant the caliber of Paley's; it should not have been on the menu that night.
If you aren't in the mood for something sweet, the cheese selection may catch your interest. You'll see them lying alluringly under a glass dome as you enter the restaurant. Choose three, or go with the chef's selection. They always have interesting choices: fifteen to pick from the last time I was in.
Whether you order dessert or not, your meal will end with mignardises or bite-sized cookies which are always a nice way to end a meal.
Grade: A
Phone: (503) 243-2403
Address: 1204 NW 21st Ave, Portland 97209. Map
Hours: Mon-Thurs 5:30pm to 10:00pm, Fri-Sat 5:30pm to 11:00pm, Sun 5:00pm to 10:00pm.
Website: Paley'sPlace.net