The popular upscale restaurant Red Medicine in Beverly Hills, has come up with a new way to deal with reservation no-shows: publicly embarrass the offenders on the restaurant's heavily used Twitter account. The restaurant, which was just named number 48 of the "Top 100 U.S. Restaurants" by Opinionated About Dining, lost a "bunch of prime tables" during last Saturday night's service. Red Medicine doesn't require a credit card for a reservation, and doesn't overbook time slots, so just a few empty tables can seriously effect the restaurant's bottom line.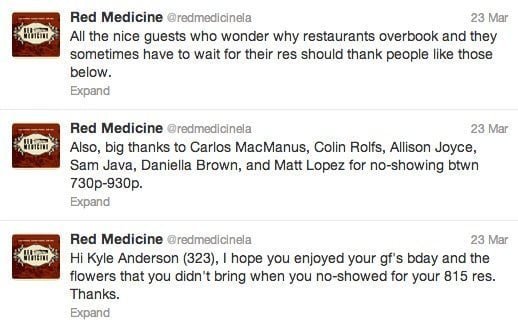 "Invariably, the assholes who decide to no-show, or cancel 20 minutes before their reservation (because one of their friends made a reservation somewhere else) ruin restaurants (as a whole) for the people who make a reservation and do their best to honor it," Ellis wrote to Eater LA.

"They probably don't know, and if they know, they probably don't care (or they would have come or called in the first place), but such is life," Ellis conceded about the no-shows he named.