As the Pythons used to say, "…and now for something completely different."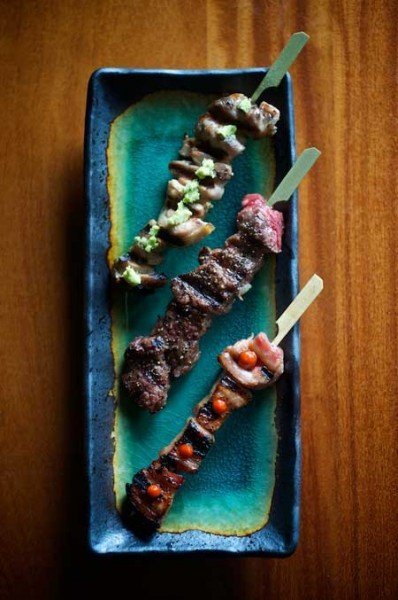 There is traditional American cuisine – featuring the usual roll call of comfort food classics – and Modern American, blending hyperlocal and global ingredients with whiz-bang tricks from the 21st century world of food science and technology. The American Local has a foot in both camps—christening their cuisine unhelpfully "New West Drinking Food."
Pinning this down has taken several visits to the recycled corner space along the mitotic restaurant row of Southeast Division Street.  The menu fills a page, has multiple untitled sections, and each course is listed as a series of ingredients. The kitchen, under chef Chris Whaley, also likes to change things up, so some dishes (or components) have come and gone as the weeks have paraded along since the restaurant's mid-January opening.  In other words, a thoughtful perusal of the menu with follow up questions to the unfailingly sweet servers is required to get a good read on what exactly is going on here. Adventurers will relish the challenge. Conservative diners can stick to the tried-and-true. One thing for sure: there is nothing else quite like it in Portland.
The most imaginative selections are found in a middle section of the menu focused on substantially sized portions of vegetables. The combination of watermelon radish, black garlic, scallion and nuoc cham, a fish sauce-citrus blend, ($6) is a multi-sensory exhibition of color, crunch, funk, tang and salt. Just as compelling are thick slices of pan-finished butternut squash paired with barley-like triticale, roasted pine nuts and vibrant red curry cream ($7). Background notes come from a fine dice of pickled squash with preserved lemon. If only the squash slices had been allowed another minute or two to fully soften, this dish could have converted a hidebound carnivore. I have to believe that as the growing season begins its annual ascent, the vegetable courses are only going to get better.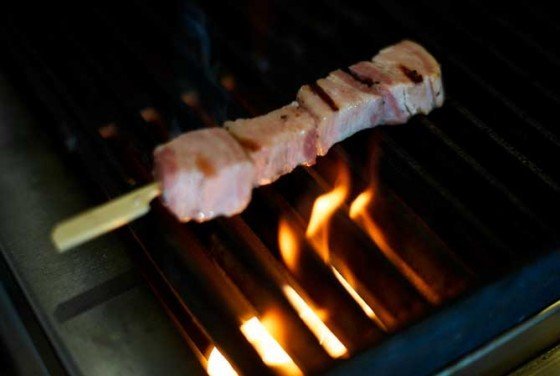 Those on the hunt for bar snacks or a meal opener would do well to try the airy bacon beignets ($6) topped with piquant espelette powder and a generous squeeze of honey. Mac 'n' cheese ($7) gets a can't-miss makeover. The mixture is molded into hand-sized bricks, chilled to solidify, coated in panko crumbs, then tossed into the deep fryer until dark golden. Bet you can't eat just one.
For picky eaters and families with little ones, scan down and to the lower right corner of the menu.  There, between a grilled pork chop ($15) and crab-fried quinoa with pork belly and slow-cooked egg ($14), is a luscious $8 double cheeseburger made simply with local beef, a gooey combo of cheddar and munster cheeses and mustard-based "special sauce," all layered on a homey burger bun from An Xuyen bakery. Pair it with an order of the Kennebec fries, either on their own ($5) or as the foundation for that unholy Canuck combination known as poutine, here elementally expressed as "fries/gravy/cheese curd/shaved foie gras" ($10).
Yet another section of the menu is devoted to small seafood plates, including a rotating sashimi-style raw fish dish. A recent offering of Oregon striped sea bass ($12), drizzled with white soy and a blast of Meyer lemon juice, sprinkled lightly with crisped garlic bits, was refreshing and light, an exceptional meal starter. Less exciting, but still an option to include in a night's meal, is the selection of skewered, grilled items. Options include everything from leeks ($4) to pork belly with sriracha and maple ($5) to chunks of glutinous Korean rice cake with guanciale (yet another cured pork part) and a squiggle of sweet-tangy tonkatsu sauce ($5).
To finish sweetly, I'm a sucker for the jarred banana ($5), which is like a stylish vertical banana cream pie, and the sundae, a kitchen sink conglomeration of house-made ice cream, chocolate and caramel sauces, waffle cone pieces and more.
The drinks selection is basic, but sufficient, given the multifaceted array of edible choices. Sixteen beers range from PBR to Speakeasy Scarlet Rye Red, with the same number of wines all at slightly below average restaurant markup and above typical quality. Cocktails also hew to welcome simplicity.
 For teetotalers, two house-made sodas ($3 each) stand out: a brilliant red, not too sweet cranberry-beet blend and a Meyer lemon version with just a whisper of lavender.
The 50-ish seat space is Portland standard-issue low-cost buildout:  a non-descript rectangular storefront with cement floor and plenty of communal seating. There are a few small tables too plus stools at an open kitchen counter and the adjacent bar. It's fine: you go here to eat, not spend the night.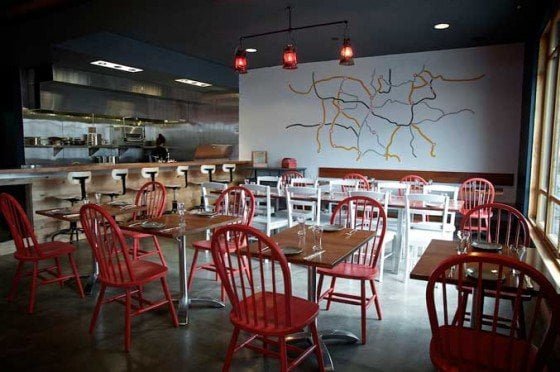 Though there is plenty of room for American Local to add on points for style—seasonings and cook times could be more consistent; service could be more polished—it is a credible addition to the local landscape, definitely worth visiting for dinner or weekend brunch.
Despite the wide-ranging chart-your-own course menu, Python fans will note that there are, thankfully, neither crunchy chocolate frogs nor Spam on offer.
The American Local, 3003 S.E. Division, 503-954-2687, theamericanlocal.com.
Tuesday – Saturday 5:30pm – 10:00pm
Sunday 5:30pm – 9:00pm
Monday Closed
Note: Since this review was posted, the owners have decided to stop brunch service.