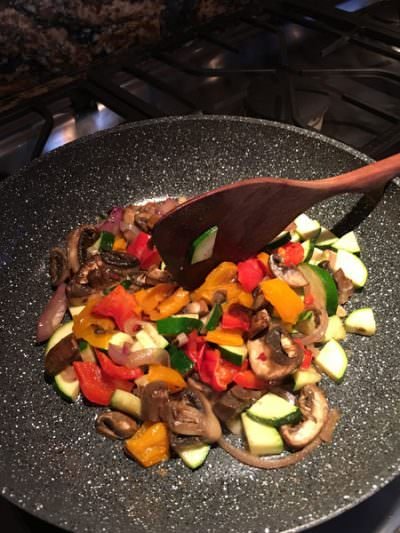 I get lots of requests to review kitchen gadgets, books, wines and various foods. When I tell vendors that I am happy to do so, but if I don't like their product I am still going to review it, including my negative comments, 90% of them back away. Not so, the Portland company DaTerra Cucina, who asked us to take a look at their Vesuvio ceramic coated 11″ nonstick frying pan. It appears they were confident enough in their product that possibility didn't bother them.
To be honest, neither of us use many nonstick pans, but for the purpose of testing, we bought two pans from Amazon.com (my Christmas shopping complete!) and immediately put them to use.
The skillet, made in Italy, is a ceramic coated – the black and white speckled pattern reminds me of the lining of porcelain-ware pots I used to steal spoonfuls of stew from when I was a kid.
Our impressions:
It's lighter than we expected. Lady dude has problems grasping heavy items but found it easy to lift, and the unique glass lid has a C shaped handle that makes it easy to remove, yet it seals very well thanks to the silicone rim.
Easy to go from stovetop to oven, it's safe to 490 degrees. The silicone handle stays cool to the touch.
Soo nonstick, which made it easy to clean up, and even better, we both found we were able to use less butter than usual. Food slides off.
DaTerra says the pan uses eco-friendly materials – PTFE-free, PTOA-Free (I don't know either), cadmium-free, lead-free coatings. It has a one year warranty for a full refund.
Lady dude immediately asked "if they have other sizes available", and "Can I keep this?"
While we wouldn't use this for cooking where we want a fond – those crispy brown bits that form when meat is browned, this is a marvelous pan for cooking an omelet, frittata, sautéing vegetables, sauces, etc. It holds 2 quarts of liquid with no problems, and we both found ourselves reaching for it over the past week. Heating was very even – I browned butter, cooked egg whites, and pancakes; all of which cooked evenly on both a gas and electric stove.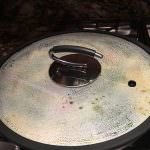 I like that DaTerra is a Portland company, liked that they had the nerve to have us review it, and will reach for it when I want a non-stick pan. You can get the  Vesuvio ceramic coated nonstick frying pan on Amazon.com for $69. Buy with abandon, I don't get any sort of affiliate $, so your mind can rest easy.