NOTE: FIN HAS NOW CLOSED.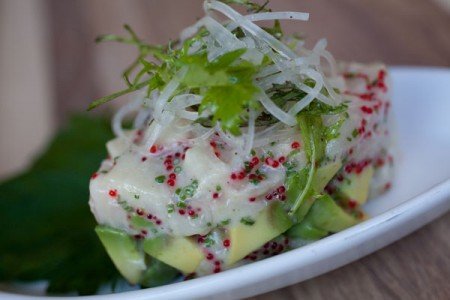 If you've ever gazed longingly on the sumptuous food images in coffee table cook books, you may have thought the dishes came to the photographer straight from the stove; but no, they were doubtless doctored, sculpted, and re-assembled by a professional food stylist. Such people work not only with chanterelles, beef carpaccio, peppers, and rich sauces, but also with cool air nebulizers, various combinations of unspeakable chemicals, white glue, corn syrups, and coloring agents.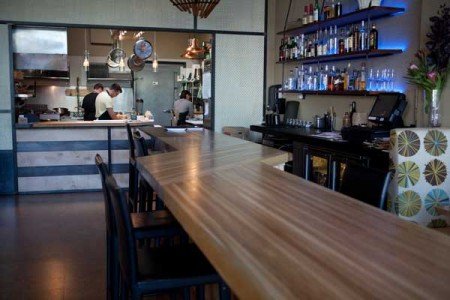 When you dine at Fin, you may think your dishes have jumped out of the pages of elegant food magazines, where such styling is de rigeur. But you will be seeing the real thing, artful creations from a kitchen that's producing some of the most ravishing visual displays this city's restaurants have to offer. Furthermore, in a town that has never taken full advantage of the plenitude of Pacific creatures, Fin introduces Portlanders to a wealth of diverse fish and seafood, bouquets for the palate that are stunningly executed and exceedingly tasteful.
The short, single-syllable name of the restaurant is a clue to the simplicity and lucidity of its dishes. I say "simplicity," though many of the preparations are indeed complex, with ingenuous combinations of ingredients, many hardly ever seen in these parts.  But the cooking at Fin treats everything with the utmost respect; nothing is masked, disguised, or transformed into something it is not; rather everything has the crystalline clarity of a scallop shaved to transparency. Either there's a mandoline that's working overtime, or the brilliant chef Trent Pierce has enviable knife skills. Much of the fish he sends out allows the light to shine through pellucid flesh.
Most of the fish is flown in daily and fresh from Hawaiian waters. The preparations tend to employ Japanese ingredients, though you may search many a Portland izakaya before you find a lot of them. Some recipes blend flavors in a fashion that's uncommon yet harmonious, as when a fragile cross section of a scallop is accompanied by salted wild plum sauce combined with orange; or when textures that sound incongruous nevertheless complement each other, like the brain-softness of sea urchin and the palate-popping sensuality of trout roe.
The surprises begin right away, with a plate of focaccia bread and a scattering of four different salts: beet, anise, citrus, and cocoa. They make a pretty picture, and cause you to wonder how beet gets into salt in the first place. Wonderment in fact will turn out to be the order of the evening.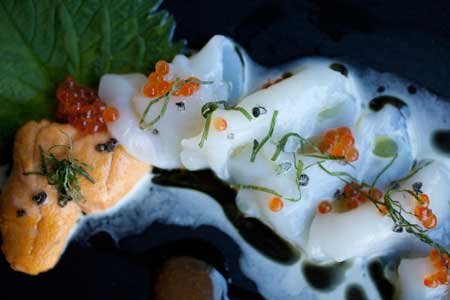 The menu is divided into two categories: "Raw Plates" and "Hot Plates." Those who remember Levi-Straus from Anthropology 101 might have expected "the raw and the cooked," but I suspect the restaurant doesn't want to make the distinction the great anthropologist did between nature and culture, what is given and what is fabricated. The raw plates at Fin are just as "worked" as the hot ones. In fact, they may be the more "cultivated" of the two, the product of even more intense and precise skill. In fact Fin has its own sous chef of the raw: Naomi Wartel, who has trained with rigorous sushi makers.
The plates from each of the categories arrive in no particular order, a whimsical notion. But it hardly matters. Certainly you should order the best of all the raw dishes, the "Ceviche." For those who know the traditional versions at Andina,  Fin's represent an entirely different order of thinking. One night the fish was ono, a lean tropical game fish that's served sashimi grade. Another night it was Japanese Tai, a tender rockfish or sea bream once so prized it was presented as a gift to the shogun. The Japanese word "mede-tai" literally means "auspicious" or "deserving of good fortune."  The lucky diner will find nuggets of Tai marinated in olive oil, set off with fingernail sized dried shrimp, mint, cilantro, and an infusion of lemon, the gorgeous assemblage topped by exquisite chili threads that play against the bracing chill of the fish. It's a dish fiery with both Thai and Vietnamese inflections. Your server will suggest sharing all your raw plates, but once you get your hands on this delicacy you may try to guard it with your life.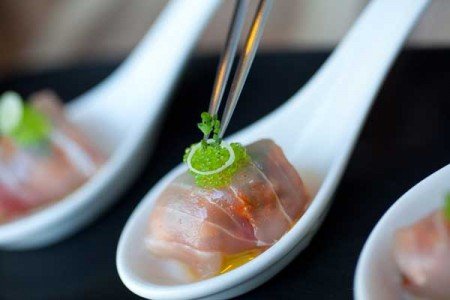 The octopus arrives on three porcelain spoons. A finely chopped salad of the cephalopod is enclosed inside a delicate wrapping of striped marlin, a buttery fish whose satin texture contrasts nicely with the crunch of ice-cold octopus. Marlin, incidentally, was the fish sought by the protagonist of Hemingway's The Old Man and the Sea. Fin's offering slides sensuously off the spoon and yields one bite of bliss, an experience of effortless hedonism, though you might be inclined first to slurp off the topping of tobiko, a glorious little mass of Lilliputian flying fish eggs that deliver a delectable crunch.
A plate listed simply as "carpaccio" turned out to be paper-thin slices of barracuda. The fragile strips are arranged on a long black platter, and come on a bed of seaweed infused with sake and topped with the same roe, the little red eggs giving the dish a festive air of Christmas. If you're sensuously inclined, simply lay the filet on your tongue and let it melt away.
The only cold item I found fault with is butterfish tartare mixed with avocado and yuzu, a citrus-like fruit combining tastes of orange and grapefruit. The tartare needs to be colder, and avocado makes it somewhat mushy. Not a bad offering, but it doesn't hold up next to the other superlatives on the raw list.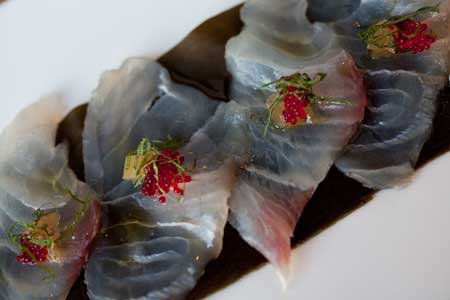 Everything is an adventure here, a wild ride with a rollercoaster of tastes taking you to highs and lows. A favorite hot dish—really a hot pot—is the Korean casserole known as bibimbab. The name sounds like a game of whack the enemy, but it means simply "mixed rice." Into a sturdy stone bowl coated with sesame oil goes a layer of rice, cooked to a golden-brown crust, on top of which are slabs of snapper, wild mushrooms, leeks, black kale, and shredded carrots. A cruet of hot Korean oil comes alongside, and you pour it over the concoction for a satisfying sizzle. It's a rather mild dish, so you'll welcome the small side of homemade kimchee, a blazing saddles scorcher that puts more than a little life into the ingredients.
A less dramatic but more refined experience is the butterfish. This Japanese swimmer also bears the curious names of "melon seed" and "wart perch"—no wonder "butterfish" is what appears on the menu, though it's more commonly known as "escolar." The dish is a model of finely attuned ingredients. First thick pieces of the sweet white flesh are rolled in cocoa and seared, producing a coal-black exterior and an ivory interior. A small mixture of fennel and orange confit as well as currants plumped in grappa set the fish against what is essentially a fresh salad dotted with fruit. A tiny pool of aged balsamic lends acidic balance to the sweetness. It sounds like a bit of ingredient overkill, but somehow it all works together handsomely, with no disturbance to classically minded epicures.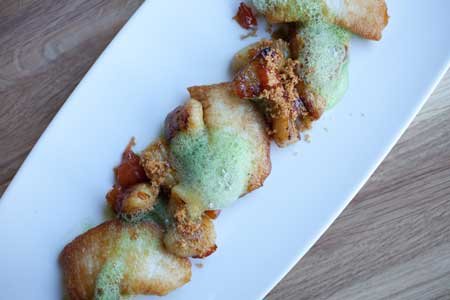 Surprises abound. Take a slab of perfectly cooked marlin with a parchment-thin layer of lardo or cured pork fatback laid across the top, insuring that just enough fat melts into the fish and keeps it moist throughout the cooking. You can peel the creamy, greaseless lardo from the fish and eat it solo for a guilty pleasure, or savor it together with each rich bite.
Fin's dessert list is a modest affair with just three items. Pass on the cheese platter, an anomaly with the Asian fish theme. A chocolate confection is relatively forgettable. But do spring for the flavorful olive oil cake, rimmed with a scattering of olives soaked in sugar syrup and candied for a taste you'd never dreamed olives could deliver.
Fin occupies the space that formerly housed Sel Gris, which closed after last year's disastrous fire. The industrial-sleek interior has been somewhat modified, though the gleaming open kitchen and the backlit cobalt-blue bar remain. There are just a handful of tables and booths, and a long parabolic island running down the spine of the room that's used mainly for walk-in customers. The place still has a tasteful elegance, softened now with a generous use of reclaimed wood.
Service is crisp and precise, and you'll get deft answers to the many questions you're bound to have. Any recipe that reads "robate grilled scallop, guanciale, clams, 60 minute yolk, crisp potato, white miso butter, and house made srircha" is bound to elicit an inquiry or two, even from the most informed gourmand.
One minor problem is that the music, often rock played too loudly, can seem incongruous with the serenity and delicacy of the food. A restaurant committed to marine depths might put on those old recording of whale songs, or at least something suggestive of waves lapping on the shore.
Dining at Fin is an experience, not just a meal. You know you're in the hands of a chef who has thought seriously about his craft, and whose art is sculptural as well as gastronomical. After three visits and several repeats of items, I tired of nothing, and could hardly wait to introduce many of these dishes to friends. One of the pleasures here is to see how, from night to night, the kitchen slightly alters the ingredients in a given dish. Call this piscatory practice "switch and bait," for once you fish in Fin's waters it's you who will be hooked.
(All photos by Joni Kabana Photography)
RATINGS:
Food: A
Service: A minus
Ambiance: B plus
Address: 1852 S.E. Hawthorne Blvd
Hours: Open for dinner Wednesday-Sunday (5:30 pm to close)
.
FIN
Raw plates: $9-$14.
Hot plates: $12-$22.
Noise level: Just about right.
Wine list: beautifully chosen, especially from less well known producers from Italy, France, Spain, Down Under, and the Northwest, Excellent on whites. All bottles from vineyards in or near coastal regions.
Cocktails; a handful of enticing, offbeat drinks. Don't miss the "Okazaki": sake paired with vodka and orange.
Sample Menu
Raw plates
Marlin wrapped octopus, yuzu tobiko
Netart oysters
 on the half shell, verjus mignonette
Tai snapper ceviche, 
rocoto chili, tomato, olive oil, lime
Cocoa-dusted butterfish, navel orange confit, fennel caponata, 30 year balsamic
Squid ink taglietelle, habanero/bonito nage, tobiko, pickled calamari
Hot plates
Grilled amberjack, jalapeno pesto, ponzu emulsion, Spanish olive oil
Grilled scallop, guanciale, clams, 60 minute yolk, crisp potato, white miso butter, house made sriracha
Grilled skirt steak, seared blue prawn, achiote sambal, fermented black bean vinaigrette, tomatillo salsa
Skate wing, gochulang black butter, mint, green tomato, potato