Are Munchery home delivery meals worth the price?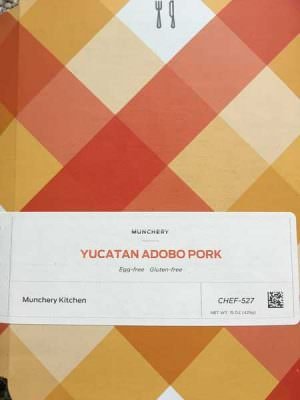 You've probably seen advertisements for Munchery pop up as you've navigated around the web. I was seeing them everywhere, with phrases such as "Our chefs are the talent behind every dish we serve. Innovators, artists, and James Beard Award winners, they handcraft every dish from scratch — and give our food its restaurant-caliber wow-factor". I couldn't resist and decided to give them a try for review purposes.
It seems like everyone is fighting to deliver restaurant food to our doors. GrubHub, DoorDash, Caviar… but Munchery is taking a different tact, instead delivering cold, ready to heat and eat meals to your door.
Every day, the Munchery website lists their available meals. All of them are created by a chef, using "all-natural" ingredients – "local farmers, organic produce, antibiotic-free meats, and wild caught fish whenever possible." At this point they are offering 12 entrees a day, ranging from a Korean Steak Bowl, Roasted Half-Game Hen, Crab Bisque, Corned Beef Hash, and more. Each includes helpful notes, such as vegetarian, gluten-free, sustainable, and even the sourcing of the meat. Entree prices range from $10 – $16. They also offer a range of sides, currently Spring Pea & Herb Soup, Brioche Dinner Rolls, Steak, Bean & Queso Dip, and a Caesar Salad. There is a small selection of desserts from a single cookie to a Pot de Creme, starting at $2. You'll also have to become a member, For $8.95 you can become a member, which gives you up to a 20% discount on each meal, one free delivery a month and rewards like free entrees. The first 30 days is free.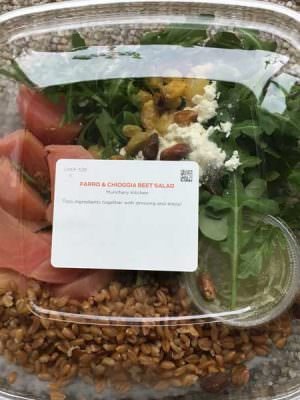 The menu changes daily, and I found the website to be easy to use. You can click on the calendar to order food for multiple nights ahead of time, or schedule a single delivery for a future date. Each dish has a photo, special characteristics like whether it is vegetarian or egg-free, and complete ingredient lists and nutritional information.
I tried Munchery over multiple weeks, getting a variety of items. When you order, you are given the option to pick a 2-hour delivery window. The driver gives you a courtesy text message when your food is on its way, and when it has been dropped off. Tipping is optional, and you can add it when you place your order. Note: the meals are delivered chilled, in an open paper bag. They cannot be left outside your door for any period of time, so plan accordingly.
My impressions:
Farro & Chioggia Beet Salad – $7.95. "A traditional beet salad, with arugula and feta, bumped up with the ancient grain farro, pistachios, and golden sultana raisins. An effervescent white balsamic vinaigrette ties everything together." The salad looked great, and tasted good. The textures contrasted well, and all the flavors worked together. It was quite large, and could easily be split between two people. So far so good. Then I ordered it again a few weeks later. This time it was overwhelmed with huge chunks of beet, none of which had much flavor. The whole salad was completely out of balance. I'd order it again, but with some trepidation.
Yucatan Adobo Pork – $11.95. "This center-cut pork loin is marinated in a sweet Yucatan style adobo sauce made of pureed red chili, achiote, garlic, honey, and a dash of mustard before being grilled. A vibrant yellow rice is cooked like a pilaf and mixed with cumin-scented black beans. Seared green beans are served alongside and a tangy, grilled pineapple salsa finishes everything off."
Sounds good, and looked great when it arrived. I tried the adobo rub before heating the meal, and it tasted good. But after cooking, the flaws became apparent. Let's start with the rice. The menu says "cooked like a pilaf". It didn't have a lot of flavor, and was very gummy; Philippines style. Things really went downhill when it came to the greens. They were so overcooked, I had trouble remembering if they were supposed to be green beans or asparagus – and based on the limp blackened textureless end result, I had to go to the website to find out for sure. Was this a strange green I'm not familiar with? No, they indeed were beans.
The pork was beautiful, and as I said the spice rub was nice. But the meat itself didn't have much flavor, and it was quite dry. I hoped the included pineapple salsa would help, but it was as dull as a bad date. There was none of the brightness that you would expect, and not much of a sweet counterpoint. One thing to note, though my oven is calibrated, some of the meals took longer to heat in the oven than the directions specify.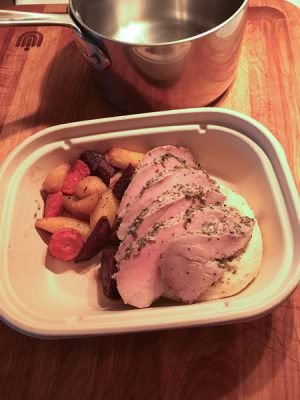 Roasted Pork Tenderloin – $11.95. "Succulent pork tenderloin is marinated overnight with citrus peel, garlic, and herbs, then slow roasted to perfection. It's served on a bed of carrots tossed in fennel and Herbs de Provence along with mashed new potatoes. The star of the dish is the preserved lemon butter. Let it cascade over all the ingredients and brighten up the entire plate!"
The mashed potatoes were fairly light, moist and surprisingly good, and the roasted vegetables were better than expected, both cooked about right, moist and full of flavor. The herbs and seasonings were balanced.
I also liked the pork. Moist, not overcooked considering what most people expect, though I would have prefered it a bit more rare. The meat had a moderate amount of spice, but was somewhat bland. It came with lemon butter to pour over the top, which I didn't really like on the pork, but it helped the vegetables.
Spring Pea & Herb Soup – $7
"Shallots, tarragon, and mint are simmered and puréed with English peas and a touch of sour cream until silky smooth. On the side, we give you lemon creme and thinly sliced pieces of crispy smoked ham to garnish the soup as you like. It's fresh and flavorful and quite possibly the most ideal soup for spring time."
This was just fine, better than I've had from a grocery store soup station. The flavors were fresh and springlike; a perfectly acceptable soup.
With each dish I ordered, there was plenty of food, and I split everything to feed two people with no problem.
Munchery has recently added "Cooking kits", with fresh ingredients. The kits have everything you need to make each recipe, with the exception of basics like salt/pepper/oil. The instructions are complete, telling you everything from how to toast pinenuts to tearing the greens. Each meal runs about $20, feeds two, and takes about 15 minutes to prepare. Overall, I had better results with the kits than the ready to eat meals, but again, I'm not so busy that I couldn't take a few minutes to run by the grocery. On the other hand, it is nice to have all the ingredients pre-portioned.
I wasn't sure what to expect when I joined the service. Overall, the meals were somewhat disappointing. They made me think of a ready to eat meal from somewhere like Whole Foods or New Seasons. Still, it's nice to be able to plan a menu a week ahead, and have it delivered to the door. Munchery seems to have a problem with consistency, and the menu can be hit or miss, but if you order carefully, you may be pleased.
Overall, I'd give this a B. For home delivery, it was pretty good – better than I expected. Would I order again? For a single person it's nice, because you get a bigger variety than you might normally make for yourself. For a busy family I could totally see Munchery being useful. The same goes for senior citizens. But if I was feeding a couple of people, I'd rather pick up some ingredients on the way home and cook it together. If you have reasonable skills, your results will probably be better.