A Review of Eric Bechard's Thistle Restaurant in McMinnville
By Roger Porter
I promised myself I wouldn't allude in this review to Eric Bechard's incident this spring involving a defiant defense of local animals, a stance provoked by a rival chef who, in his eyes, had heretically championed a Midwest over an Oregon pig. The great porcine passion probably put Bechard's name on wider public notice than did his successful stint at the stove of the former Alberta Street Oyster House. The late night, drink-fueled brouhaha even garnered a note in the New York Times, which normally turns its attention to Portland's fine food, not to its swinish ephemera. Nevertheless, the fiercely chauvinistic chef needs to be noted not for this fracas, and not solely for his past triumph, but especially now for Thistle, the small charming restaurant in McMinnville which he owns and where he currently cooks.
For years Nick's was the go-to place in the town that is the commercial center of the Willamette Valley vineyards. Nick's, in its recent incarnation under the direction of daughter Carmen, continues to provide marvelous dining. But Thistle, a short block away, deserves to play in the same league, and is certainly worth the long haul down 99W, through the wine corridor and the dreary stretches of Newberg and McMinnville, to the pleasant old part of the town.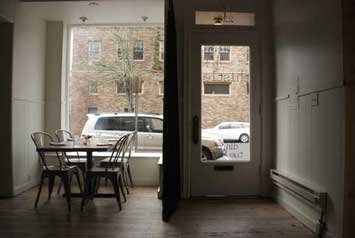 The decor at Thistle, housed in an 1886 building, couldn't be simpler and less prepossessing, its adornments discretely spare in keeping with the unpretentious ambitions of its kitchen: countertops rescued from old bowling alley lanes, a set of antlers from what must have been a delicate, pint-sized deer, a row of dim light bulbs suspended over an intimate communal table, a few seats at a counter overlooking the small kitchen. Not only are there a scant five or six tables for a grand total of 26 diners, the only menu in the place is a blackboard with the night's dishes chalked upon it, along with acknowledgments to the numerous growers, ranchers, and fishermen who supply the first-rate ingredients. You scrutinize the board, deliberate your choices, convey them to the genial Emily Howard–usually the sole hostess and server–and take your seat.
Bechard's approach to his dishes is as modest as the prickly plant that gives its name to the restaurant and serves for the room's boldest atmospheric statement on wallpaper depicting a field of thistles. The cooking is never flashy, but grounded in solid bistro principles, whether its preparations are familiarly American or nod to a provenance in France. Bechard is not out to put a blatantly defining stamp on his cuisine, sensibly following an inclination to natural seasonal tastes and to pairings of ingredients that seem so appropriate as to be both unremarkable and yet consistently on the mark.
If there's a signature dish, it may be the duck liver parfait, an unctuously smooth mousse with a thin layer of gelée, served in a Mason jar. At some places using such a container would look like a self-conscious gesture of radical chic; here it appears to be a sign of simple unpretentiousness. "Look," it seems to declare, "a duck is just a barnyard creature, and while this is a delicious way of consuming the animal, don't dwell on foie gras and elegance. I want you to focus on the sheer earthiness of the liver." An unexpected yet marvelously inspired touch is the inclusion of pickled apricots with the parfait (on other occasions pickled raisins and pickled cherries), each of these fruits adding punctuations of color and notes of contrasting texture and taste.  Terrines seem de rigeur these days, but Bechard plays with convention by making his with beef tongue, thus adding a satisfying fattiness and a full-richness-in-the-mouth. Another fine appetizer, a gratin of cauliflower spiked with the fragrant piment d'Espelette takes the humble vegetable and gives it a French Basque pedigree.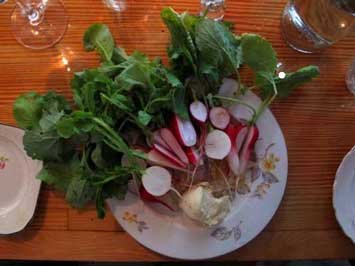 Thistle delivered a plate of enormous marrow bones one evening. We've been seeing these on seemingly every menu in town, but Bechard must know of cows with bulked-up extremities, since the ambrosial marrow fairly spills– lubricious and toothsome–out of these monster bones. Speckled with parsley, it warmly lubricates the accompanying grilled bread.
If such appetizers suggest a round of indulgence, there are always leaner options, including a high summer offering of lusciously ripe heirloom tomatoes, crunchy green beans, and a perky sprinkling of blue cheese; and another dish drawing from native grounds–a satiny corn soup, enriched by lime yogurt and pimento, a mélange that combines natural sweetness, a jolt of sour, and aromatic smokiness.
There are roughly twice as many starters as entrées, the slim list of four main courses part of the restaurant's unassuming ways. Bechard loves to work with rabbit, and he finds surprisingly meaty legs to pair with bacon and green beans; or with fingerlings and carrots and a light slathering of honey. Another favorite from the kitchen is a plate of gnocchi, garnished in one incarnation with firm lobster mushrooms cooked to an appropriate sponginess, in another with black trumpet mushrooms, leeks, and a fine sheep cheese that lent a true forest note to the pasta. One of the few flaws I sensed here was that on both occasions the gnocchi was somewhat overcooked, resulting in a mushiness that took away from their normal springiness. As if to confirm Bechard's locovore allegiances, there's a pork loin on the menu and you can be sure that that pig hails from no farther than the next hill.
Bechard does honest work with fish: a perfectly done petrale sole blends nicely with a handful of shelled crawfish and more of those lobster mushrooms. Here they serve for both a marine linguistic joke and a sympathetic marriage. Bechard clearly has his favorite ingredients, and he'll spin variations on the same item up and down the list: those crunchy red-orange lobster mushrooms appear in several dishes.
The dessert selection inevitably bars your selecting: frequently only one choice per evening is available, a reasonable solution to many problems. Most recently Thistle offered a blueberry clafoutis, a blend of Francophile orthodoxy and Oregon summer sweetness. This flan-like sweet can take to almost any fruit, and on another occasion they served a lemon and huckleberry version. The flavors were certainly nice, though the batter was a bit too firm for my taste. I think clafoutis is best when it's somewhat runny, and served with a dollop of crème fraîche or even with warm cream.
McMinnville is the kind of town where numerous citizens have dirt on their boots, and that dirt is often from soil nurturing choice grapes. Given its location you know that many diners at Thistle, like those at other places in the area such as Nick's, Tina's, the Joel Palmer House, and Farm to Fork, are savvy about their wines, so like them Thistle sports a list that is not only superb but an oenophile's liberal education. At the next table I noticed a guy eating his dinner with a baseball cap on, but he's wasn't a rube—just the winemaker at a nearby vineyard, one of the best in the state.
I usually don't say much about service unless it's shockingly inadequate. But it's a pleasure to trumpet the superior hospitality of Emily Howard. She seems to remember where each returning guest sat on his or her last visit, what they drank, and what dishes pleased them; for all I know she recalls the names of all their grandchildren. Attentive without hovering, informative without attempting to be encyclopedic, charming without intrusion, Ms. Howard is like the restaurant itself, and its forward face. Both casual and serious, in the best sense Thistle is very McMinnville.
_______________________
Food: B plus
Service: A minus
Ambiance: B minus
Thistle
228 NE Evans, McMinnville
503-472-9623
Hours: Open for dinner Tuesday-Saturday (5:30-10:00 on weekdays, 5:30-11:00 on weekends).
Credit cards; reservations.
Noise level: You hear the satisfied smacking of lips.
Wine list: intelligent and impressively ample selection of Oregon and French bottles.
Cocktails: a number of interesting and lively drinks, including inventions of the restaurant.