A standards board will soon vote on whether to require organic hops in all beer bearing the "organic" tag.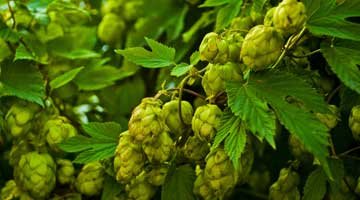 Think about that one for a moment.
After years of trying, organic hop growers, most clustered in the Northwest, are poised to win a bitter and bizarre battle: requiring organic hops in organic beer.

The National Organic Standards Board will take up the issue later this month. Last week, a board subcommittee voted to mandate organic hops in organic beer in about three years.
What is wrong with this world?
---
Retribution? Esquire Leaves Portland off 2010 Best New Restaurant List
Esquire's 2010 Best New Restaurants is out, and writer John Mariani has thumbed his nose at Portland restaurants. The reason? You may remember him from the article on this site"Esquire Writer Gets Free Meals – and Writes Good Reviews", where we accused him of failing to mention when he is provided free meals by the restaurant he is reviewing. At the time, the LA Times said
"What you won't see is a disclaimer about which meals Mariani ate for free, and at the personal invitation of the chefs — omissions that have exposed a deep divide in food writing circles over the ethics of restaurant reviewing".
I guess we didn't wine-and-dine enough this year.
---
Reviewer Asks Restaurants for Free Food and Wine in Exchange for Reviews
Speaking of ethical issues, freelance City Pages wine writer John Glas was accused of conflict of interest when he sent 10 finalists for "best wine bar" letters asking them to "provide him with free food and wine for evaluation so he could consider them for the top 5 list". Oops.
Not everyone was happy to get the note, including the one who passed along Glas' memo to the Star Tribune. The Association of Food Journalists addresses this issue in its code of ethics for restaurant reviewers. These are the standards that most restaurant reviewers of the mainstream media follow, as does the Star Tribune. The quick version: pay for food, review anonymously, make multiple visits.
Matt Smith, the managing editor at City Pages, noted later in an e-mail exchange with me that the request for free food/wine was done without his knowledge. He shut down the process after a couple [of] wine-bar owners had contacted Rachel Hutton, the weekly newspaper's restaurant critic, and him to complain about the letter, though by that time John had already evaluated several wine bars in this way.

Matt noted in his e-mail: "John is a wine expert and does frequent posts for our Hot Dish blog, but he's not a professional writer and certainly not a trained journalist. I think he honestly thought that, with a limited budget, that was the best way to tackle the story. My fault, I guess, for assuming most people understood how reviews are done and for not explaining the assignment carefully enough. In any case, it is definitely NOT our policy to ask for free food, and we put a stop to it when we found out. Our writers are supposed to review anonymously and pay for their meals."
Here is an excerpt of the letter he sent to various restaurants –
Due to the zero budget I am working with, the 4 courses and 4 wines will have to be complementary, but if you win or are a top five the free advertising is priceless.

I have created a scoring sheet based on 100 points for each wine bar.

Food & Wine Pairings (40 points)
This section of my scoring rubric will be known by all participants.

You will provide 4 small plates with 4 wines from your list. I have assigned one hour per wine bar so please plan 15 minutes per course. A server, not a manager, must serve each course.

No wine can cost over $50 a bottle and 3 out of 4 wines served to me must be on your By the Glass selection of your menu.

The breakdown of this segment is as follows:

*Food & Wine Pairings complement each other (10)
*Quality Food (10)
*Quality Wine (15)
*Additional 5 points not stated
Total Points: 40 points
Oops. Idiot.
The entire article along with a copy of his letter to the restaurants can be found here.
---
Bill King Out at American Pinot Brasserie
Remember all the flack I took for a few casual comments about "American Pinot Brasserie"? More than a few people took offense when I wrote, '"I think it is interesting that they named it a "Brasserie" since that term is usually used more in reference to beer than it is to wine. It also tends to mean an "unpretentious" type of establishment, which this definitely is not." Those two lines brought 41 comments, which became so heated I finally shut them off for a while. I've received irate emails from folks who worked for the restaurant – a passionate group. A few weeks ago, news broke that executive chef Bill King "resigned" and was bought out by his financial partners.
All I can say is I dined at Pinot Brasserie two times while working towards a review. It would have been a blood-bath. I hear the restaurant has retooled and simplified their menu, so I'll give it a few months and try again. Sad to see a dream die, but it just wasn't very good. It will be interesting to see if the restaurant survives the first year; my bet is they won't.
---
How would you like an "expiration date" on your fruits and vegetables?
We need this because, according to an article in the DailyMail, we aren't smart enough to figure out if the peach in our hand is moldy.
Hi-tech lasers which 'tattoo' prices, logos and sell-by dates on to fruit and vegetable skins could make sticky labels thing of the past, a new report showed yesterday.

Leading UK supermarket chains such as Tesco, Asda, Waitrose and Marks & Spencer are now being targeted by the company behind the food-engraving technology.
Laser-labeling technology is already used in other parts of the world, such as Japan and is about to be rolled out in the US by Sunkist Growers under the name 'natural light labeling'.
I'm not sure what to think. "Natural light labeling?" What's natural about a laser?