The Fish House is closing so owners can "focus on RingSide Steakhouse."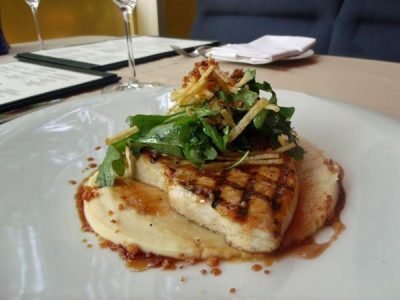 I'm a bit surprised by this news, especially as it is happening during the height of the tourist season. Here's the press release:
Fish House's Annual Oyster Shuck-Off Event on August 1st to Serve as Celebratory Send-Off Party in Advance of Final Day of Service August 12th

PORTLAND, ORE., July 30, 2018 –RingSide Hospitality Group, the award-winning fine dining stalwart of Portland's culinary community for nearly 75 years, announces they will close RingSide Fish House in SW Portland on August 12th in order to concentrate their efforts on their original property, RingSide Steakhouse.

"We were recently approached by our landlord, TMT, as a current tenant in the building wanted to take over a larger space, specifically the Fish House's.  With the fourth generation of our family embarking on their own paths, the partners resolved that it was the right time for a change," said RingSide Hospitality Group Partner Craig Peterson. "The focus is now going back to the RingSide Steakhouse and brand expansion all centered around our original concept."

RingSide Steakhouse on Portland's West Burnside St. is best known for their exceptional quality steaks and seafood, exemplary service, unmatched wine list, and one of the city's favorite happy hours. At the Steakhouse, most guests begin their dining experience with RingSide's world famous onion rings – James Beard once claimed them to be… "the best I've ever had." With the Peterson family's energy now directed entirely at the Steakhouse, they are looking forward to celebrating the legendary restaurant's 75th Anniversary in 2019, and new brand expansions.

RingSide is dedicated to supporting and assisting current Fish House staff during this transition, actively working to place them in new positions within the restaurant community. RingSide Fish House's Executive Chef Jonathan Gill plans to stay in the Pacific Northwest.

Dinner reservations are available at RingSide Fish House through their last night of service, August 12th. They are offering a special 50% discount off of most bottles of wine on their extensive list every night until close.

RingSide Fish House's Second Annual Oyster Shuck Off event in Director Park on August 1st from 4pm-6pm serves as a celebratory send off party for the Fish House, featuring unlimited oysters and small bites, champagne and other beverages for purchase, an oyster shucking competition, a DJ booth and other entertainment. Profits from ticket and beverage sales at the Shuck Off event will be donated to New Avenues For Youth, a local charitable group that RingSide and the Peterson family have long been supporters of.