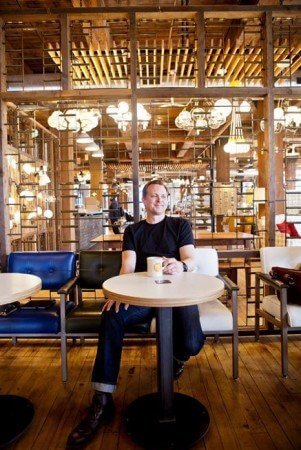 Every so often in life you come across two people who just seem to belong together. That is the case with author Nancy Rommelmann and Ristretto Roasters owner Din Johnson. She is a powerhouse of enthusiastic energy, always up for new adventures, quick to support the people and causes in her life and passionate about living. Din is a quiet giant, but just as passionate. When he finds something he's interested in, it's all or nothing; slowly but surely he's going to learn everything he can about the subject, buy the best equipment on the market, and completely immerse himself.  And so, it is no surprise that they have become Portland's power coffee couple, two very different people, yet after all these years together, they still sparkle when the other enters the room.
When I first met Nancy back in 2004, I was invited to their NE Portland house for dinner.  While she cooked, we sat in their kitchen and talked about my new food blog, their adjustment to a sketchy neighborhood, and her long career as a writer. As she bustled around the kitchen she was having a difficult time finding enough counter space for the various pots and pans. It wasn't because the room was too small – the old kitchen counter must be 20 feet long. It was because almost every square inch was covered with small coffee equipment.
When I asked her about it, Nancy shrugged. "My husband likes to experiment with coffee. Din's been trying different ways of roasting at home. His dream is to open a coffeehouse someday, which means he probably will."
She was right.The first café, on NE Fremont Street and 42nd Avenue, was pocket-sized, 600-square-feet, including bathroom, storage room and an initial roasting room complete with a vintage L-12 Probat roaster. It was a comfortable place to while away an afternoon, Din dragging 150 pound sacks of green coffee by your feet, the smell of roasting coffee permeating everything. Back at home Nancy was always baking for the cafe, quick to proffer her latest cookies, vanilla and brown sugar scenting the walls; a heady mix of coffee, chocolate and love. And gin. Lots of gin. I lived close by, so when I visited I always walked, and hours later would weave my way down the sidewalk, little bag of warm pound-cake in my hand.
The second café on N. Williams was also an unlikely location. When Ristretto committed in 2007 to anchoring The Hub (a complex that would eventually house Tasty N Sons, Lincoln, and a dozen other businesses), the only open retail within three blocks was Pix Patisserie, a corner bodega, and a lawnmower repair store. But Nancy and Din Johnson live in the area and recognized the neighborhood's potential.
In 2010, Ristretto opened a dedicated coffee roasting facility, several blocks from Portland's Rose Garden. Committing to open a third café in Industrial Northwest in 2012 was another roll of the dice that has paid off. Though a little off the beaten track, the beauty of the building as well as the integrity of the other artisan tenants, including Schoolhouse Electric and Egg Press, has proved a massive draw, to arts communities, to film and television crews, to locals from The Pearl and NW 23rd.
Now their lease on the original 42nd street location has come up, and they have decided not to renew as it's just not big enough to fill their needs. Instead, they are relocating it to 555 NE Couch St. at 6th. The cafe will close with a celebration on April 28th to thank their Beaumont neighbors for their years of support.
Northeast Couch presents its own unique growth possibilities. One block south is East Burnside, with its thriving dining and nightlife scene (Le Pigeon, The Farm, Kir Wine Bar, Rontom's, Sizzle Pie, and the Jupiter Hotel). Alma Chocolate in January 2013 opened a production facility and event space on NE Couch and 6th. Northeast Couch has also in the last year become a one-way street, heading west. Last year's traffic reports show at least 14,000 cars per day driving past on the morning commute (read: prime coffee drinking time), directly in front of the new café, which sits on a corner for maximum exposure.
The new space which is being designed by Accelerated Development's Keith Shrader who also designed the Nicolai store, will have more room for education, a much larger seating area, and they hope to eventually server beer and wine. The Couch store will showcase the first Steampunk brewing system in the Northwest.
The creators of the Steampunk, Alpha Dominiche, based in Salt Lake City, chose Ristretto to showcase the first Steampunk in the Northwest, where it will debut along with systems in New York, Los Angeles and Portland. Winner of the SCAA (Specialty Coffee Association of America's) Best New Product 2012 award, the Steampunk is a sleek new siphon system.
From CafeCulture,
The Steampunk is an industrial 4 group coffee plunger, but it actually works more like a semi-automated siphon brewer. Water from the 20 liter boiler is mixed with steam and air and introduced to the borax glass crucibles to mix with the coffee. When read, the barista introduces a small amount of cold water into the bottom, and the coffee is siphoned out. The plunger is then removed with the spent grounds, and it's ready for the next brew. Configuration of each parameter for each of the four brewers is managed on an integrated touch screen.
The brewer allows the barista to use either metal filters for more of a French press mouth-feel  or paper filters for a super clean cup. I'll be interested to see if I can tell the difference.
The new shop will be open August 3rd, 2013.
(If I was ever going to write a children's book, "Ristretto and the Steampunk" would be the title)