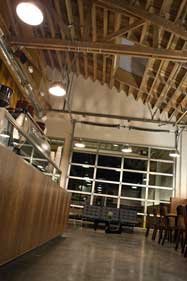 The Huffington Post has named Portland's Ristretto Roasters as one of the "10 coolest Independent Coffee Shops Across the U.S.
The West coast coffee scene was also represented by Espresso Vivace in Seattle.
They had us with their Beaumont blend espresso, which gets described as a "deep dark chocolate and ripe berry" blend. Yum. But it's not just their beans that make this Portland spot jump out, it's the pure love and joy owner Din Johnson put into his shop. Johnson first got into roasting coffee in 2000 in his home. That hobby grew until he needed an actual store to house the roaster, so, in 2005 he created his coffee shop by hand, picking out everything that gives it the clean, cozy vibe…
You can read the rest of the article here.