Wins "Best Cheese in the World" out of 3,800 judged at a competition in Bergamo, Italy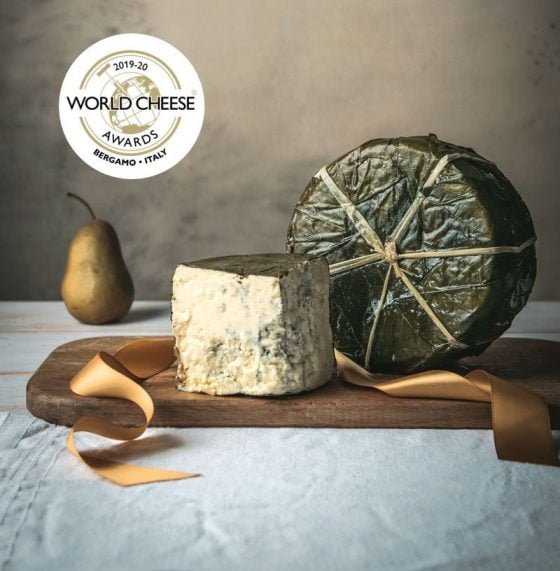 I have a confession. Last week I received a press release trumpeting Rogue Creameries Blue Cheese win of "Best Cheese in the World" out of 3,800 judged at a competition in Bergamo, Italy. I didn't post it because I'd already tried it and wanted to run out and buy more before it sold out. Prices had jumped overnight, but now I have a few wedges to get me through the Fall; blue cheese season if you ask me.
The first time I had Rogue River blue cheese was many years ago, a chance pickup from the cheese case at Zupan's. It has a distinctive look, wrapped in grape leaves soaked in pear brandy. I loved it, and every fall since, I've cast an eye on every cheese case I pass on the chance that the new release, once every Fall, is out.
Over the years I've found the quality to vary; it is a living thing after all. But this year I opened a good bottle of wine and indulged without accompaniment. Just the knife, the cheese and an occasional sip of wine.
It was terrific. Oh, so creamy, slight striations of blue veins, a sharp, salty, flavor on the rind with a slight earthy background from the grape leaves. It is not a crumbly blue, rather it melts on the tongue. I moaned. A houseguest stuck his head out of another room and asked why I was making sex noises. Though I offered – cheese, not sex, he wasn't a fan of the genera, so I had it all to myself.
If you are into blue cheese, I urge you to track some down before it's all gone – and it goes quickly. I saw some at New Seasons, and The Cheese Bar has it in stock. Find your car keys and get thyself to your favorite cheesemonger. Pick up some good beer or a bottle of wine to go with it.
Here is the press release:
CENTRAL POINT, OR; OCTOBER 18, 2019 – Rogue Creamery's Rogue River Blue Cheese has been named World's Best Cheese at the 2019 World Cheese Wards in Bergamo, Italy. 260 expert judges from around the globe tasted 3,800 of the world's most distinguished cheeses from 42 countries to choose Rogue River Blue as the World Champion. This is the first time an American-made cheese has received this top honor.

Rogue River Blue Cheese is made by Rogue Creamery, a small artisan cheesemaker in Southern Oregon that has been in business since 1933. It is an organic, cave-aged blue cheese that is wrapped in Syrah grape leaves that are soaked in pear spirits.

Rogue Creamery President and self-professed "Mr. Blue," David Gremmels, was shocked by the news. "I am humbled and filled with gratitude," he commented. "This is truly the greatest distinction a cheese can receive. What extraordinary validation of our commitment to quality, of the place that inspires our cheese – Southern Oregon's Rogue Valley – and of the excellence of the growing American artisan cheese industry."

Rogue River Blue reflects a deep sense of place. It is made exclusively with milk from Rogue Creamery's Certified Organic Dairy Farm in Grants Pass, Oregon, where cows graze on pastures bordering the Rogue River and enjoy a diet of native plants and grasses. A seasonal product, Rogue River Blue is only made for a few months each year beginning on the autumnal equinox, when cooler temperatures bring renewed growth to the pastures and the cow's milk becomes richer and higher in butterfat. Gremmels considers this to be the best milk for expressing the unique attributes of their region.

First created in 2002, Rogue River Blue wowed the cheese world by winning Best Blue Cheese and Reserve Champion at the World Cheese Awards competition in 2003 – cementing it as one of the United States' most celebrated cheeses in a growing artisan and farmstead cheese market. With today's title, Rogue River Blue becomes the #1 cheese around the globe.

"This is the product that led the way and put American Cheese on the map," continued Gremmels. "As a result of that 2003 award, we pursued the first American raw milk cheese Health Certificate for export. We are grateful for our customers and the support of legislators and sponsors like USDEC who have helped bring this product to fine cheese shops and restaurants in Europe, the UK, Australia, and beyond.

"Now, to have Rogue River Blue recognized again, 16 years later, and this time crowned World Champion – what a tremendous honor. Rogue River Blue's recognition today reinforces the quality of our raw milk cheesemaking tradition in America."

Hosted by the Great Taste Awards, the 32nd annual World Cheese Awards gathered more than 3,800 cheeses from 42 countries on 6 continents. Each product was ranked by the panel of expert jurors, and ultimately 16 Super Gold winners were selected – from among which a World Champion cheese was chosen. Receiving 100 points at this year's judging, Rogue River Blue tied for top honors with an Italian Parmigiano-Reggiano. A tie-breaking vote crowned Rogue River Blue as the 2019 champion.

About Rogue Creamery: Inspired by a sense of place for over 85 years, Rogue Creamery draws from the beauty and flavors of Southern Oregon's Rogue River Valley to create organic, handcrafted cheeses that have won international acclaim. Rogue Creamery: people dedicated to sustainability, service, and the art and tradition of creating the world's finest organic, handmade cheese.