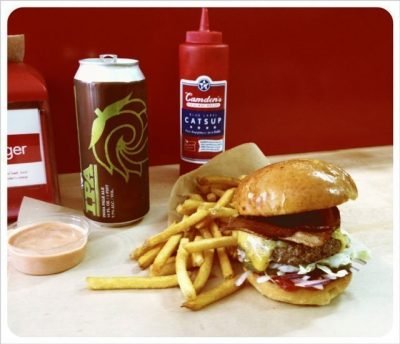 Micah Camden, probably the most gossiped about restaurateur in Portland, has supposedly sold his little Little Big Burger chain to… brace yourself – Yum!, the company with over 40,000 fast food restaurants: Taco Bell, KFC, Pizza Hut, and more.
On its face, this rumor sounds totally ridiculous, and at first I wasn't going to bother posting it. Why would a huge company spend money on a tiny chain that they could easily replicate? But since the gossip first came out, it has grown louder, other rumors about the owner have surfaced, so I figured what the heck.
Take it for what it's worth. I'll have a last burger there just in case… but wait, it gets better! There are also rumors swirling around Blue Star Donuts. Once again, details aren't very clear, but word on the street has Camden and partner Pope selling a stake in the chain to investors looking to open a store in Japan, and a stake in a Los Angeles store.
Lots of lines to read between, but for once I'm gonna shut up.