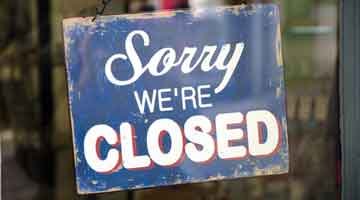 Word on the street is that Mellow Mushroom Pizza at 1411 Northwest Flanders Street in Portland is closing its doors on Sunday, 4/13. An internet search shows that the building is for sale. According to the rumor mill, it will reopen under a new owner as a 10 Barrel Brewing concept.
Mellow Mushroom is a national chain that expanded rapidly during 2011 – 2013, opening the first west coast branch in Portland's Pearl District in October 2011. At the time, owner Jim Warren stated, "We found a city that fits who we are to a "T". The city of Portland and Mellow Mushroom both encompass diverse cultural offerings, fantastic food, along with creativity and art."
Despite their optimism, I think the physical location has been an issue from the start. It has high visibility to the constant traffic along NW 14th Avenue, but at the same time, there is limited parking on their side of the street, and no easy access from the other side – the nearest crosswalk is a few blocks down. Those issues, added to an equation of just a slightly better than average chain pizza, may not have made it quite as good a fit in the Pearl as the owner may have envisioned.
I've never heard of 10 Barrel Brewing, but a quick web search shows that they currently have two branches; one in Bend Oregon and the other in Boise Idaho. [Commenters on this post say that they are a terrific pub/brewery] Perhaps with an emphasis on beer, they will be a better fit for the site, though beer and a heavily trafficked intersection with no crosswalks. What could go wrong?