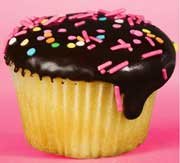 <UPDATED  – This is true – confirmed by multiple sources>
Remember when cupcakes where the next big thing? Why just a year ago cupcake ATM's in Los Angeles hit the news. Now it sounds like the boom is over. A reader writes that he was told both the SW Morrison and SE Belmont locations are closing in two weeks. The Belmont location will become another Quin candy shop – one just opened in Union Way in SW Portland.
Sad. I always liked the people there.