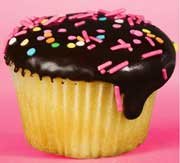 From a press release today:
Saint Cupcake, the beloved baking dynasty that ignited a cupcake trend in Portland is set to re-open early this summer.  Jami Curl, founder of Saint Cupcake, has sold the business and agreed to help Julie and Alex Bond, long-time Saint Cupcake customers and the owners of Serratto restaurant, resume operations at the two locations.  Saint Cupcake's head baker, Brandi Schimmel-Bristow, will remain on board, using all of the original, addictively delicious cupcake recipes such as the Fat Elvis, Salty Captain, Red Velvet, and Toasted Coconut.Effective Thursday, May 29th, the outlet located at 3300 SE Belmont St. (which had briefly been re-branded as Sprinklefingers) will revert back to the name "Saint Cupcake," and begin offering the entire line of popular cupcakes, cookies, brownies, and Melty Treats ice cream delights.  In addition to Schimmel-Bristow, other long-time employees will also continue, so loyal Saint Cupcake customers can expect the same delicious treats and friendly service they have always known and loved.  Saint Cupcake will re-open its other location at 1138 SW Morrison early summer 2014. About St. Cupcake: Saint Cupcake opened in 2006 in NW Portland and now has two locations: one at 3300 SE Belmont St. and another at 1138 SW Morrison in Portland, Oregon.  Follow Saint Cupcake on Facebook.
I find this interesting, as many people seem to think the cupcake fad is over.