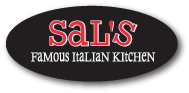 When I was a starving student in the San Francisco area, I used to spend a lot of time exploring the city. It seemed every few blocks there were places named Joes': New Joe's, Old Joe's, Original Joes. Late one night, I was desperate for a meal and wandered inside New Joe's. All the Joe's seem to be comfortable throwbacks to east-coast interpretation of Italian food, and I ended up going back many times. It has been years since I've ventured into Joe's, but Sal's Famous Italian Kitchen brought the memories rushing back.
"Americanized" Italian is different from anything you are likely to find in Italy. Portions are huge; sauces are heavy, plentiful, and usually over-loaded with ingredients. Real Italian food is not spaghetti and meatballs; as a matter of fact, that is a difficult dish to find in Italy. Instead, this style of cooking was developed by Italian immigrants, trying to make do without the traditional ingredients from their home country, and wanting to stand out from the rest of the pack. Most early Italian immigrants came from southern parts of the country, where the cooking tends more towards red sauces and seafood, rather than the diversified, regional cooking of the country as a whole. For instance, in Italy spaghetti carbonara would never be made with cream; this is strictly an American interpretation. Sauces are always used in far heavier amounts than in Italian versions. That being said, there is nothing wrong with American-Italian, you just need to know that it's not 'real' Italian food.
The NW Portland location has opened in the old Foothill Broiler space in the Uptown shopping center. If you have been to the old burger space, prepare for a surprise. The new location has been completely redone in a trendy, modern style, with low-voltage lights, warm wall tones, a huge wine rack, dark hardwood floors – all rather upscale compared to (now closed) Sal's in north Portland, but still with the little touches that remind you of its roots – wine in carafes, a pitcher of ice water on each table, and the same menu, though it seems prices are (logically, considering the location) slightly higher.
Sal's Famous Italian does not pretend to be gourmet, but rather, nostalgic. The menu is full of hearty dishes that emphasize the sauces and comfort food you may have had as a kid. Focaccia with olive oil is brought to your table while you make your dining decisions. Eleven starters are available, everything from a house salad with mushrooms, carrots, and candied walnuts ($4.00), Caesar with anchovies and Parmigiano ($5.00), shrimp and crab Louie ($12.75), fried calamari with marinara ($8.00), to steamed mussels with garlic and white wine ($9.25). Salads are large; the small size is easily big enough for two.
Their version of the Caesar consisting of full spears of romaine hearts generally satisfies. The flavors are mild, though sometimes a bit unbalanced by too much lemon, or suffering from the leaves being sloppily separated leaving a dry core, but still, just fine for $5.00. At first the house salad seems a throwback to the 60's with carrots, fresh mushrooms, and onions, but then updated, with candied walnuts ($4.00). I liked the arugula and roasted beet salad best, loaded with sweet red beets, and little dots of goat cheese, as well as candied walnuts; lightly dressed with olive oil and lemon ($7.00).
Since Sal's is owned by the folks behind Pizzicato, it makes sense that pizza is offered here, a basic Napolitano for $8.25. It is thin crust in the New York style, with tomato sauce, garlic, pecorino Romano and a decent mozzarella. A large selection of additional toppings is available for $1.50-2.00 each, the menu correctly admonishing to "keep it simple". If you exercise restraint, the resulting pizza is fairly crisp, better than most. The tomato sauce is particularly good.
The bulk of the menu is made up with pasta dishes. Pretty much everything is what you would expect, nice large portions and strong flavors. Fettuccine carbonara is loaded with pancetta, eggs, cream, onions, and black pepper; creamy comfort food ($11.25). The puttanesca with chopped tomatoes, olives, olive oil, capers, anchovies, and hot pepper is surprisingly piquant with lots of bright flavors, just as it should be ($9.25). Sal's 'famous' ragu has thick pappardelle pasta in a meaty tomato sauce, with onions and garlic, with just a hint of spice ($10.75). The pesto pasta is only okay, you can do better, though the price is right at $9.00. I've had better, and worse. Pasta amatriciana has a slightly spicy, long finish. It is loaded with salty chopped pancetta, garlic, and onions. The portion is large enough to fill just about anyone, pasta cooked correctly ($11.00).
Another evening, a salmon fillet nestled over bow tie pasta with a tomato cream sauce was excellent, the salmon moist and full of flavor, not overwhelmed but complimented by the sauce and caramelized onions ($12.50). My companions enjoyed a green pappardelle with a wild mushroom and tomato-cream sauce, which was comforting during the cold winds last week. The pasta had a nice fresh flavor; there were lots of mushrooms and everything was balanced ($10.75). They also tried the eggplant Parmesan and found it to be classic east coast; good thick slices of eggplant, over-breaded, lots of sauce. The only drawback was the accompanying spinach cooled quickly and had picked up a somewhat off flavor from the sauté ($10.50). Finally, the expected spaghetti with pork and beef meatballs the size of your fist; this is just like you would expect an Italian grandmother to make for Sunday dinner ($10.00).
Service is generally very good; when quizzed, the servers are knowledgeable about the ingredients. My only quibble is on the timing from the kitchen. The Uptown branch tends to send things out too quickly, making you feel rushed; the N Portland branch can get a little backed up on busy nights.
A full bar is available. The wine list is larger than you might expect, markup very reasonable. I'm not sure what their house wine is, but you can get a very drinkable half-carafe for $7.50, served in the requisite tumblers (bottles come with better glasses). There is a large list of wines by-the-glass for $5.00-$8.00.
It is hard to review Sal's without making a comparison to Balvo. Overall, food is cheaper, more consistent, and comes in larger portions. Right now, it is a better deal for your money.
Taking into account what they are setting out to accomplish, 2.5 stars. Recommended if you are into American-Italian food. Put on some Louie Prima to get in the mood, have a carafe of wine, and enjoy yourself.
Phone: (503) 467-4067
Address: 33 NW 23rd Place in the Uptown Shopping Center, Portland, OR. 97210
Hours: Mon-Thu 11am-9pm; Fri-Sat 11am-10pm; Sun 12pm-9pm