Salt & Straw gives away about half of profits on their campaigns to charity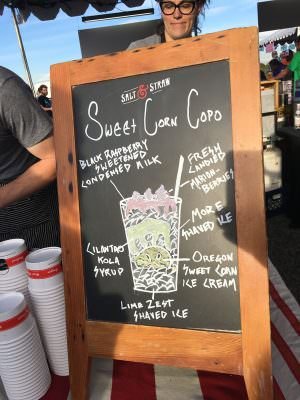 In an interview on the Right at the Fork podcast, owner Kim Malek casually mentioned that those little signs in the stores saying they give a percentage of profits to charity really do mean something. While many companies have programs like this, most donate a small amount like 2%. Salt & Straw gives about 50% of profits to charity. I was so sure I heard it wrong I went back and listened to that section again.
For instance, they recently teamed up with elementary schools in Portland and Los Angeles to create special flavors inspired by the student's memories. Then they donated a large portion of the proceeds from the flavors back to the schools. In June, their seasonal flavors highlighted the ways leftover foods could be put to use, rather than disposed of. Things like whey from cheese makers, surplus bread loaves, and leftovers from Sauvie Island Organics root cellar. In Portland, they donated back to Urban Gleaners.
You can hear the interview here – look for Kim Malek – Salt & Straw
From now on, if you see me coming out of their stores, I did it for charity.