Sarah Bellum's Bakery is a non-profit organization supporting adults with brain injuries.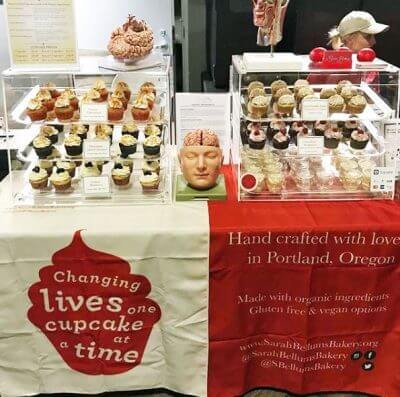 Sarah Bellum's, a play on the word cerebellum, is opening a brick and mortar cupcake bakery in Multnomah Village. It's in the space that was most recently occupied by Sweets Etc. The non-profit which helps adults with brain injuries return to work by baking.
"Sarah Bellum is not an actual person. Instead, it's a play on words that makes one think about an important part of the brain, the cerebellum. The cerebellum is the coordination control center of the brain, and we're all about a coordinated team effort here at Sarah Bellum's Bakery & Workshop. So, Sarah Bellum refers to the cerebellum in the brain."
The bakery was founded by Doctor Rick Lemoncello, Associate Professor of speech-language pathology at Pacific University. The brick and mortar location will continue the goal of opening a bakery staffed by adults with a brain injury to support them in returning to work and life.
The program which was launched at OHSU Farmers Market in 2017 consists of ten different bakers and salespeople who have survived an acquired brain injury. Their goals are supported by volunteer students from speech-language pathology, occupational therapy, and rehabilitation psychology programs at three different universities. At this point, they offer twenty different varieties of cupcakes which you can find at five different local farmer's markets. They also fill custom orders with their free delivery service.
The bakery uses organic products wherever possible including unrefined cane sugar, organic flour, milk, eggs and fruit in their recipes.
This is a great addition to the Multnomah Village and I look forward to stopping by during the opening.
Sarah Bellum's will be located at 7828 SW Capitol Hwy, Portland, OR 97219.